Aspiring NY mayors to tech companies: Do more for city, middle class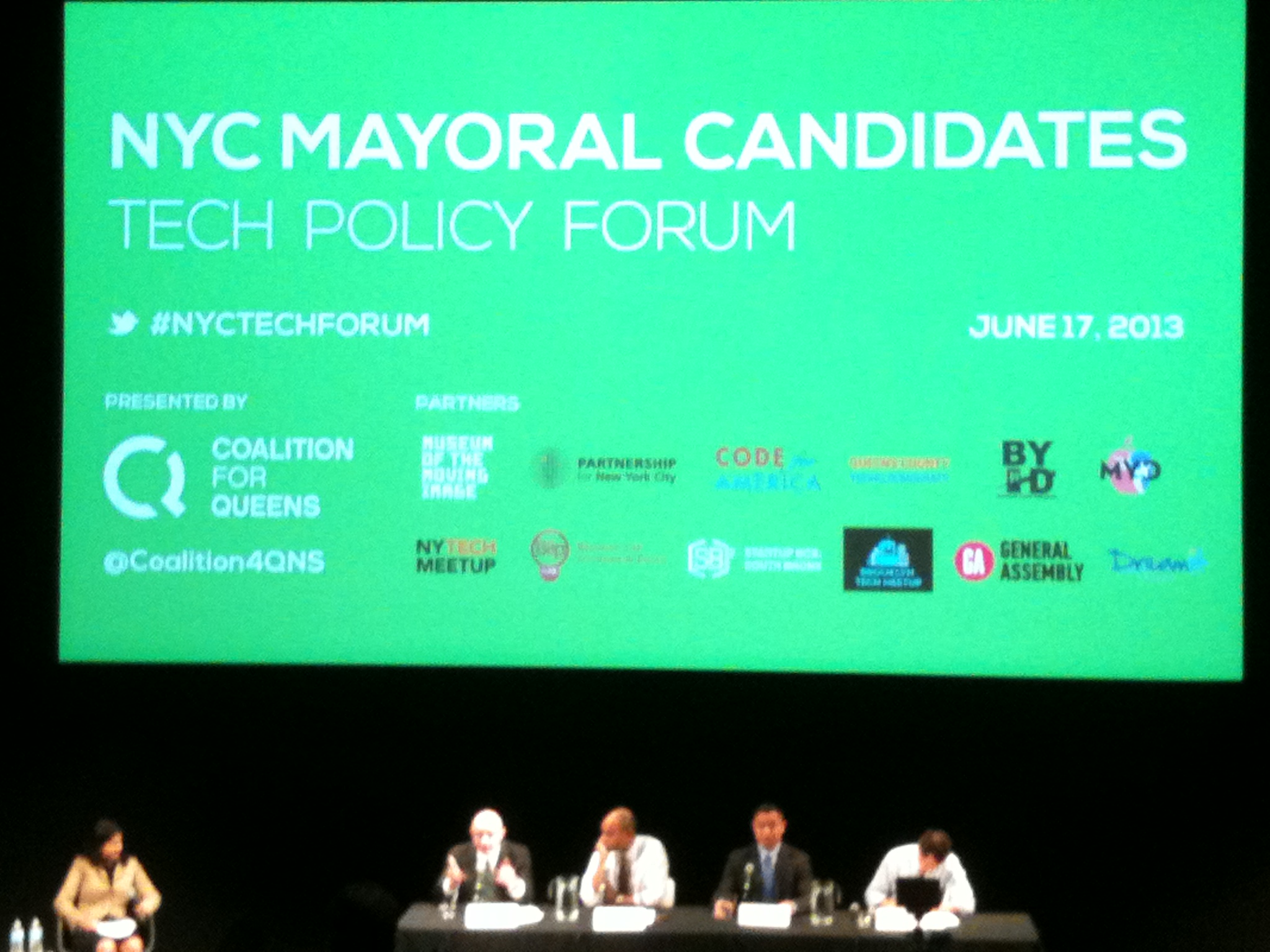 By Dennis Clemente
How would you like New York to be Monaco where only the richest of the rich can afford it? Trust our politicians to have a flair for the dramatic. The reference is coming from former congressman Anthony Weiner who thinks that the city is facing a challenge (dwindling middle class jobs) as much as an opportunity (growing tech industry) for being the second tech capital of the United States.
He welcomes the 10,000 tech jobs gained but decries the diminishing job opportunities for the middle class. "We've been eliminating middle class jobs and backfilling them with restaurant and tourism jobs."
Weiner was speaking at the Mayoral Candidates Tech Policy Forum at the Museum of Moving Image last June 17, along with other confirmed mayoral candidates– former NYC Councilmember Sal Albanese, former Bronx Borough President Adolfo Carrion, Jr. and NYC Comptroller John Liu.
The candidates were a study in contrasting styles. Where Weiner and Liu were bold and audacious, the two other candidates, Carrion and Albanese, favored caution and discreetness.
For Weiner, "New York has to remain a magnet for the middle class, because they are the DNA of the city whose success hinges on the three-legged middle-class aspirational stool—being able to afford a place; having some decent public education and getting a steady job with benefits." Without one leg, the middle class is bound to suffer. Nobody likes to be Monaco.
Speaking for the average middle class, Liu cited how the city is already "facing an aging infrastructure and how it's made worse by monopolistic systems of big telecommunications companies and Internet service providers who are not holding their end of the bargain."
He showed his displeasure about how companies can't even provide the essentials. He said not enough neighborhoods are connected and that there are still dead spots. "We should hold big companies to a higher level of accountability. (If not), the city has to be the enforcer."
Nilay Patel, the moderator who also writes for The Verge, laid down the tech companies' most pressing concerns about the city, those who fought or are still fighting some regulations—Aereo with its streaming TV service, uber with its cab-calling app and AirBnb with its short stay rentals.
It was Weiner who responded boldly. "I don't think uber will ever be a success in New York City. We have a system in place for dispatch cabs, yellow cabs and black cabs. You can argue with the structure. But it has worked very well for the city, in keeping the quality of our rides."
He added, "It's (app) a false choice, when somebody could get a ride because he has an app and bypass other people who, not having the app, is left standing in a corner (waiting for a cab). A tech company should not undermine laws so as to protect consumers."
Patel's rejoinder: "I hope you reconsider your answer next time you're looking for a cab in the rain."
As for AirBnb, Carrion thinks detailed SROs (single room occupancy laws) just need to be followed. "I believe it (AirBnb) will be good for us. It will be good for tourism. It's expensive to go to New York City. We just need to revisit rules, our land-use policies, and make sure we don't disrupt neighborhoods."
In principle, Liu agreed with both Weiner and Carrion. "If you're making a profit from your business model based on innovation, that's great. But if you're skirting regulations that other legitimate businesses have to follow, then that's not a great thing."
Carrion puts it simply, "Are you a developer or (job) creator? Are you adding value?"
The forum ran also discussed the need to address STEM (science technology engineering math) education, including teachers of computer science, and a rethinking of zoning laws as well as tech infrastructure. Albanese said residents in Williamsburg have asked him to run their businesses there. Liu said millions of dollars are being poured in a tech school in Long Island City where it thinks the City University of New York should also get some support.
Joel Natividad, founder of open data company, Ontodia, wished the candidates also talked about open government but there was simply no more time.
The forum was organized by the Coalition for Queens with Anjali Athavaley of the Wall Street Journal as the other moderator.
The mayoral candidates draw first blood.

Copyright secured by Digiprove © 2013 Dennis Clemente