What makes a great leader? Try asking your team how you could fail
By Dennis Clemente
Being your company's intrapreneur or leader, you have to ask your team, "Tell me all the things that could go wrong?!" 
As a leader, do you think you can ask your team this question–"Tell me all the things that could go wrong?"–and expect to get real answers? That startling question is from the best-seller, "Decisive," by Chip and Dan Heath, and it's the same question asked at the NY Intrapreneur meetup on the Upper East Side last May 14.
So many tech meetups these days are all about pitching, showcasing us great works that come from creating products that promise to make all our lives easier.
In this meetup founded by Debbie Madden, also a CEO at Cyrus Innovation, the panel of guests from Coach, Ogilvy & Mather, Simon & Schuster and Kaplan Test Prep showed how they are willing to be candid.
They talked about work and the disruptions, ugly or not, that occur in collaborations, in how we organize ourselves, motivate one another and combine talents to meet challenges. So where other events shun sensitive questions, this meetup was open, incisive, and even conspiratorial, with all the biases we have as baggage.
For example, it may be surprising to hear people admit to having "self-interests," but here is one example. "I want to work with the same team. That's the fight I will fight," said the reflective Ken Judy, VP Technology of Simon & Schuster Digital.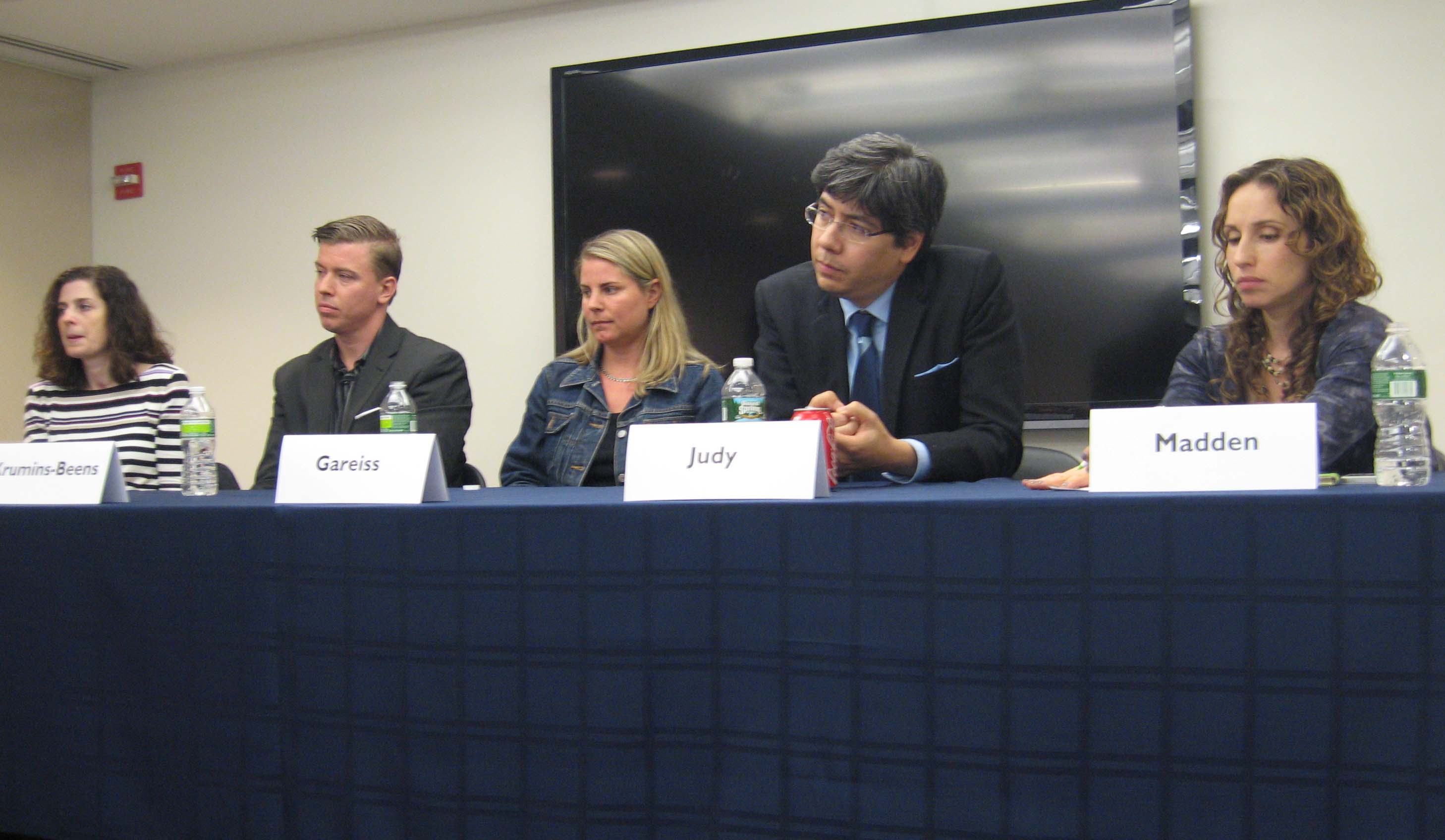 There's a certain grain of truth in that statement. Indeed, working with the same team who trust its leader as much as its members has some advantages—it saves time and effort, because Judy declared, "No one gives trust; it could take a year or more," as he emphasized the gravity of what we face in any new project: distrust.
Judy was at one time executive manager and software developer who managed development and product at Oxygen Media (NBC-Universal), and was a product manager and agile coach at NYSE Euronext Advanced Trading Solutions.
As the moderator, Madden set the analytical tone of the meetup with questions that allowed the leaders to discuss their role as their company's intrapreneur.
For entrepreneurial ideas to take off, Ilio Krumins-Beens, executive director, Agile Practices at Kaplan Test Prep said it's important for the disconnected software and business team to connect, if it means changing processes. I spend time using agile technology with key influencers."
Krumins-Beens has been working with teams to deliver software and web applications for over 15 years in a range of industries–government, media, tech startup, and education. He is a passionate agilist who has presented at several Agile/Lean conferences since 2007.
For the two women in the panel, time is key.
For Kathleen Gareiss, managing director of Digital Delivery at Ogilvy & Mather, having a timeline (to follow) is crucial, because "ideation can take long."
Danielle Schmelkin, VP-Business Intelligence and Data Management at Coach, agreed. "Time is always a factor," elaborating on how meeting deadlines is always a challenge. She is a proponent of "passion (being) one ingredient and relationship is another" to entrepreneurial success.
Gareiss is a digital native with more than 15 years of experience working in the interactive industry. The focus of her interactive career has been on producing new, large-scale platforms and global implementations. She works within a company to standardize and "operationalize" the processes needed to deliver these digital experiences.
"The outcome of the day is important for me," Gareiss declared.
Schmelkin, for her part, is responsible for all of the technologies associated with transforming data into critical business information. Prior to joining Coach, Shemlkin held key positions at Barnes & Noble, Inc., where she was most recently VP of Business Intelligence, responsible for creating and implementing a business intelligence platform for the entire enterprise. She was also CTO during the launch of the nook, Barnes & Noble's digital reading platform.
"We should always work toward a goal," Schmelkin said. "Guide the company where they can go or not. (But know) there are concepts they will not be ready for."
Answering that, Judy said, "You have to throw (some) ideas away. Not all ideas can be (executed)."
As a parting shot, each one offered their set of beliefs about what someone just starting can bring to the company they work for.
Gareiss answered first, saying good "writing" tops her list, as well as "being a sponge all the time." Shemelkin thinks demonstrated "leadership and communication skills" are vital.
Krumins-Beens, for his part, said it's important to "trust your idea and to not let anyone dissuade you when you get a 'no.' You don't want a string of jobs. You want a career."
Judy said with a crack in his voice, "Don't take too much for yourself, though. Routinely collaborate. Work hard with humility."
The meetup was organized by Madden, who founded NY Intrapreneur in 2012 to enable rich conversations about innovation within the NYC tech community. She is also speaks and writes on enterprise and startup trends.

Copyright secured by Digiprove © 2013 Dennis Clemente