Featured app: Quotiful inspires downloads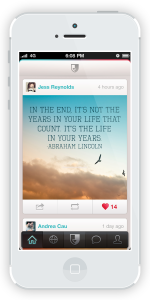 By Dennis Clemente
Sometimes the simplest ideas just work. Even EV Williams of Twitter would agree with that. At the recent XOXO conference, he said, "The real trick is to find something that's tried and true — and to do it better." That would run counter to the mindset of many tech startups in New York where breakthrough ideas rule, but nobody would argue with Williams for creating Twitter.
A few days ago, Nicole Raymondi launched her app called Quotiful. It's a simple idea. It's about inspiring picture quotes. It looks like any other similar app out there, except Raymondi focused on the one thing people with apps always ignore: the user experience. Sometimes it's all about that.
So far, her app is getting 100 to 800 downloads a day. As of press time, the ranking is a perfect 10. It helps, of course, that Raymondi knows design—graphic, digital, mobile—and that she learned also from the company she used to work for as its marketing director.
Here's the thing: Most of the apps get bogged down in design because people focus on functionality, not realizing design (and lately even social tools) is part of functionality. The Quotiful app makes quotes social by allowing users to discover, create and share picture quotes. But the difference is that the quotes can be custom-made and yes, you can make use of the photos in the app as background. The potential for mining pop culture and the entertainment industry is there.
At present, 75 percent of her customers are women or girls, with ages ranging from 13 to 24 and covering North America and even as far as the Philippines and Pakistan. But there's nothing wrong with that if we also consider that Pinterest attracts 75 percent of women, too—and they're doing well.
Williams' idea of doing something that's tried and true is working now for Raymondi, who recalls an initial venture back in 2010 when she created a woman's racing apparel line—and it didn't work. She said it failed because of inefficient marketing and time management.
That experience didn't faze Raymondi one bit, because a year later with Quotiful, she took out a business loan, borrowed money from his father and, hard to admit but true, got into credit card debt to fulfill a dream of having her own app – and her own business. She thinks she has learned her lesson, which is why she is doing it again. It's safe to say she was inspired by her own inspiration quotes.
Raymondi presented Quotiful at the Startup Jackpot at Alley NYC last September 28.

Copyright secured by Digiprove © 2013 Dennis Clemente