Fitbark app for dogs: Woof of things to come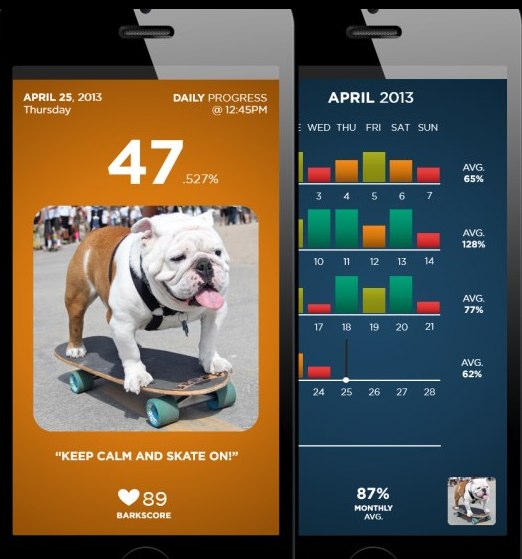 By Dennis Clemente
At the "TiE New York: Fostering Entrepreneurship Globally" meetup last May 8 in midtown Park Avenue, Fitbark launched a tiny wearable contraption that helps owners monitor the activity of their dogs, with the resulting data captured, stored and viewable on any iOS devices. It's an app for dogs briefly mentioned in the previous post, so to provide more detail, here is Michael Chiang, "Woof Interpeter," giving us more than a whiff or, woof, of things to come.
How did you guys come up with the idea?
We started FitBark about a year ago as a fun project to check up on our dog Freud and my Dad, if he was really walking him. We looked around to see if anything existed that gave us a real-time view into Freud's safety, health and happiness and didn't find a compelling product for dog owners to stay connected with their dogs.
So when we designed FitBark, our goal was to feel connected with our pets at all times, rather than attempt to reconnect with them only after they get lost. This is why we designed FitBark's experience to be seamless (no manual inputs required), dynamic and that has use throughout the day. We love to be able to check on our dogs and get insights into their life as much as we like – even if we're out of town!
How did you get funded?
We have been bootstrapping, but will start looking for outside funding soon.
We are also in the midst of a Kickstarter campaign where new customers are pre-ordering the product by the day. Here's a link to our Kickstarter page -> fitbark.com/kickstarter
What makes your product stand out?
FitBark is being built from the ground up to cater to the needs of dog owners and other caretakers. With this laser focus, our goal is to contribute to a great pet parenting experience, which begins with keeping in touch with our dogs, and getting insights about how they feel by looking at their energy levels. We live by the saying that "a healthy dog is a happy dog".
Who are your competitors?
No direct competitors. Among the GPS collar manufacturers, TAGG has recently added physical activity tracking. We also view the GPS collars as a complementary market. Here's the blurb from its Kickstarter page:
Why don't you have a GPS on it?
We familiarized ourselves with a number of GPS products, and we found that they were too bulky and heavy for our dogs. It would have also greatly reduced battery life.
See how Fitbark works. Visit http://www.fitbark.com/

Copyright secured by Digiprove © 2013 Dennis Clemente