Founder of reusable garment bags gets 'wisdom of crowd' inputs
By Dennis Clemente
It has been more than three years since Tonia Torrellas, a registered nurse used to seeing disposables at work, invented a reusable plastic bag, a solution to cutting down on plastic waste found in dry cleaning shops.
She considers the official day of her company's inception, June 9, 2009, as a fateful day because, on the same day, a United Nations official also called for the widespread ban on thin film plastic bags. See

It's My Bag is a reusable dry cleaning bag for the eco-minded in us. It's made of vinyl but for Torrellas, green in this case is about the reusable aspect or sustainability of the product.
At The Product Group meetup hosted by Jeremy Horn, Torrellas presented the challenge she faces with dry cleaning companies who prefer to stick with disposable plastic bags. The group was more than willing to give suggestions on how she can market her product, including how she can better address her foremost concern–getting distribution chains.
For now, her product has become more of a corporate gift; she is looking to sell to more dry cleaners and big home furnishing stores who have, for now, "rejected me." One suggested she concentrate on getting local stores other than dry cleaners.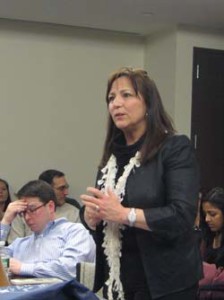 Torrellas is quick to point out though that her dry cleaning customers like her product. Still, buying it is another matter altogether, as plastic coverings are still much cheaper than her product. "They (dry cleaners) just want somebody else to buy it."
Obviously exhausted from selling her product with no big distribution chains to make her company completely take off, Torrellas intimated also how she is relatively unknown, being from a small town in Hicksville, New York.
The participants were in agreement about one suggestion to sell her product to the luxury market, giving hotel chains the opportunity to place their branding or logos in the bag. The product may also need to be redesigned, aside from considering how it can be packaged better.
To scale her product, the attendees also suggested crowdfunding sites like kickstarter.com. Made in China and New Jersey, Torrellas said she has 3,000 bags at the moment and they retail for $12.50.

Copyright secured by Digiprove © 2013 Dennis Clemente