How public Wi-Fi affects public policy, security and civil liberties
By Dennis Clemente
When you nonchalantly access public Wi-Fi in a café to check your friends' newsfeeds on Facebook, other people have something more than Caramel Macchiato in mind. They're thinking where does anyone even begin to think of public policy issues, including universal broadband access, federal spectrum policy, data security and civil liberties. The purpose of spectrum policy is to manage a natural resource for the maximum possible benefit of the public.
It turns out public Wi-Fi access is that serious a subject, as it even brought in the cavalry to the eBay office last April 11, in an event called "Internet Everywhere: Role and Implications." The panels of experts came from government, the academe, legal profession, non-profit organizations, public policymakers and cyber security world.
With a big panel to moderate, Nilay Patel, managing editor of The Verge, had the experts take their turn answering questions based on their field of expertise. However, the talk presented more questions than answers with little wiggle room for the panel of eight experts to elaborate on their thoughts given the limited one and a half-hour time period.
Still, there were some interesting answers to questions that don't come up too often. For example, is it possible to lose your Internet rights? Yes, if you have six recorded copyright violations.
There were comments about anonymity and security, as both have a corollary effect on a computer user. One can be anonymous at a Starbucks, but you may not be safe and can actually be rendered vulnerable by an application that can be easily bought online.
Others were confident about security online. One expert assured how encrypted data provides protection 90 percent of the time, although developing better mousetraps were still suggested.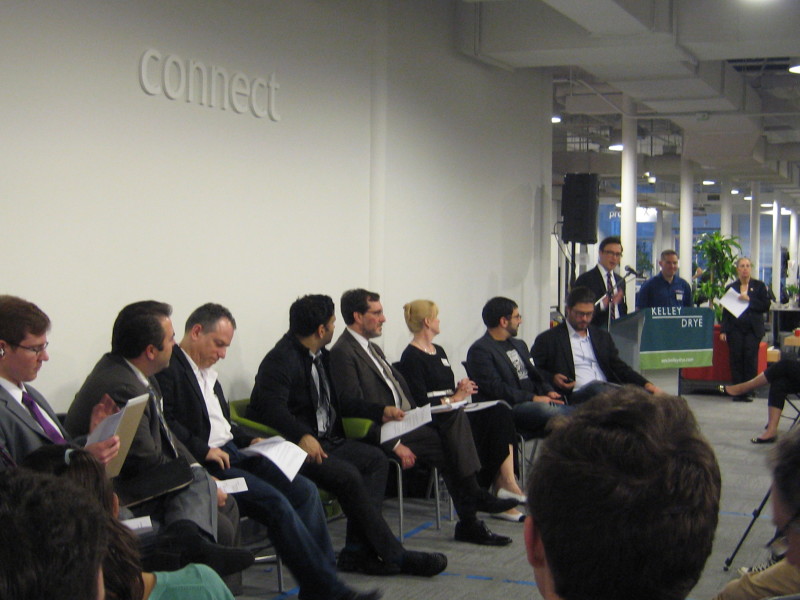 New York City Council's Gale Brewer was in attendance and she pointed how times have certainly changed since she allowed IBM to set up kiosks near municipal hall in the mid-90s. That was the time when just getting an Internet connection was already a big deal.
She might have been referring to how in January 8 this year Google didn't need kiosks, as they wrapped Chelsea in free Wi-Fi—the largest Wi-Fi hotspot in the area where it also holds office, incidentally.
And that's even a year too late, as Brewer recounts how "MTA (Metro Transit Authority) took a year to respond to Google" about the tech giant's plans. She claimed the MTA finally responded when she asked MTA to return the call from Google. This anecdote drew some laughs but it also raised the issue of the city's tech preparedness. Because in January this year, the city also announced a pilot program to turn payphones into open Wi-Fi hotspots.
To date, the City and AT&T has a five-year initiative to provide free Wi-Fi service at 26 locations in 20 New York City parks across the five boroughs. At present, AT&T Wi-Fi is now available free of charge to park visitors in all five boroughs. There are also plans to have 200 underground stations in New York's subway platforms.
The event was hosted and organized by the Federal Communications Bar Association (NY Chapter), New York Law School, eBay NYC, the New York Legal Hackers Meetup, the Cardozo Cyberlaw Society, and the Brooklyn Law Incubator & Policy Clinic.
The panel of experts, not in any particular order, were: Diedre Flynn, executive director of Telecommunications Policy and Strategy, NYC DoITT; Joe Plotkin, Board member, NYCWireless; Bruce Regal, senior counsel, New York City Law Department; Mike Roudi, SVP Corporate Development, Time Warner Inc.; Michael Santorelli, Director, Advance Communications Law & Policy Institute, New York Law School; Christopher Soghoian, Indepdent Privacy Researcher; and Jody Westby, CEO, Global Cyber Risk.

Copyright secured by Digiprove © 2013 Dennis Clemente