How to make money from your own videos
By Dennis Clemente
From video consumption, the four startups at the NY Video Meetup in Columbia University last January 24 were excited to declare how anyone can profit from video production using different platforms, even without YouTube in the picture. The companies are Montaj , Vidwala , NowThisNews and NYVS.
Montaj co-founder Demir Gjokai called his new app, "Instagram for Video." Using an iPhone, Gjokai showed how to use the app to make short clips, edit it with the special Montaj storyboard and provide the score from one's own iTunes playlist. How easy is it to use the app? He proceeds to show a graphical interface on how to shoot videos and shake the phone to edit or change a song. Once satisfied, you can share on YouTube and other social networks.
Emphasizing his preference for storytellers as opposed to clip-makers is one way he foresees his company working on a business model that helps him connect with brands. Being a fairly new product, Montaj works only on the iPhone for now.
Talking about storytelling , NowThisNews is looking at redefining journalism for the mobile generation with video news coverage that could pit them against Vice Media and even BuzzFeed, the company where it gets its share of funds from Lehrer Ventures.
Drake Martinet, co-founder of NowThisNews, says that journalists can grab a video camera and report the news and have his young demographic view the news in his platform. Asked how he will monetize the site, he says the company is considering producing branded content.
Martinet finally put rumors of NowThisNews' connection with Huffington Post to rest.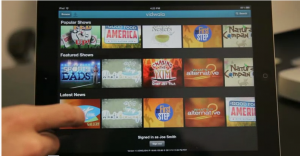 For its part, Vidwala's video distribution platform is aimed at independent video producers looking to make a profit for themselves. It aims to empower indie video producers to be in control of monetizing its distribution, especially with its new iPad app.
"By utilizing Apple's micro payment system, Vidwala's iPad app allows fans to buy shows, which translates directly into earnings for video producers," says co-founder Kabir Mohammed
Not only that, producers will reportedly be able to promote their films and web series, reach new audiences with easy video uploads and set their own prices or even offer free episodes as part of a marketing strategy. Fans, on the other hand, will enjoy the security and ease of in-app purchase to buy their favorite shows and even have the option to download episodes to watch them offline.
But for the easily intimidated, how can people even begin to learn how to make high-quality videos let alone edit them like a real pro? How do you become video literate?
Alex Collmer of NYVS believes that his company can help users learn about producing high-quality films. NYVS is an online film school that allows anyone in the world to learn how to make videos, discuss them with peers, get useful instruction from the NYVS staff and share experiences with people from all over the world for a small fee.
Collmer doesn't believe everyone needs to go to a top-notch film school in order to be able to make a video to sell a car or house or meet someone online.
The lively Steve Rosenbaum, founder and CEO of magnify.net, hosted the meetup.

Copyright secured by Digiprove © 2013 Dennis Clemente