Indie game developers use cross-promotion, sponsored content to compete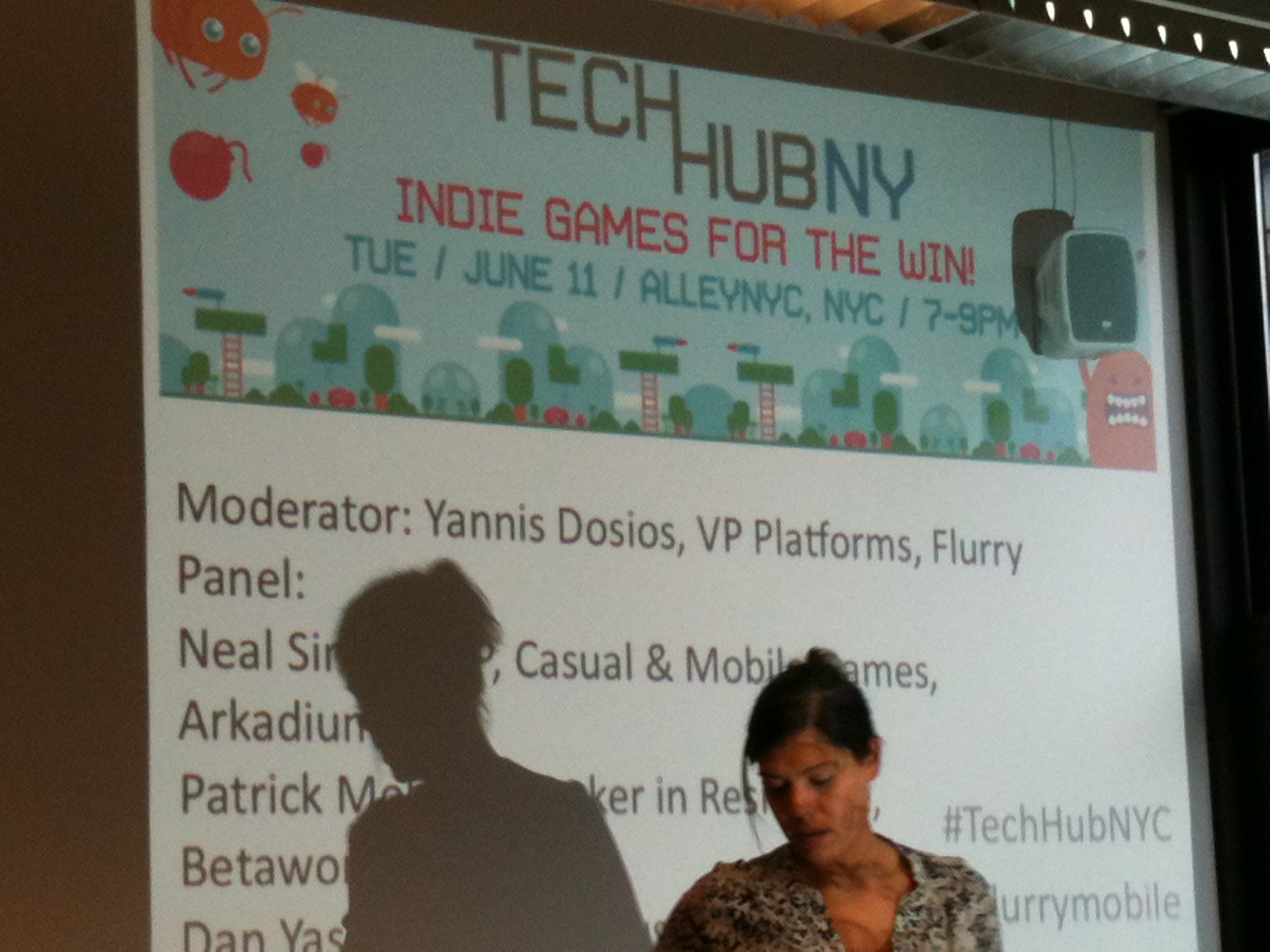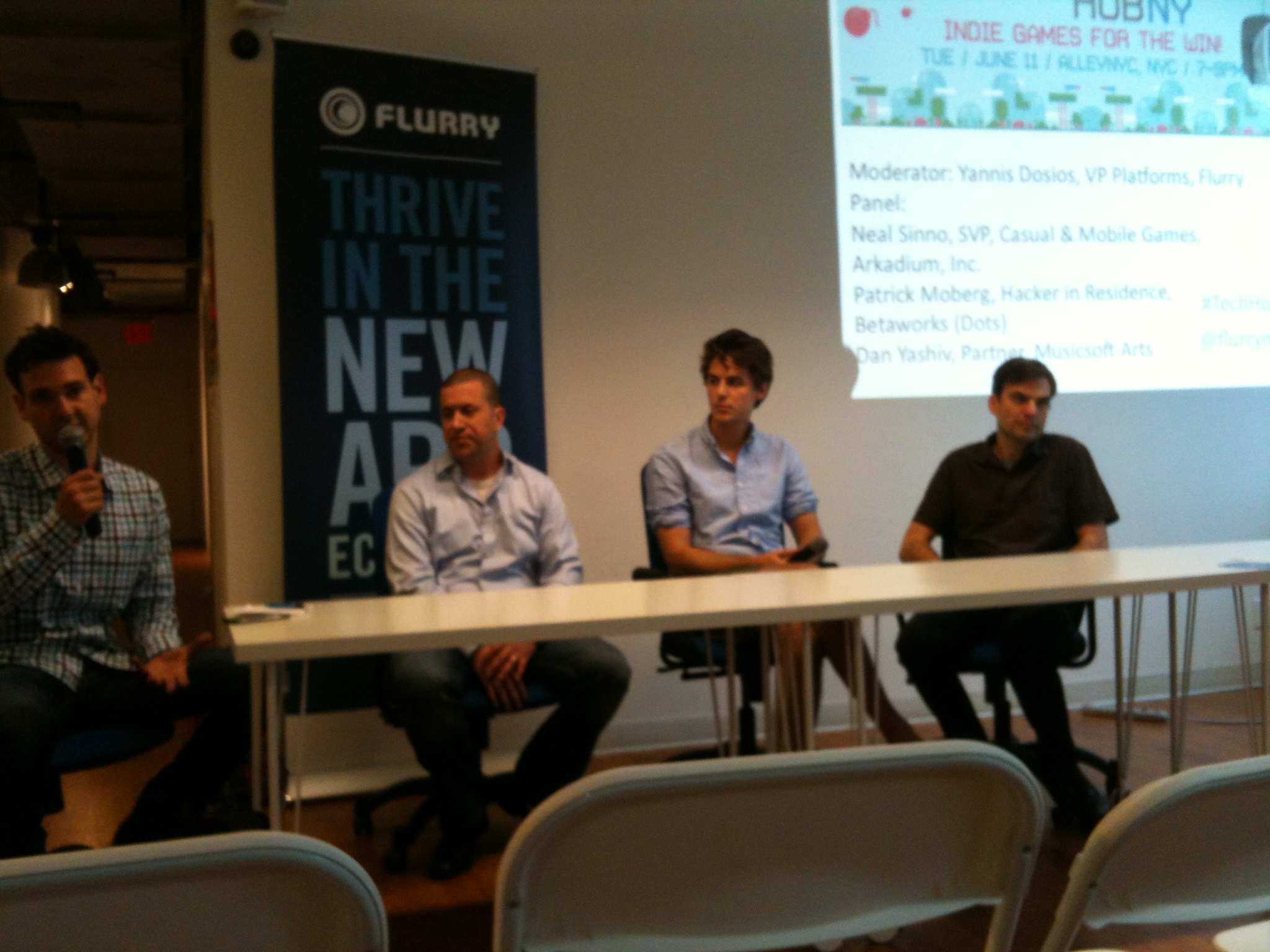 By Dennis Clemente
Gaming is the largest business on smartphones and tablets, but how are small indie game companies competing out there? At the meetup called "TechHubNYC: Indie Games for the Win," hosted by Yannis Dosios of Flurry recently, the guests do a little of everything—cross-promotions, video ads, sponsored content, as they work with various ad agencies to keep themselves solvent while staying true to their roots.
It was far from being an organized meetup (it started over an hour late, for one), but the audience didn't mind as they waited patiently to hear from the two companies in gaming–Arkadium, Inc led by Neal Sinno and Patrick Morgen of the famed Dots game representing Betaworks with special guest Dan Yashiva of Musicsoft Arts.
The panel talked in varying degrees about the way they develop, self-publish and market their apps efficiently. Without mentioning big companies catching on to this lucrative business, each speaker recounted how they go about their quest for gameplay innovation, better measurement tools, low-cost acquisitions and high-efficiency monetization while also addressing the challenge of rising competition and costs.
Asked about the challenges they face, the three speakers pointed to the Android platform for the different sizes, but all agree that Kindle, because of Amazon's huge retail coverage, shows promise.
Among the three guest speakers, Patrick Moberg, Betaworks' hacker in residence, chooses to be the quiet one, preferring his mobile game, Dots, speak for itself, as he frequently passed on the mike to the other speakers. Dots has been voted one of the top 10 best indie games, clearly a big thing for Betaworks' first mobile game.
Available only for the iPhone, Dots is a simple grid game: You connect the dots that are of the same color with a straight line, dots disappear and are replaced by more dots. You repeat until the clock runs out after 1 minute.
Moberg didn't initially set out to make a game, but when he did Dots, he knew it should be simple to understand.
The next presenter, Arkadium, is not exactly "indie" the way it has succeeded since its inception 12 years ago as a bootstrapped company. Today, it is a leading casual games developer with a library of over 300 free online casual games in different platforms—plus $5 million in funding from Edison Ventures.
The New York-based company's biggest hits are Microsoft Solitaire Collection and Mahjongg Dimensions Blast. It also makes games targeted at the cross-platform Windows environment while maintaining Facebook games and mobile games. Every month, 10 million people play its games.
In his experience, Sinno said it's better to have ads come early in your app rather than later when people are already used to playing your games without seeing ads. "You don't want to disappoint your fans."
Asked how they market their games, Sinno said, "We talk with (ad) agencies. We do micro transactions. We do cross-promotion."
Dan Yashiv, partner of Musicsoft Arts, also believes in cross-promotion. He has reportedly secured deals with major sponsors, including Toyota, Hennessy, Bacardi and Hyundai, top DJs and artists such as Carl Cox and Thievery Corporation, media hub VIBE Magazine, and music aggregators The Orchard and InGrooves.
Yashiv is a seasoned media entrepreneur who thinks advertising is a different skill set nevertheless. For the uninitiated, he said, "it's also about knowing the right people."
He co-creates and co-develops groundbreaking music apps. To date, he said Musicsoft apps have been downloaded in over 16 million mobile device users worldwide. Like Arkadium, Musicsoft is bootstrapped and a "5% app developer."
Like Arkadium, Musicsoft is a New York-based company. However, his business is not exactly gaming but mobile music. An audience reminded him of that by saying, "you're not in gaming, right?" which he deflected well by agreeing and talking about how he works with experienced software developers along with new media producers and music professionals, and how it is focused on building hi-fi music mobile apps.
Audiophile is one Musicsoft app for picky ears. Along with left and right channel decibel output displays, mini-player, as well as a full music library browser and playlist manager, Audiophile includes three enhancement toolkits for precise sound tuning and improvement. One of the most common tools, the standard equalizer is available in a 10-band configuration or a simplified three level setup with low, mid, and high adjustments.
A secondary EQ, which utilizes MaxxAudio technology, boosts the frequencies and volume beyond the audio file's encoding, plus offers an automatic leveler and overall booster similar to Apple's Sound Check feature.
For the third choice, you can optimize the output based on the speakers, whether
headphones, self-powered external units, or the iPad's own audio system. The Maxx features can be tested using a limited duration demo mode, and are available to permanently unlock for $0.99 (currently on sale) via in-app purchase.
Flurry TechHub Meetups are monthly, free-to-attend events that bring together high-caliber developers, founders, entrepreneurs and investors in the technology community. Flurry TechHub Meetups are held across the world's top tech centers including San Francisco, New York, Toronto, and Los Angeles.

Copyright secured by Digiprove © 2013 Dennis Clemente