NY Video presents Interlude, Drama Fever, Entertainment Hound and apivids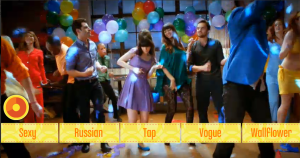 By Dennis Clemente
Last October 22, NY Video meetup host Steve Rosenbaum welcomed back Interlude.fm, a presenter years ago, with good news to share. It recently got a second funding, this time from Intel Capital.
Interlude.fm is a crowd-pleaser of an idea. Its authoring platform, Treehouse, allows video creators to map, build and publish Interlude videos on Web, mobile and social platforms.
Think how you can just easily switch the colors of the car commercial you are watching. Or pick the musical instrument you want to hear among the band playing different instruments.
You can certainly go wild with the customization but Alon Benari, VP Creative & Innovation, likes the idea of threes –the frequency which takes us to have a song stuck on our head, anyway.
Israeli musician Yoni Bloch is the founder which makes this a great avenue for musicians who like making unique videos, but it's clearly more than that. Licensing the technology to media companies, video production companies and ad agencies has been a cinch. Its roster of prestigious clients includes Fox's New Girl and Subaru, among others. It's free for personal use.
The NY Video's other guests at the meetup included Drama Fever, Entertainment Hound, and apivids.
Romanos Fessas, VP Product and Sung Ho Choi, product manager, talked about the new advertising display opportunities for its online video site, Drama Fever, showing how they can put ads front and center. "We are able to do sponsorships and fit videos around advertising," Fessas said who claims to have 50,000 subscribers on the site so far.
Drama Fever is an online video site for international video content. It streams movies, documentaries and TV shows on demand with subtitles. It reportedly has 60 content partners across 12 countries.It is available on a variety of devices, including iPad, iPhone, Android and Roku.
First launched beta in 2009, it has raised money from MK Capital, AMC Networks, Bertelsmann and the founders of YouTube, Machinima, Google, StubHub and others.
Clearly new in the scene, next presenter Entertainment Hound is a social discovery platform for films. It recommends videos from all films and then shows you where you can legally stream, download, rent, and own them from your favorite places, such as Netflix, Amazon, iTunes, YouTube, Wal-Mart and Target.
Elliott Koss, the sole founder and also the developer, said, "We clearly need help in improving the site." Koss worked in film distribution for six years, encoding digital content when he came up with the idea of having a social discovery tool for movies.
"The discovery process works like Pinterest," Koss said. "When clicking on a title, the site shows the services you can watch a movie."
Plans to have books and TV shows are reportedly afoot.
General manager Philippe Collin presented apivids, a cloud-based ad tech platform that advertisers and media agencies use to create, distribute, deliver, optimize, manage, track and report on the most complex and video campaigns.
From his presentation, apivids looks ready for primetime, coming on the heels of its promotion in Europe. It is reportedly available on any screen (desktop, mobile, tablet, IPTV), in any format (in-banner, in-stream, in-read [IAB or non-IAB]), any publisher (premium, ad networks, ad exchanges, SVA platforms) and any campaign (branding, direct response and anything in-between).
"We've never seen one publisher refuse our ads," he claimed.
Previously held at Columbia University, Rosenbaum said the NY Video Meetup is now going to hold its monthly meetups at the Made in NY Media Center in Dumbo, Brooklyn.

Copyright secured by Digiprove © 2013 Dennis Clemente