Publishing, marketing teams face Agile challenge: deadline dates
By Dennis Clemente
If you're looking to improve your scale or capability, there's nothing like having some Agile thinking in place. For the uninitiated, it could simply mean having a workflow with sticky notes on a white board that categorizes tasks as "to be done." "in process" and "finished." But it's more than that for two teams at the Agile for Non-Software Team meetup hosted and organized by Lori Masuda last April 9 at Kaplan Test Prep.
At the meetup, the two Kaplan teams that were paired with editorial and marketing staff presented the result of their Scrumban and Lean practices in a panel discussion that allowed for the "sharing of the good, the bad and the future."
The toughest challenge for both teams proved to be meeting deadline dates.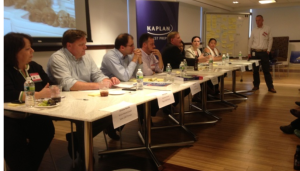 One team was tasked to write the LSAT (Law School Admission Test) Premier, while another, Grad Marketing, worked on improving its own processes in both managing general tasks and fulfilling requests for marketing collaterals.
In the past, it was not unusual for the LSAT team to write a book with one author. This time, the LSAT team faced the challenge of collaborating with a large group of people where not all the great feedback can be incorporated instantly; that hefty book is like the yellow pages of old where the process of completing it can test the most patient of stakeholders and authors.
The marketing team, for its part, had a "black-box" process with many submissions but no clear way of prioritizing all the requests. They wanted transparency and collaboration with their stakeholders.
Both teams implemented daily scrum meetings and visual task boards. For the LSAT team, they implemented the Demos and Sprint Planning. For the marketing group, they streamlined retros and single product owners.
Masuda listed the following challenges presented by the panel:
1. Managing deadline dates. How to address deadline dates with shifting priorities
2. Planning/estimating/team capacity. How to adjust to unavoidable guess work
3. Commitment level. How to make everyone commit 100%
4. Work-in-progress concerns. How guidelines work but hard for everyone to stick with on a regular basis
When everyone can't be together, it seems Agile thinking beats huddling in front of a computer, as it resulted in something that should inspire the rest of us:
1. Increased transparency
2. Increased collaboration and
3. Better communication and alignment with business
Since most of the participants worked remotely, a challenge for many, they discovered how Google Hangout was heaven sent.

Copyright secured by Digiprove © 2013 Dennis Clemente