Silicon Valley giant Steve Blank on demo days, pivots, entrepreneurship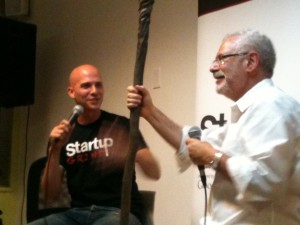 By Dennis Clemente
How much evidence do you really need before launching your startup? The person at the receiving end of that question responds: "That's like guessing how much sex is enough. I'll let you know when I get there."
The crowd of about 200 people burst into whistles and hoots. That set the mood for Startup Grind's event at Alley NYC last September 23. The man speaking was Steve Blank, the pre-eminent Silicon Valley entrepreneur, author of several books (one of which launched the lean startup movement), an educator and the man that continues to remain in most top 30 influencers' list in technology even after more than 33 years in the tech world.
True to how he espouses his ideas and the way his highly organized mind works and because he's a teacher at heart, he responded, "But who are you building it for?" Blank said more and had the audience hanging on his every word.
On demo or show-and-tell days. He decried how many startups are graded by how well they pitch instead of whether their startups are a good product-market fit, or if they have run enough experiments with customers, citing even VCs are getting burned out on demo day.
"An incubator (has become) like the Miss Universe contest. It should be more of 'how we got here, where we are and what evidence we have' about where we are going?" He thinks there should be a "Lessons Learned Day" than the continuous Product Demo Day."
On gauging the thermometer of success. He tells the story from 30 years back when NASA and the Department of Defense decided to come up with a Technology Readiness Level. "Level 0 could be (about having) demonstrated the principles, Level 5 and 6 could be you have something working. Level 8 or 9 could be you have reached nirvana.
"What we never had was the Investment Readiness Level? But there are some criteria on that now. We may now be able to play Moneyball with startups," referencing the book where a small team was able to compete against the New York Yankees by relying on data or statistics—and hiring players who could gets base hits alone than most other players."
On rising number of incubators/accelerators. He acknowledged the help these incubators and accelerators provide, which is a long way from just sharing of physical spaces back in the old days. "What we've had last five years are the mentor-based, equity types. We have Paul Graham's guru-based Y Combinator who mentors, demos and gives you partial funding. We have Tech Stars in multiple cities with community mentoring. Are there too many? "We need to think past existing models. We need to make way for a new model. Accelerators may (want to consider) a curriculum."
On when to pivot or stick to your vision: "We used to pivot by firing executives. What we've learned is that instead of firing executives, we're going to fire the plan first." But these days, Blank said pivoting has also been done to the extreme. He said he told Eric Ries (his student and the one who coined it in the book, Lean Startup) that he draws the line somewhere in pivot.
"The problem is that now, it has given rise to its (misuse) by founders with attention deficit disorders. Pivot should not be…like someone told me something yesterday I'll turn the company upside down."
On existing markets and new markets. "A small startup is nothing like a large company with its existing markets or how you can find out about size, competitors, pricing and customers. Customer discovery is really easy in existing markets. You can get sufficient data and pivot.
Talking about how startups get started, "Attacking the incumbent (existing market) can be suicidal, but what others see or not see is that there could be a niche (in a new market). But what is a new market? With a new market, you don't (have data). It's about seeing something no one else sees. Now you have to go outside and ask the bigger question, where is the world and what do you see?"
On intellectual property. If you're in the web, mobile or cloud, unless you have a really novel product, it's going screw your head. What matters most is velocity of learning. Instead of talking (and having it in your head), you can go out and listen (to your customers.)
On gaining the vision to see what's out there 3 years from now. Rephrasing the question, Blank said, "Can you teach entrepreneurship? We have been asking the wrong question for a hundred years. Of course, we can teach entrepreneurship.
"We can teach it but the question is, who can we teach entrepreneurship to? Yes, we can teach it to those who passionately volunteer… If you desperately want it, we can teach it. If you think it as a job, you're through. We are now in the renaissance of teaching entrepreneurship. We (eliminate) stumbling blocks and prevent people from doing the wrong things we used to do."
On why the closest thing to a founder is being an artist. "What we missed for a hundred years is that the closest thing to a founder is (being) an artist. Who are they? When we see a blank canvas, they see a starry night. When we see a block of marble, they see a theater. When we see nothing, they say, 'Follow me, it's here.'
On his young self, some 30-plus years ago. Blank is a native New Yorker. He was born in Chelsea, grew up in Queens, and lived in the Bronx. He went to the University of Michigan, dropped out after the first semester, and joined the military in Vietnam. "I had the lowest GPA. I was 'thrown out' with a .5 grade point," he said. After Vietnam, he went to find work in Silicon Valley in 1978. "I was surprised to see 48 pages of job ads for engineers alone in California."
Blank worked the night shift at a military intelligence systems supplier whose location, to this day, he has not disclosed. Because there were no close vaults during his time, covert manuals were just within his reach. He said he read them because he loved to read, admitting he wasn't too bright at 24 to think how risky it was for him to do so.
When someone found out that he took notes of the manuals, someone grabbed his notebook, and told him, "You're not cleared to write this. Do you mind taking on another hobby?" There was a cold war between the U.S. and Russia then and he was asked, "You're not going anywhere, are you? We do have your passport?" Well, he did go somewhere as author of the most loved books by Silicon Valley.
Never a CEO, "my career was more of incremental apprenticeship." Still, he managed to retire from Silicon Valley at 45, so he could see his kids grow up. And take on other hobbies, like writing books and teaching young people to build their own careers as entrepreneurs.