Startups and founders talk tech in Queens
By Dennis Clemente
The Queens Tech Meetup in Long Island City is quite a trek from Chelsea's Silicon Alley, but you can trust techies to go where location has always been relative.
Last February 21, five founders brought their amazing stories to Queens: Wiley Cerilli, he of the famed SinglePlatform (http://singleplatform.com/) until he sold his company to Constant Constant for a deal reportedly worth $100 million; Adam Sanders of Backspaces (http://backspac.es/); Peter Pelberg of Yog (http://getyog.com/) and Stefanos Missailidis of Fiestah (http://www.fiestah.com/).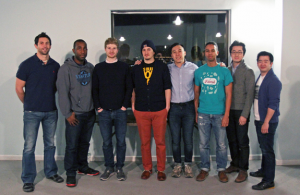 Where the other founders focused on talking about their products, Cerilli talked more about his interesting journey. He dropped out of New York University to set up his online business, "faked" some functions in his site, and even promised more than he could deliver to a huge potential client but did deliver anyway (probably inspired by how Bill Gates did it with IBM back in the days).
SinglePlatform by Constant Contact helps you manage and publish your business or restaurant information and content in one place, and reach millions.
Cerilli lives by the quote he showed in his slide about adapting, "The winner between the alligator and the bear is determined by the terrain."
Cerilli is now a Vice President at Constant Contact, and he sits on the Constant Contact Executive team. He was once named one of the Top 25 CEOs in New York and Top 100 Most Influential People in New York.
Backspaces' Adam Sanders showed his iPhone app, showing how it works to create and share stories with friends. He showed how by using the event to tell his story at http://www.backspac.es/r/YVZdEHn6QO
The app only allows you to create storing using words and pictures, not videos, as he and his two other co-founders prefer to keep it simple and fun. Why no videos? "We all love videos, but it's really hard from a mobile and bandwidth perspective," he says.
How have they done so far? "We prototyped it in May last year, launched it in August. We're growing 1,000% a day," he adds.
He demonstrates the app with stories that moved him, especially one that came as far as Indonesia. The app allows you to share your stories with a simple web link; discover other stories and follow your favorite storytellers.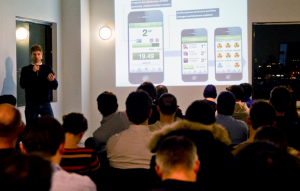 Pelberg's Yog is also an iPhone app. This one connects you with runners around the world so "you'll never have to jog alone again."
"You run with anyone, anywhere in the world, in real-time," he says of the social running app he worked on at night after work.
How do you invite friends to a run? SMS, email, Twitter or Facebook will do it and you can run with as many as 20 people.To use it, you need to Create a Run by selecting the distance, date, time, music and other people you'd like to invite to go running. Then join a run created by another runner on Yog.
Missailidis of Fiestah presented his event management website, just a month after a co-founder presented it also in another tech meetup in Chinatown. Being only a year-old, it's normal for these startups to make the rounds to promote their businesses.
Fiestah helps you plan your event by taking the hassle out of finding, contacting, and managing multiple vendors. Right now, he says they have 250 vendors, most of them in the food business.
To avoid rate haggles or price wars, Missalidis says the site does not indicate the price or rate of the vendor to other vendors. "Only you as the event planner can see the different rates of the vendors."
He monetizes the site by taking a 10% cut from vendors.
Queens Tech Meetup had a surprise guest. Eric Abrams from the Queens Chamber of Commerce came to announce a $30,000 prize for developers to come up with an idea and website/app to promote Queens to the world. Deadline is second week of March. For more information, call him at 718-898-8500 or email him at eabrams@queenschamber.org
Photos courtesy of Queens Tech

Copyright secured by Digiprove © 2013 Dennis Clemente