By Dennis Clemente
The Queens Tech Meetup on Hunters' Point Plaza in Long Island City may just have the most scenic view of Manhattan's skyscrapers in Queens. It's already unique for being out of Silicon Alley's neighborhood, but if you think about it, the venue fits tech startup founders. It's nestled on a rooftop like how startup companies featured here must feel with more downloads to their respective apps.
The guests at the 7th meetup of this group last May 2 soaked in the sun longer than usual as they admired the view. Later, as the people trickled into the main hall for the product demonstrations, the admiration would be lavished on the three companies –WeHostels, Uber NYC and Tacks, for making it to the top.
Brett Martin, co-founder and CEO of Sonar, kicked off the night by sharing some sobering startup stories: He said "you won't get the best people right away," but you still have to pursue your dream.
His company, Sonar, is a mobile app that tells you when your friends and friends' friends' are nearby. It leverages social and location data from networks like Twitter, Facebook, Foursquare and LinkedIn.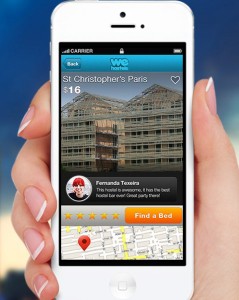 The demonstrations started with WeHostels' Diego Saenz Gil, the hard-working Argentinian who moved to Barcelona and moved to the U.S. with an app that aims to make it easy to find and book value accommodations around the world while also connecting other travelers using the mobile device.
WeHostels started as a Web site, but when Saenz Gil realized the 411 percent growth in search mobile, he went full app on iOS (Android to follow) and linked it with Facebook. "We've had 120,000 downloads of our app so far and 50 total bookings a day," he said.
Hostels are popular among young people who don't mind sharing rooms with other strangers. This, he said, "is a $136 billion market."
When they did the app, Saenz Gil said they only focused on three things: beautiful design, social integration and easy booking functionality. He made the booking functionality easy by doing his research on-site, asking people in hostels.
The next demonstration came from Ed Casabian, senior community manager of Uber NYC, the company that has been in the news lately. It will be recalled that the New York City's Taxi and Limousine Commission (TLC) initially banned Uber from Gotham's taxicabs last year. But TLC has green-lighted the cab-hailing app.
In Uber's world, you don't have to carry cash or pay the driver, as this will be deducted from the credit card you signed up with when you downloaded the app. You tap a few keys, the cab closest to you comes to you.
Regarding the concern about the wait, Casabian said it's now down to "4 minutes from 15 minutes last year."
Uber is now in 10 countries, including London, Paris and Singapore. "All drivers (in New York) are vetted," he added.
The last presenter, Tracks, showed its mobile social storytelling app. Designed for friends and the entire family to enjoy, the app collects your photos and turns them into visual stories automatically using Facebook and your phone's camera roll. Tracks are also auto-published on a web application for viewing and sharing.
Tracks reported 2 million downloads for the app, so far.
Also in attendance was Senator Michael Gianaris who spoke about Queens and the planned $133-million infused funding for building the Cornell NY Tech on Roosevelt Island. Marissa Shorenstein, president of AT&T New York, lauded the Queens Tech Meetup and reiterated the continued sponsorship of its events.