Vitogo founder talks about features of personal trainer app
By Dennis Clemente
The Product Group Meetup at the Viacom Building/MTV Networks in Times Square last March 7 was attended by nearly 400 people, all excited to share their insights about millennials, including Arel English, founder, product manager and one of the developers of Vitogo (vitogo.com), a personal trainer app.
"Vitogo is a fitness service we like to call 'a personal trainer at your fingertips,'" said English of the iPhone, iPodTouch and iPad app.
"Most people who want to get in shape fail because they don't know what to do, and don't see results. Vitogo helps you succeed by guiding you through your fitness journey, just like having a personal trainer working with you all the time," he added.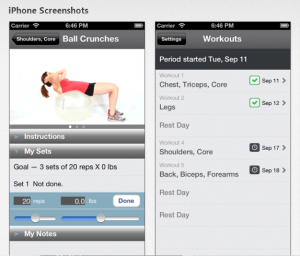 Getting the whole picture is essential. English said there are three pillars of a healthy lifestyle: nutrition, cardio, and strength training and Vitogo will help you achieve your fitness goals through strength training and integrates with RunKeeper and Lose It! to give you the complete picture.
Here's how the app works, as explained by English:
Tailored to your goals. Assess your fitness level and goals to choose a strength training program that's right for you using strength and conditioning science.
No more guess work. Achieve your goals by taking the guess work and confusion out of the gym. You are guided every step of your workout, telling you how long you must rest, and showing you how to do your exercises with photos, videos, and descriptions.
Track your progress. Track and measure your improvement by providing graphs and analytics of all your fitness activity and personal measurements.
Staying motivated. Work your way up the Vitogo leaderboard and earn trophies by completing workouts and hitting milestones with support from family and friends.
Keep improving. Bored with the same old workout? No longer seeing results? Build variation into your program every 8 to 12 weeks, free of charge.
English, however, advises people to consult with their physician first before undergoing any diet or exercise regime.
The other agenda of the night was served up by Jeremy Horn, the host and organizer of the Product Group meetup: "What are millennials?"
Millennials (or Generation Y) are said to be those born after 1977 all the way up to the 2000s. But at the meetup, the attendees consisted of different generations, which resulted in a lively discussion.
The audience talked about how millennials have seen so many layoffs, privacy is no big deal, multitasking is essential, news need not come from media, popularity is fleeting, and how continued unemployment is making it hard for them to pay their student loan debt.
For Echo founder Mat Gaver, the talk was telling in a sense that it gave the much older ones "a reason to get back at the younger ones for the life they can't live anymore."
But what does the mindset of millennials mean for our products?
Short of saying it's going to be hard to pin them down, one marketer says, "Product developers are going to be challenged by them, because they embrace technology but they also like a printed book," because it is a more authentic experience.

Copyright secured by Digiprove © 2013 Dennis Clemente