Warby Parker's prescription for success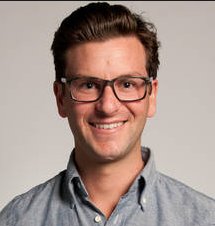 By Dennis Clemente
Never judge a man by his prescription glasses, especially one wearing Warby Parker.
Dave Gilboa, CEO of Warby Parker, is one adrenaline junkie who likes to be transformed by his adventures. He woke up one morning in a flamingo costume to run the marathon (if records mean anything, he was the fastest in that category), climbed Mt. Kilimanjaro, backpacked in Thailand where he lost his $700-worth prescription glasses but still continued his Southeast Asia trip without it, nearly blind.
Last October 8, Gilboa appeared before us looking all scholarly with Warby Parker eyeglasses, unassuming and shy in contrast to his adventurous ways; which is really why you should never judge a man by his prescription glasses.
Gilboa was at the Startup Grind meetup at AOL Offices to talk about his other transformation—the designer eyewear everyone is talking about because of its two-pronged offer: revolutionary prices and social consciousness. For every eyepiece sold, a pair goes to someone in need.
The idea itself is revolutionary to think of how it is competing head-on with the giant eyewear company, Luxottica, which has the monopoly on eyewear (the popular brands you can think of plus the stores) with a $26b market cap.
Still, it is precisely because of its David-and-Goliath approach to the business that has endeared it to the press which has made the eyewear startup a huge success (the GQ piece in time for its launch proved to be the game changer), online at first and now with brick-and-mortar stores. From four people, Gilboa now runs the company with Neil Blumenthal as co-CEO. The founders have raised $55 million from venture capitalists SV Angel, Lere Ventures, Menlo Ventures and First Round Capital.
Starting a company with friends can be tricky. But it didn't matter Gilboa and his Wharton MBA schoolmates. "We trusted each other. We knew we could spend 24 hours together. None of us were even technical."
But how did they pull it off and compete against Luxottica? The first hire was a 20-year veteran with the right connections; next was getting independent manufacturers to come onboard. They admitted to being initially paranoid about getting investors, because they wanted to maintain control of the business as long as possible before getting capital.
"We bootstrapped. All four of us pitched in and started with $120,000," he said. "We operated the business for 14 months before we got our first round of funding. In our first round, we got 100,000 customers."
Asked how you can get your startup funded, he said, "You have to have enough traction. Show them user revenue and profitability."
Gilbao credits the fashion editorial PR firm they hired for giving them the media push, especially the feature on GQ. "We did it mainly to get credibility," Today, he said the company wouldn't be where it us now if they didn't hire the PR firm. "PR has had a massive impact on our business."
It was not smooth-sailing at all. Gilboa recalled not having their site up yet when they got a call from GQ saying the mag was going to hit the newsstands early. They managed to make the site work but not with all the bells and whistles they wanted.
He said their biggest mistake was not planning for extreme scenarios. Once the site was up, he had his phone setup to receive orders. They didn't realize the site was going to get so much traffic. "We were blown away by the traffic."
It didn't occur to them that they didn't have a 'sold-out' functionality. "We got somebody from odesk to add a 'wait-list' button in 10 minutes."
To make amends to their customers, they gave everyone discounts. "We just wanted to make sure they would go back to our site."
What he learned in that experience is that "you're allowed to screw up, as long as you make each one of them happy."
That first year, Gilboa said the company hit its sales target in three weeks. "I remember staying all night packing boxes and having strangers in my apartment looking at the eyeglasses."

Customer satisfaction is a big part of Warby Parker's success. Holding employees accountable for how they treat customers can be a challenge, but they make it possible by using Net Promoter, a loyalty metric and a discipline for using customer feedback.
Today, the company has 350 people in its Soho store with showrooms in other stores all around the country. It just signed up an 80,000 sq ft lease for another store.
For Gilbao, Warby Parker is more than an eyewear, it's a fashion brand.
The meetup was hosted by Startup Grind's Bryan Park.

Copyright secured by Digiprove © 2013 Dennis Clemente