Wearable tech for your dog, the 'march of penguins' to help you raise capital
By Dennis Clemente
What do dogs and penguins have in common? They were the topic of two presenters at the "TiE New York: Fostering Entrepreneurship Globally" meetup last May 8 at the Loeb & Loeb in midtown Park Avenue. The two presenters were Fitbark for dogs and DreamIt Ventures' Arie Abecassis who explained why you need the concept of the march of penguins to raise capital for your startup.
Fitbark launched what it billed dog parenting 2:0, a tiny wearable contraption that helps owners monitor the activity of their dogs, with the resulting data captured, stored and viewable on any iOS devices. It claims to give real-time insights about their pet's activity and energy level. Pre-orders are now available.
From that presentation, the meetup sequed into how to raise capital for your business idea—and yes, it does have something to do with the march of penguins.
"It' s a world of lots of 'maybes' and few 'no's'. So the trick is how to get the 'maybes' to say 'yes,'"" Abecassis said. "You wait for the first penguin to jump into the water. Once that happens, the rest (of them) just jumps in."
"It's a similar phenomenon with investors. When investors perceive their risks are mitigated, they'll jump right in," he added.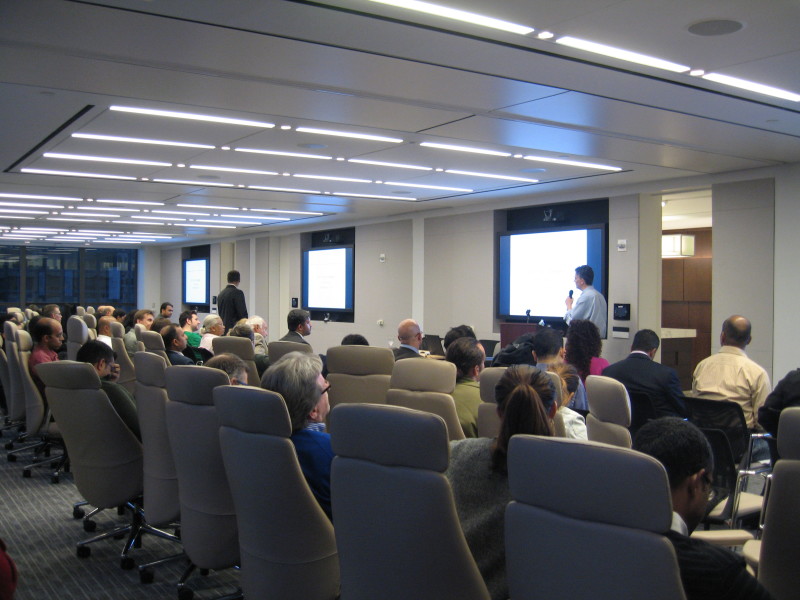 Abecassis acknowledged what everyone knows to be true. "It's not about what you know but who you know. It definitely helps to get to the right people, but it's important that the relationship builds up. If you're planning to raise money next month, it's too late to pitch to VCs.
"Build the relationship by sharing your progress. And as you progress and update them, you will notice the conversation changing, especially when they see you're comfortable in the positioning of your product. They'll see how you are demonstrating the job you are supposed to do."
"It's especially important to tell them (VCs) why they're a fit, why it's a good opportunity for them and why they can help," he said.
For him, making a connection with a VC is about connecting the dots. He almost singled out LinkedIn but later in his talk, he mentioned other social networks and for those running in the same circles, he said find out if you went to the same school.
On crowdfunding, he said it is "probably the single most exciting development in the world of entrepreneurship right now, because it holds so much potential to unleash millions of dollars or capital into the startup space."
It was refreshing to hear him acknowledge how Kickstarter and Indiegogo have a strong foothold in this regard without mentioning his company, AppStori, which does the same in principle but only skewed to apps.
These platforms are being developed to open investor opportunities. "In 2014, the average American household may not need to meet stringent criteria to invest in a startup. That's going to open up a ton of capital," he said.
"This could raise the bar for VCs, but all good for the entrepreneur," he added.
When it comes to raising capital from VCs, addressing those non-binding term sheets are crucial, as it establishes the valuation and terms of an investment and basically reflects the economics and control for capital and guidance.
"For those just starting their business, the good news is that VCs have become entrepreneur-friendly and less aggressive on some terms," he said. "Besides, there are other ways for companies to assign value to itself."
He advised the startup, though, that it's not always about going for the highest bidder. "Value what investors are bringing to the table."
Abecassis also talked about the aspect of governance in a startup, which covers board size, its composition, protective provisions and the roles of directors and observers, even the role of an independent, to the business. Governance should improve investor returns, he said.
How does one make use of the raised capital? Abecassis suggested the following: build product or service; build sales; expand marketing channels and take care of operations like legal and accounting work.
"You have the ability to use the Internet as your infrastructure," he said. He doesn't need to tell us what should follow next is customer acquisition.

Copyright secured by Digiprove © 2013 Dennis Clemente