Is Zoe Barry's ZappRx the cure to over-the-counter pharmacy blues?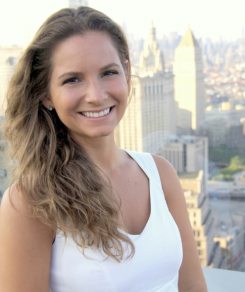 By Dennis Clemente
There are not that many female tech founders let alone someone as young as Zoe Barry. The 29-year-old former hedge fund analyst found a cure to mishandled prescriptions. She created and patented an e-prescription app and management system called ZappRx.
"With 30% of pharmacy checkout delays being attributable to issues with health insurance, we made checkout a breeze by allowing patients to manage their health insurance, payment, and prescription information all on their phone in a secure and HIPAA-compliant app," she said.
How does it work? Whenever a pharmacist receives a prescription that needs clarification, he or she can simply communicate with the provider directly through the system. And when a patient fills that prescription, their provider is instantly notified, which helps keep everyone in sync.
"It's a mobiile boarding pass in an airport applied to pharmacy," Barry said.
The idea came to her when she accompanied a friend in college to the pharmacy only to find out she didn't have any medication order. Barry's friend contacted her doctor but he could not send a prescription, because it would cause problems with the electronic medical records.
Before launching ZappRx, Barry remembers how her work at the hedge fund company ended abruptly in only 10 months when it folded.
Barry recalls the time of her struggles. She ate peanut butter and jelly sandwiches, let the investor she was talking to at the time treat her to lunch and didn't pay her credit card for a full year. "The investor was treating me lunch because I was at the point of starving."
The candid founder spoke at The Hatchery meetup last October 25 at the American Management Association building.
Passionate about her startup, Barry likes to intone, "If I can figure out how to automate one thing, I can crush it." With $750,000 funding, she has room to grow the business and improve a healthcare system as we know it.
She raised $160,000 from family and friends alone–$60,000 from one, $40,000 in another and so on and so forth. "You would be surprised to find out that friends and family want you to succeed," she said. Atlas has invested in her twice already.
If there's one thing she likes to emphasize, it's how startups should find a champion on the inside. "Ask him for coffee or have him talk to you in a neutral location."
Don't lay down your cards right away, she added. "Don't ask them for money (in the beginning). This sets an alarm bell on their heads, which makes them more curious about you. Have them be intrigued by you. For example, do not exchange cards in an event where you meet them."
Barry warns us how competing investors can be worse than sorority girls. "If they don't like each other they won't play together."
She recommended going to angel investors and incubators, but suggested not to go to accelerators. "You won't raise money in 3 months in those accelerators," she said "Accelerators are a farce."
Barry said some investors will test you to see if you will blink. They will ask you about your startup's market size to test you, but it won't even matter if there's no realistic way to pin this down. "You can just have a potential."
Being the sole founder, Barry admitted to some challenges. You may want to do everything, but she knew she couldn't do some things, like "be a lawyer and be a developer."
She figured out to write the patent but there are other legal matters that were not readily available for her. As for developing the app, she had it outsourced.
Her ZappRx app is actually 3 tech functions in one–one for the doctor, one for the pharmacy and one for patient. It allows healthcare providers, patients, and pharmacists to more easily interact and communicate. When a provider writes an e-prescription using ZappRx, the patient instantly receives the prescription on their smartphone and can easily fill, transfer, or renew it.
Barry learned enough about healthcare in her old job, where she admitted being miserable but it also served as a launching pad for her idea. She graduated with a B.A. in Anthropology from Columbia University in 2007, but she found something and crushed it, as she likes to call it.
As for that credit card, she told her investors right away who then helped her settle it right away.
The rest of what she learned and conveyed to her audience:
• A patent is not what's going to make you successful. It's only as strong as your pocket is deep. Her patent was just a defensible strategy for pitching to VC
• Single best decision she made: Hire an executive chair—a CEO coach , because it allowed us to accelerate quickly
• Hold on to power. When an investor asked for 30 minutes of her customer time, she said no. She also doesn't suggest creating a board, even if you have million-dollar funding, because the board will fire you.
• Beware of zappers (or naysayers)—those who take away your energy

Copyright secured by Digiprove © 2013 Dennis Clemente