Can you give up your Wi-Fi subscription for Karma?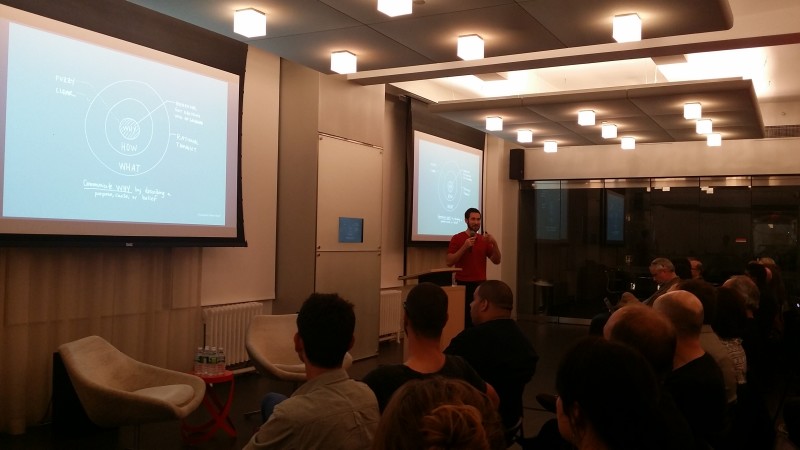 By Dennis Clemente
"Give up your Wi-Fi subscription for Karma."
Yes, Steven van Wel, co-founder and CEO, said that but no, he's not asking you to join a counterculture revolution. He was talking about Karma, a Wi-Fi pocket device that allows you to have internet access everywhere you go.
Van Wel was one of the presenters at the Hardwired meetup last October 21 at Digitas, with other smart hardware startups Body Labs and Tomorrow Lab.
The startup recently signed agreements with Sprint and Clearwire for access to their 3G and 4G networks, and has raised a $2.2 million seed round from investors including Werner Vogels, Rothenberg Ventures, 500 Startups and TechStars.
The startup's goal is to end the "drip-drip torture" of bad Wi-Fi connections. "It's all about you and your data, not the device and a contract," he promised.
Using 4G LTE cellular data connection to create a personal Wi-Fi signal, you connect to Karma like you would to your home or office Wi-Fi.
Available now in the States, it is priced at $149 with no monthly fees or subscriptions.
You pay only for the data you use, with no data expiration. It's $14 for 1GB.
The biggest challenge in launching has been keeping the experience frictionless and free of surprises for customers.
Next presenter was BodyLabs' Bill O'Farell, CEO and founder, who talked about how the company uses the world's most sophisticated understanding of human size, shape and motion to create a digital body platform upon which goods and services can be designed, manufactured, bought and sold.
O'Farell foresees consumers incorporating their own human body models into their online digital identity and using those models as a key component for selecting and receiving goods and services. "We see the human body as the key element around and upon which goods and services are designed and produced."
"We provide all the body shape information businesses and consumers need to match customers' needs with products and services," O'Farell said. "We do this via 3D human body models and the attendant data those models represent.".
Models can be posed, animated and manipulated with complete fidelity to how real humans move and deform.
BodyLabs has license agreements with Brown University and the Max Planck Institute (Germany) for software and systems based on a statistical model of how human body shape and pose changes across populations.
Theodore Ullrich, founder of Tomorrow Lab, talked about how his startup uses science and design to invent revolutionary hardware products. "When designing a product, we basically tear out everything that's been done to it so far."
The startup has built a wireless-connected pill dispenser called Adhere Tech and a smart bike rental system called Social Bicycles, both mentioned in this blog a few months ago.
Also in attendance at the meetup was Matt Witheiler, partner at Flybridge Capital, an early stage VC firm. Matt Turck, the Data-Driven meetup host, moderated the Hardwired meetup.
Another scheduled presenter, Yanda Erlich, founder and CEO of Wearable Intelligence (Google Glass for Enterprise) canceled at the last minute.

Copyright secured by Digiprove © 2014 Dennis Clemente