By Dennis Clemente
If you've never been to a gaming playtest, it's like being let loose in a candy store.
At the NYC Games Forum at Microsoft last July 29, host and organizer Rohit Crasta did just that, giving us enough of a sugar high when he presented more than 40 independent game developers and their new games to excited playtesters like us. Crasta might as well be Willy Wonka for pulling this off.
The titles were diverse enough for playtesters to test the games for bugs and flaws before they go out to market. There were intricate games like the Sombrero by Pixel Metal, a fast-paced Spaghetti Western 2D local multiplayer arena-based competitive death match that would not be out of a place in a Robert Rodriguez movie.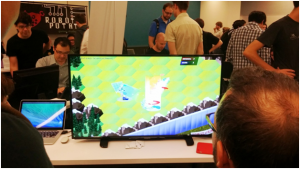 There were also unassuming titles such as the Tetris-like ColorFinger by Quikding, this blogger's favorite because of its deceptive simplicity that had testers addicted right away. It's Tetris for the swipe-playing 21st century.
Some games fit certain devices to a T. Tapinator's Balance of the Shaolin works well on the iPad (also on iPhone) on two counts: first, the actions of the game are limited to tapping left or right to keep the Shaolin in balance from his one-legged mountaintop stance. Second, the iPad's real estate space gives you the scenery—the better to enjoy passing birds and other obstructions trying to mow you down from your serene stance.
Mokuni.com showed its new game called Kitty in the Box developed for iOS and Windows by developers from China who came here three years ago and now calls New York City their home. Asked why the game is not available on Android, "It's just a (precaution) to make sure no one copies the game."
Not all games were digital. Urban Land Games' Funemployed is a storytelling board game that should easily be the life of any party. "To be hired," you must create a story using "qualifications" that make you perfect for a job. For example, if you apply as a Pirate, you must craft a convincing story around your cards (your qualifications). Our cards read Narcissist and Package. Go on, tell us how you would tell your story?
And not all games were necessarily designed to be current. Rad Raygun is a game that takes you back to the 1980s as you shoot your way through monochrome off-green shades yet ultra-sharp 144p resolution graphics. People bent down to listen closely to its great soundtrack. It's coming out soon on Steam and Xbox 360.
The event was not just about all fun and games. Sam Eng, an enterprising artist-programmer-indie developer, said he offers free lessons in Unity, which many of the games at the forum are made of. Check out his site, sam-eng.com, for updates. His game at the event was called Zarvot a two to four-player cube fighting title.
There were other great games but just too many to mention here. If you want to know more about the presenters, check out their games: Air Brawl by Wilhelm Nylund; Arcade Basketball Blitz Online by Toneaphone LLC; Bik by Zotnip LLC; Blackjack Warriors: MMO Battle by Jim Lynch; Blue Dot by Urthworx; Bunny Love by Computer Lunch; Carbon Cutters by Dented Pixel; Chronosphere by Kind Fortress; Clobsters by Hart Laboratories; Clockwork for iOS by Michael Ren; Crystal Brawl by Studio Mercato; Dirtbags MotorClub by Eppy Games; Extreme Exorcism by Golden Ruby Games; Got Light? by Benjamin Reynolds; LEX, Digits, and others by Simple Machine; Magicis by Boogie Down Games; Meriwether by Sortasoft LLC; Mother Goose by Robotic Potato; Neon Krieger Yamato by LIONPLEX; Nika by Studio Mercato; Organic Panic by Lastlimb Games and Pet Pat by Goodnight Games.
Another board game came from Phoenix Covenant by Hikari Games.
The night also featured R.E.M. by Dragonllama Games; Recurse by Lumalus Inc; Roger E Pedersen's 'Warehouse 517' by PSI Software Inc; Skyhook by MegaStorm Games; Sombrero by PixelMetal; Super Rad Raygun by Tru Fun Entertainment; That Rock Paper Scissor Game! by Philosoplay; The Good, The Bad & The Funny by The Completely Surrounded; The Splits by Trollcore Enterprises TM; Vidar by Dean Razavi and Voxatron Table by VOXON & Lexaloffle Games.
Crasta's event was sponsored by Autodesk, Millennial Media, Qualcomm and the Law Offices of Christopher G. Reid.