NY Enterprise Tech features Hightower, x.ai, Aorato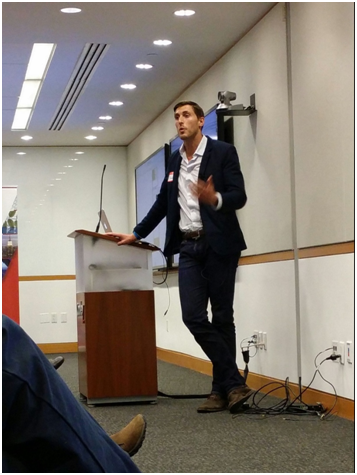 By Dennis Clemente
Last July 16, the New York Enterprise Technology Meetup hosted by Jonathan Lehr featured three startups—Hightower, x.ai and Aorato– with Jason Lemkin, managing director at Storm Ventures, co-founder and CEO of EchoSign, and author of SaaStr.com, also talking about how to "Hire (and Fire) Your VP of Sales."
Founded in July 2013, Hightower is disrupting the commercial real estate market with a mobile technology platform that allows landlords and their brokers to collaborate on deals in real time, track important documents and information, and view real-time analytics, all from the smartphone in your pocket.
Hightower is perhaps the best tool out there with its sophisticated leasing platform for commercial owners and brokers. From its demo of the app, it shows how it is clearly modernizing the commercial real estate industry.
It aims to empower investors, landlords and brokers to make faster data-driven decisions. You can manage your portfolio, deal pipeline, leasing documents, and collaborate with your leasing team, all in real time.
Hightower was founded by Brandon Weber, a high-profile technologist who ventured into commercial real estate. He was a First Vice President at CBR, the world's largest commercial real estate services firm. He started his career in software product development at Microsoft developing Excel, and later at Zillow.
Weber said customer adoption has been strong and are working with landlords and brokers in over 14 markets. "It's as powerful on your mobile device as it is on your desktop," he said.
The next presenter, Dennis Mortensen, got the laughs with x.ai, a personal assistant who schedules meetings for you. He named it Amy.
Mortensen demonstrated the app, showing the pain of scheduling a meetup and how he (and Amy) eliminates that for x.ai customers by showing a side-by-side email conversation display. "We thought a live demo was the way to go," he said..
A participant was asked to email Mortensen for a meeting in his own words and challenge Amy by not accepting the first option site presented Mortensen would email with an agreement and let Amy handle the scheduling.
With x.ai, he said you won't need to hire (a personal assistant) in the Philippines, referring to the country which has dominated this space for some time now.
The other presenter was Aorato. It protects your organization and active directory by automatically learning, profiling and predicting entity behavior.
Aorato's Directory Services Application Firewall (DAF) protects active directory and leverages its central role in the network to secure organizations from advanced targeted attacks. Nowadays, attackers compromise all types of entities (non-privileged and privileged users, devices, servers, etc.) in order to gain a foothold into the network. It is not enough anymore to track only privileged accounts to protect the organization against advanced attacks.
DAF, a non-intrusive solution, transparent to Active Directory, introduces a new approach. DAF reportedly detects suspicious activities through learning, profiling and predicting entities' behaviors. DAF
Asked how to detect password-sharing, he said, "We look at your role In the company".
Lemkin
In his keynote talk on hiring your VP of sales, Lemkin said he or she the first VP of sales (VPS) has to be you and then you hire reps "Besides, you cannot attract any one good too early.
But when do you make the hire? "Immediately once you have as repeatable process."
"A great VPS is accretive, a mediocre VPS is a cost center," Lemkin said. A great VPS raises revenue per lead."
For Lemkin, the top 5 things a Saas VP of sales must know and do:
1. Recruit the team (You're going to need a team and a good one quickly)
2. Player-coach sounds great, but at best, will be quickly obsolete as a role
3. Backfill and help his/her sales team
4. (Develop) sales tactics
5. (Develop) sales strategy
6. Create and sells deals himself/herself
He also added ways your VPS will increase your revenue
• Ask for the most $$$ per lead
• Close: It's an art — and a science
• Hire (someone) better than you
• Scale: Get more reps quickly
• Position: Give prospects right context
• Go upmarket: Drive to the highest practical deal
• Better: Great VPS makes your product better
• Great VPS makes it fun
But hire wrong and you're set back a year.

Copyright secured by Digiprove © 2014 Dennis Clemente