What female founders should aspire to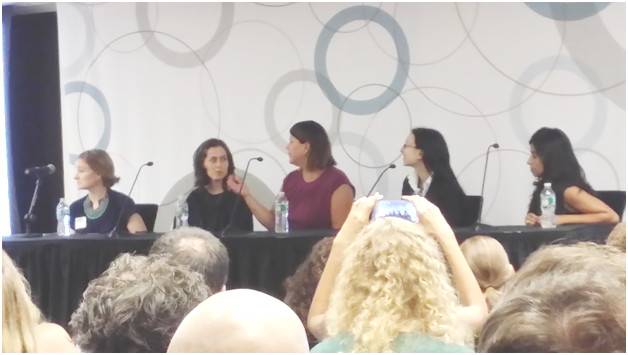 By Dennis Clemente
Tech meetups in the city have always attracted men, but law firm Orrick clearly knows how to attract women to their own meetups. For the second time last July 15, Orrick only featured all-women founders and speakers in a talk titled "Life of a Founder" with an equal proportion of men and women in the room.
Host Joy Marcus of Bloglovin opened the night's talk about what female startup founders should aspire to:
• Be tech smart but not necessarily technical
• Be analytical; understand the data
• Be business smart
• Be super-competitive ("great companies are not built on a 9 to 5" schedule)
• Be user smart
• Be a firehouse of new ideas, being careful not to be derivative
• Be curious, thorough and a risk-taker
• Most of all, be communicative
It's a long list for sure, but Marcus said being a founder is hard. "You make tough decisions every single day, including firing your friends."
It's therefore important to foster a great culture to attract the best people.
Managing people well is vital. "Having one day off at least makes everyone so much better," one said in response to how boundaries have been broken and how communication extends outside of the working hours in the startup world.
Another said she has a gratitude session every day. "We celebrate daily wins. It doesn't have to big things but small things as well."
And when it comes to dealing with VCs, you have to m
ake the board work for you and you've got to do your work in return. "You benefit from VCs beyond money, but you also have to believe in yourself."
When it seems hard to convince a VC, "don't think no is always a no. But know this: "If they don't respond to your email, they are not interested in your company."
The speakers were Sarika Doshi, co-founder, Rank & Style; Amanda Hesser, co-Founder & CEO, Food52; Kate Kendall, co-founder & CEO, CloudPeeps; Kathy Leake, co-Founder & CEO, LocalResponse; and Elissa Shevinsky, co-Founder & CEO, Glimpse. The other panelists were Elodie Dupuy, senior associate, Insight Venture Partners; Keegan Forte, general manager, Bowery Capital and Kegan Schouwenburg, co-Founder & CEO, SOLS. Kelly Hoey, chief marketing officer of Cuurio, moderated.
Orrick is global law firm with a particular focus on serving companies in the technology, energy and financial sectors.

Copyright secured by Digiprove © 2014 Dennis Clemente