Startup presenters compete like it's the World Cup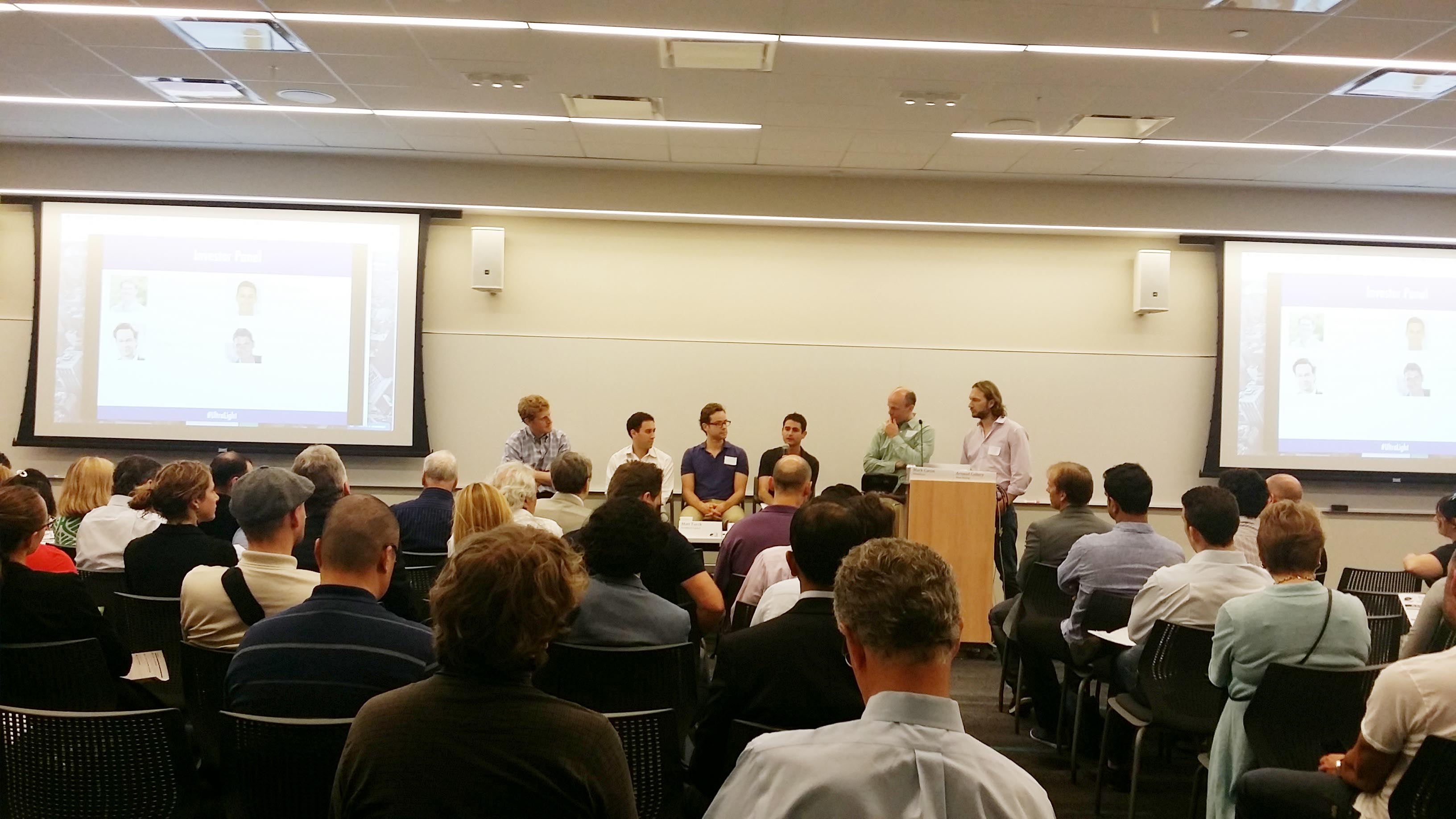 By Dennis Clemente
The Ultra Light Startups: Investors Feedback Forum last July 10 lived up to its name. It was light with a French twist. With the World Cup in full swing, the startups—some from Europe, others from the US but still multi-ethnic—competed for the startup of the night honors. The goal: VC funding, of course.
Regular host Mark Caron was joined this time by Kikai Mining's Arnaud Collery whose off-color humor, in his thick French accent, made light of the entire proceedings.
He wasn't alone in the ribald jokes. Ian Sigalow asked one presenter if he was going to allow adult content on his site. He clarified that he was not an investor in one to drive home his point, which drew some chuckles from the attendees at Microsoft Building at Times Square.
Sigalow of Greycroft Partners won against the three other panelists Brendan Dickinson, associate at Canaan Partners, Matt Turck, managing director at First Mark Capital and Matthew Witheiler, general partner at Flybridge Capital Partners.
The eight presenters were Alex Feldman of Crowds Unite; Darius Jamiolkowski of Outdoor Exchange; Anton Topikha of Airjump; Rachel Kaplowitz of Honey; Dan Nelson of Kpass; Tim Bernal of Kwoller; Raad Ahmed of Law Trades; and Akash Srivastava of Rewardable. Many of them are foreign startups.
Crowds Unite, a crowdfunding review site, filters, sorts and compares crowdfunding sites to find the best one for you. He was asked if could pivot the company to offer insurance than just listings or provide content about where to get loans.
For a membership fee, Outdoor Exchange rents out outdoor gear. When Jamiolkowski said the site aims to be the Netflix for outdoor gear, one of the VCs kept asking questions that put the startup on the defensive. Lesson to be learned here: Don't use such buzz phrases if the answers are not forthcoming.
In response to how he is going to build his brand, he said it's going to happen in partnerships. He is in talks with one car rental and a car pickup service that has been in the news lately, which will remain unnamed here pending the deals push through.
Airjump is all about live streaming to social networks which prompted the comment from Sigalow about adult content. Other VCs asked Topikha to check out justin.tv and ustream as they offer similar services.
Topikha said his differentiator is superior technology and how he wants people to create live TV channels. He said 60 percent of his revenue will be advertisements.
Sigalow and Turck were on the same page on this one, saying how the site needs something visceral, selfies perhaps, or videos that tap into the human emotion. Find a vertical where can build a wedge, because just being the best is not going to be enough. You have to have a compelling use case."
Honey, the night's winner, is an enterprise social network that improves information sharing in the workplace. Yammer is a competitor.
"We are more Reddit for enterprise," Rachel Kaplowitz said, but because it's done by Huge Labs, the startup division of the digital design agency, you will see the design and user experience standing out. Honey.is is projecting $500,000 as its year-end income. It has 15 companies as clients paying $4 a month.
"The big thing for Honey is finding integrations. Right now it integrates with Dropbox," she said. For VCs, the hard part in this space is engagement and sales. "Honey has to find out the sales tools they need, what hooks they need. Right now, it's just scratching the surface. It has to build relationships early."
After a five-minute break, the remaining 4 startups took their turns presenting, starting with Dan Nelson who said Kpass, his company, is the safe digital identity for kids, one that can empower them to safely connect to their favorite sites online. There was the usual question on how the parents will be involved, but Nelson was advised to focus on mobile, not the web.
Next was Tim Bernal, the Filipino American behind Kwoller, a mobile commerce company or what he calls Tinder for shopping. "We're an affiliate-based company. We get commissions. We get 7 percent."
Overall, the VCs seemed to like Bernal among all the startups not just for his startup but for his engaging presentation as well. Turck's only critique was how 200,000 swipes on the app is not a big number.
How can Bernal scale his business? "You need customer acquisition, how to make people download it. You will need to refine your viral mechanism," the VCs said.
Yet another listing site is Raad Ahmed's Law Trades. This time, the listing shows top-notch lawyers focused on offering personal legal services which he says is a $90 billion industry. When asked what he will do if the listings are filled up, he said he will go global. Still, a VC said it's hard to scale; he was advised to pivot.
How do you want to get paid while you shop? That's the idea behind Rewardable. You are assigned a specific task to complete and you are paid in cash for your efforts.
The idea sounds like an advertising agency came up with it, which can be both to its advantage and disadvantage. The VCs had a lot to say about this startup, especially how it can sustain itself when ad agencies work on campaigns, which are set periods of time. "How do you get users to submit data for how much you need to spend versus taking that from retailers?" The concern also was the barrier to entry.
In term of scaling the business, Komassa said he will sell through channel partners. Rewardable is raising $5 million.
For those who have not attended the meetup, there is pizza, networking and introductions at 6:30 pm; the 8 startup pitches at 6:45 p.m., followed by the investor providing actionable advice following each two-minute pitch. At 8:15 p.m., the audience votes for the best startup. Winners are announced and prizes are awarded. Last night, Honey won for the startup. Sigalow won as the panelist of the night; it's most likely for his useful feedback and advice to the startups, and not for his charm, because Colley, the French co-host, would likely dispute this one.
The meetup is organized monthly by Graham Lawlor.

Copyright secured by Digiprove © 2014 Dennis Clemente