Care.com's Sheila Marcelo talks about her success in caregiving business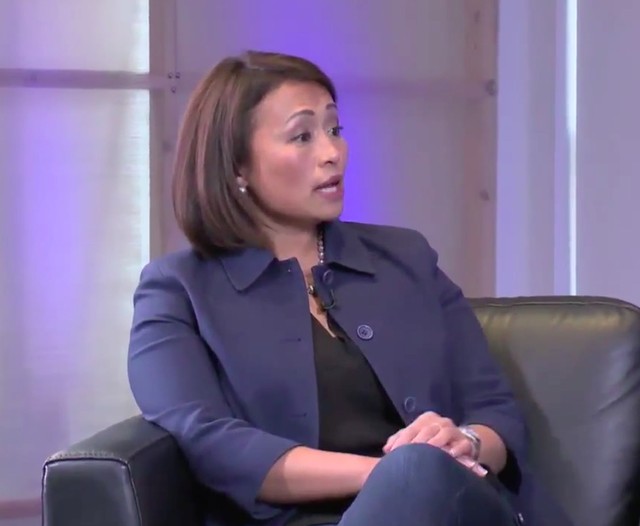 By Dennis Clemente
NEW YORK–Last May 14, PandoMonthly hosted a one-on-one interview with Sheila Marcelo, CEO and co-founder of care.com, at Projective Space. She talked at length about her Filipino roots and the influence of her "Tiger mom" in instilling discipline in her.
At an early age,  Marcelo remembers how she was sent by her family to their small hometown in Candelaria, Quezon to learn the Filipino language all over again when it was slipping from her. She went to Brent, a prestigious international high school in Manila.
There, she recalls cleaning hardwood floors using coconut husks, even pointing to the Projective Space's old hardwood floors, "I can clean this floor now."
Inspired by her parents' success in the coconut business, she started care.com in the United States. care.com is an online destination for care. It connects families with great caregivers and caring companies to help you be there for the ones you love. "We pair elderly care and child care in the same tech platform."
"We spend millions of dollars investing in safety," she said, stressing that her caregivers are vetted.
Marcelo said each individual is solely responsible for selecting an appropriate care provider or care seeker for themselves or their families and for complying with all applicable laws in connection with any employment relationship they establish.
It taught her to respect (working) remotely when she initially started her company with one of her tech co-founders based in Greece. Not many startup founders outsource the technology in their startups to avoid being copied. But she did it.
Marcelo pointed out "care" may have been considered soft when people should be hearing more about it as an economic imperative. The no. 1 source of caregivers of care.com is the Philippines. "I was raised by a nanny."
She has a lot of advice for women –and the audience – in general. Many of the audience took them like gems they had to tweet or write about.
"The more authentic you are the more you can take risks"
"Speak up. Over-project! Be bold. Experiment with your boldness."
"Be intense with outcomes. Be chill with people"
"I assume everyone is smart"
"Ideas are about rallying a people to work together?
"Go out there. Experiment."
"When I mentor people today, I ask them, 'Did you impress or inspire'?"
"You can only free your mind when you get over your issues."
"Any challenge is a growth opportunity."
Care.com is a subscription-based model with plans to launch an app soon.
In 2010, it started a TVC campaign, because "mothers watch cable TV."