Developing for Google Glass needs to be a pleasant surprise for users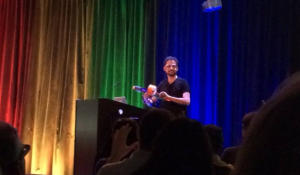 By Dennis Clemente
Is everything worth seeing—and developing?
For the main speakers at the Google Glass NYC meetup, "Intro to Developing for Google Glass" last March 20 at the Google offices, the answer was obvious; it was right in front of the audience and on their eyes. It's the Google Glass they were wearing. It's what we've been hearing about but where many of us have not yet tried or worn, let alone tinkered with (as if we own one).
Allen Firstenberg, the first speaker, asked, "How many of you have visited developers.google.com/glass/develop/gdk?" Firstenberg was described as the very first Google Glass developer outside of Google. Visit his site at http://prisoner.com
"(Google) Glass is different from anything we've done before," he stressed, as he emphasized how it requires a different set of challenges.
To those wearing Google Glasses, he asked, "How long do you stare at it?" "Less than five seconds at a time or a fraction of a second?" That's about it, which certainly makes our desktop or laptop computer time feel like an eternity.
"(Google Glass) is a micro interaction, a 'glanceable' interface," he said, as he elaborates on how it is meant to be there when you want it and out of the way if you don't. "If a phone call came on, I would want to be able to glance at it and to ignore it." Like Google Now.
To elaborate, Firstenberg says designing for Google Glass is about reading people's minds, anticipating what they want. You don't want to get a message alert at 3 am about an early bird special. It's another thing altogether when that same message is delivered to you at the precise moment you're at the supermarket. "When you need to deliver something, it has to be a pleasant surprise."
Another example of a pleasant surprise is getting traffic updates or subway delays before you even make that trip. "Keep it relevant. Anticipating what will they see next and deliver it."
He stressed how important it is to remember that you're building for people. "Glass is meant for people to live in their world. You are not inviting them to live in yours."
In a post-Snowden world, is Google Glass going to be a big thorny issue when it scales up? That remains to be seen, although the medical world has found some great uses for it.
Zach Freedman, the next speaker who looked like Robocop with all the gizmos around him, encouraged people to build Bluetooth devices that connect to wearables. "You can design hardware, firmware and Glassware that work together to create unforgettable experiences."
At the Wearable DevCon in San Francisco recently, Freedman connected a Nerf Longstrike with a videogame-style HUD on Glass—the same Nerf gun he demonstrated at the Google offices.

Copyright secured by Digiprove © 2014 Dennis Clemente