Grist for the tech mill: 2015 events from over 1,100 NY tech meetups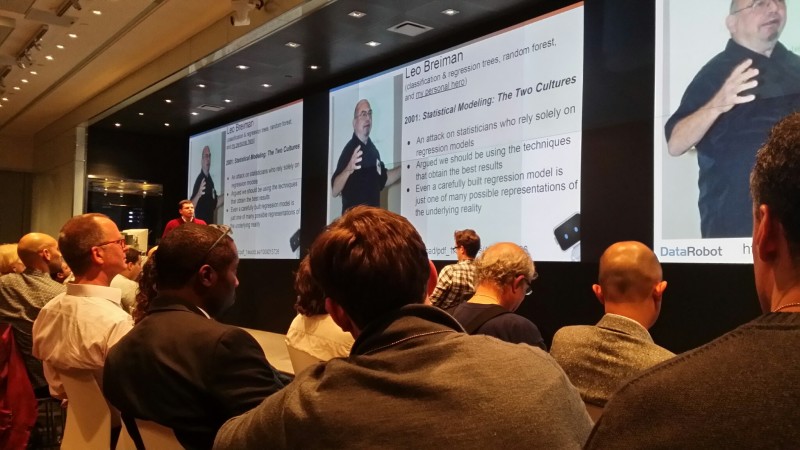 By Dennis Clemente
There are more than 1,100 tech meetups in New York. Here's a summary of what happened in one year from March to December 2015.
Instead of having the always selling mentality, Mark Roberge, chief revenue officer of Hubspot, suggests having an always-be-helping mentality. Roberge's sales talk last December 17 at Enterprise Sales Meetup in midtown Manhattan was especially meaningful as it's not too often you hear someone from a programming background lead sales teams. The topic, Sales Acceleration Formula, was the same title of his book based on his experience taking a job in sales at Hubspot and coming from a programming background.
It was not your typical meetup in the city. For one, it was scheduled on a Friday night last December 18 (most meetups in the city are from Monday to Thursday). Second, it was held at a store, the new Microsoft Flagship Store on the shopping district of Fifth Avenue. But the crowd trickled in to watch the presentation of devices at the meetup curiously billed "Understanding Live Video Streaming with Periscope and Meerkat."
German startups Keeen, Favendo and Night Adivsors took turns demonstrating their platforms at the German Accelerator NY last December 15 at Rise NY.
Would you rely on Big Data or The Force? It was a Star Wars evening for the Data-Driven meetup last December 14 at Bloomberg, especially for Nick Mehta, CEO of Gainsight who sounded giddy using the epic fantasy flick as reference for his presentation. He was joined by Arcadia Data, MapR and Datameer.
"How do you make sense of any mess?" That was the first question information architect Abby Covert threw at the audience last December 10 at the Designers & Geeks meetup at the Spotify offices.
"Life's too short to build something nobody wants," says Ash Maurya in his talk last December 8 at We Work in Wall Street. Maurya is the acclaimed author of "Running Lean," a concise guide that helps you take action in using lean startup and customer development principles. He was at We Work to present his ideas for scaling business–clearly a prelude to his upcoming book, "Scaling Lean." For Maurya, the root cause of a startup's problem is when solution is perceived as the product. "Your solution is not the product. Your business model is the product."
Last Dec 9, Uncubed took the holiday season as an opportunity for startups like Moat to discuss their 2015 accomplishments and future plans at its offices in the Lower East Side. By 2016, Moat, an independent SaaS Marketing analytics firm focused on transforming online brand advertising through trusted measurement and analytics, will reportedly be the first third party to measure viewability on YouTube.
Last December 1, Hardware Meetup featured talks from the founders of Grove, OneDrop and Boxee at the Microsoft offices. Gabe Blanchet, CEO of Grove, showed how food lovers can grow food at home while–get this–fish swims below it. Yes, even it will fit in a cramped New York apartment.
How do you make data scientists more productive? Jeremy Achin has an answer for you. The current path to becoming a data scientist is based on learning statistics, programming and algorithms, then applying practical knowledge and practicing real world experience which can unfortunately take up a lot of time. Achin spoke with other presenters Josh Bloom of Wise.io, Alexi Le-Quoc, founder of Datadog and Haile Owusu, chief data scientist of Mashable at Data-Driven's monthly meetup last November 16 at Bloomberg.
Moral rights versus individual rights. That's the struggle the entertainment industry faces these days when individual rights have blurred the lines between individual ownership and what is other people's content, the title of the breakfast forum hosted by Gotham Media last November 18 at the Frankfurt Kurnit Klein & Selz at 40th Street on Madison Avenue.
What is Birchbox? In the city, most tech meetups always asks people by a show of hands, how many people have heard of Birchbox? Most of the nearly hundred people raised their hand. If you're still wondering, what it is about, it's this: Birchbox delivers monthly boxes of beauty or grooming samples, picked to match your profile. Last November 19, CTO Liz Crawford talked about her role and how the company operates at the NYC European Tech Meetup at Spotify's roomy offices.
Last November 9, Coinvent held a whole-day tech startup fair with several startups and inspirational talks at the Metropolitan Avenue in Chelsea. Dog Parker was one of the most popular startups as it showed a "doghouse" that provides secure dog parking when you're out and about in the city with your dog and you need to run an errand. Dog Parker partners with businesses to place Dog Parkers in front their stores.
Last November 3, Alley Boost held a half-day startup expo featuring more than 60 startups at La Venue on 12th Avenue, blocks away from the Javits Convention Center.
The future of event ticketing will have some kind of empowerment and engagement, according to Taku Harada, CEO and co-founder of Peatix who presented at last November 2 at the Japan NYC Startups at Pivotal Labs.
The NY Expo Business Conference held last October 27 at the Javits Center packs in hundreds of startups, not necessarily all online-based companies or early startups. Touted as the largest New York business conference event, it has exhibitions, seminars and free business consultations for an audience that's not entirely from the city either.
Last October 14, OLC attended AngelCube NYC Demo Day at WeWork in SoHo. In classic WeWork fashion, it took less than a minute for us to be reminded that there was beer on tap (In addition to a cheese plate and an array of mini-burgers). WeWork's creative space had a foosball table, a kitchenette disguised as a bar, and hanging light bulbs with exposed filament.
What is the real reason why Microsoft Ventures Accelerator can choose to fund your startup for $500,000 without equity? Not only that, you get work in its Seattle office and have what graduates say are great meals as you work on your startup there.
"It's Tinder for doctors," says Toby Hervey about his app, on-demand house-call doctors. He was one of the presenters that included Ulula, Kiddo App and Domain Skate last October 20 at the NY Tech Breakfast at Microsoft.
The second Korean Summit NYC last October 16 at the New Yorker Wyndham. featured several Korean startups with Charlie Kim, founder and CEO of Next Jump, and Murat Aktihanoglu, managing director of Entrepreneurs Roundtble Accelerator as main speakers.
Last October 14, the New York Tech Meetup brought back two of its most popular demos – Addicaid and Pager — to mark the launch of its new "Demo Deep Dive" event series in lower Manhattan.
Last October 12, Area 1 Security, Birchbox, Livefyre and Metamind, presented at the packed Data-Driven meetup at Bloomberg.
It's seldom you hear honest talk about investors snoring soundly or checking their phones every so often when you're pitching to them but the founders of these companies — Wayup, F Cubed, Manicube, getringly and ELOQUII — had those stories to share. What's more unusual perhaps is how even those who they thought couldn't care less were the ones interested in investing in them.
Last October 7, Devin Rogerino of Inc.com presented a talk on video creation or how to cost effectively enter the video creation community at the Wix lounge in Chelsea. Essentially, you need four things—ideation, inspiration, brainstorming, planning—before you even make your video, and let's not forget how you have to know whether you need YouTube, Facebook or Vimeo.
Last September 30, Tech in Motion deviated from its usual show-and-tell meetup presentations for an exposition of startups with cocktails at Ainsworth Midtown East. The startups on exhibit were beGlammed, GoButler, FlyCleaners, Zeel and ZIRX, all riding on the popularity of uber and the way it's propping up the sharing economy.
How do you become a digital nomad? If you care to listen to the speakers of Cafe Numerique (Beligan for digital), you'll find out how the world is getting smaller the way people from all over the world are finding each other, doing business and sharing ideas.
Last September 17, the Brooklyn Borough Hall was the setting for the International Day, the last of the four-day international Transatlantic Entrepreneur (TEP) conference which brought together investors, entrepreneurs, media and policy makers from the US, Asia and Europe.
Scott Heiferman is perhaps the most unassuming CEO and co-founder you'll ever meet in this city. For someone who runs one of the city's earliest and most successful startups, meetup.com, which was formed 13 years ago, he still considers his company a startup. His company, he says, is older than most startups. It's older than Google Maps, older than Facebook,– heck, older than Friendster and yet, he pauses to think if he's still a startup.
Twitter's Adam Sharp, Head of News, Government and Elections and Niketa Patel, News Partnerships Manager were the speakers at Conversations, a series of open discussion held by NY Daily News Innovation Lab, at Microsoft last September 9. It was also a way for Twitter to drum up support for its upcoming Project Lightning, a curated feed of tweets.
When every tech meetup seems to be covered at night, count NY Tech Breakfast counts on the early risers to come to its monthly event, now held at Microsoft for the second month. Last September 8, NY Tech Breakfast featured PolicyGenius, Proscape, TableSwipes and LawGo.
Last September 2, General Assembly held a talk featuring three companies offering online coding courses, One Month, Thinkful and Hopscotch at its offices in the Flatiron District.

The product challenges at the Product Council last August 31 were the digital clinic app offered by Maven Clinic and the new permissions level to be offered by JustWorks starting September 1. The meetup was held at the Pivotal Labs.
What is the future of media? The question may resonate the most among journalists and other media practitioners. After all, it's their livelihood at stake. The answer in a word may be video, especially the way the panelists talked about how it is going very far and coming in. Even GoPro is reportedly adding some kind of news coverage.
On the second day of the Yahoo Developer Conference last August 26 at the Marriott, breakout sessions were held, with user acquisition as a topic attended by OLC. The key takeways: Developers have a three-month grace period to get sticky; get the app store experience right; app install ads work, but it's important to talk to your users through a variety of marketing channels.
Is one percent better than zero or none at all? We're not talking about the affluent in the United States, but if the one-percent effort or initiative that big companies dedicate to social impact is sufficient—or if it's just a compromise, a public relations move. If you're keeping up with the tech scene these days, you won't hear Mock Series A Term Sheet Negotiations too often. It may be your first time to hear it, as we did, so we went to Orrick's Total Access last August 24 at CBS to find out how it would unravel for us.
Tech meetup groups have taken most of the summer off, but Codecademy took the quiet time to hold an HTML and CSS workshop of its newly released web projects last August 20 at its office in midtown Manhattan with the people behind it in attendance–Zach Sims and Ryan Bubinski.
If you've seen a drone, most likely you're thinking how hard can it be to fly one, right? Well, it was not so easy for Easy Aerial's CEO Ivan Stamatovski. Stamatovoski was one of four other presenters at the NY Video Meetup last July 23 at the AOL offices. "I have been flying a drone for two years but still suck at it," he admitted.

Some apps certainly function as if they were invisible like Dennis Mortensen's x.ai. It's an artificial intelligence powered personal assistant that schedules meetings for you. Mortensen was again going the rounds with Amy, the name of his A.I. personal assistant who happened to be in the same room as Larry, which is Raad Ahmed's text-responder of a lawyer, a mix of automation and human beings. Larry is the text version of Ahmed's LawTrades. It's personalized legal help tailored to your business over text. Both presenters and other startups Alfred and Stefanshead were at The Product Hunt meetup last July 22 at Animoto's offices.
How do you cover the media when you're the media? For its fifth meetup, The Tech Press Meetup invited Jason Abbruzzese of Mashable, Shannon Bond of the Financial Times and Tom Kludt of CNN to shed light on this topic at the Arthur L. Carter School of Journalism at 20 Cooper Square.

Having covered the tech meetup scene for the past few years, it's interesting how a meetup about "Getting your startup set up and funded" produces a new group of aspiring entrepreneurs, new to the tech scene and what it takes to build one. There's certainly something for everyone in the fastest-growing tech city and that's what Megan Hannum, venture partner at Comcast, co-founder at Fundedby, was at Spark Labs last July 15 for–to help newcomers get their feet wet in the startup scene.
More than 35 investors, panel talks, lightning pitches, everyone one-on-ones with VCs, a venture fair—it was a summer blockbuster of a tech meetup what NY Tech Breakfast pulled off last July 10 at Microsoft, near Times Square. What's amazing is how it was all pulled off in one half day, from 8 am to noontime.

What do you think people would Google: How to survive a breakup or divorce lawyer? You could do both or just the former if you think it'll be better SEO for your business. "The key is to be creative with your link-baits (to set you apart and own that search), said Kevin Lee, founder and CEO of Didit.com last July 11.
JJ Fliegelman is generous with his ideas and insights into his business, Campus Job, an online marketplace for college students to find jobs that he co-founded with ex-Googler Liz Wessel. Launched only last September, Campus Job has already signed up 2,300 colleges, 3,000 employers, 100,000 students and—music to every startup founder's ears—funding to the tune of $9 million.
When you have everyone discussing about their design process, it makes for an engaging presentation. Last June 24, Design Driven's meetup was the best so far the way each speaker presented a specific topic—and more importantly, because the presenters were generous with their thoughts and candid with their answers, especially Bradford Shellhammer, founder of Fab.com and most recently, founder of Bezar.
Joseph Essas of Open Table, the world's leading provider of online restaurant reservations, opened the talk at the Data Driven last June 16 at Bloomberg's offices. It was Data Driven's last monthly meetup as it takes a well-deserved two-month summer break.
"If it doesn't fit excel, it's big data." That was Gilad Lotan, chief data scientist at Betaworks, giving a digestible meaning of how big data is about volume and variety as much as it is about velocity and variety, which conveniently rounds up to the four essential Vs you need in big data. Lotan was speaking at Tech in Motion's first ever Big Data meetup at the spacious office of Mediaocean, a leading software platform provider for the advertising world. He was with two other Big Data panelists Bruce Weed, program director of Big Data and Watson at IBM and Claudia Perlich, chief data scientist at Dstillery.
Asking if you really need to know the number of your eggs on your fridge is perhaps the best way to determine how much automation you need for your home. It determines if you need Canary, Hggns, Keen Home or Smart Things, the presenters at the IoT Central meetup last June 17 at R/GA Accelerator's offices near Port Authority. How do you get attention amid all the noise out there? If you ask Ben Parr, he will tell you that you need 7 captivation triggers, which he expounds on his recently launched book, "Captivology."
How do you get attention amid all the noise out there? If you ask Ben Parr, he will tell you that you need 7 captivation triggers, which he expounds on his recently launched book, "Captivology." Asking if you really need to know the number of your eggs on your fridge is perhaps the best way to determine how much automation you need for your home. It determines if you need Canary, Hggns, Keen Home or Smart Things, the presenters at the IoT Central meetup last June 17 at R/GA Accelerator's offices near Port Authority.
Last May 28, The Hatchery presented four startups–Moving Analytics, Crowds Line, Mobiquire, Centrallo and Revenue Mantra at the Microsoft Building. "The Hatchery: Are You Serious?" Meetup group has been holding startup presentations for eight years now, but sometimes this writer wonders if the question extends beyond the earnest question. After all, it's not easy to launch a successful startup let alone present in front of VCs.
The Market New York Expo for small businesses last May 21 at the Javits Center featured several talks on branding, email marketing, digital sales and mobile marketing. What stood out for us were the talks on Search Engine Optimization by Ruben Quinones, NYU adjunct instructor and VP, Client Strategy at Path Interactive and Mobile Marketing by Warren Zenna, EVP & Managing Director at Mobext (Havas Media).
FlyLabs has wowed audiences at the NY Tech Meetup months back and at the NY Video Meetup last May 20, it again drew some ecstatic applause for its video-editing apps, Fly, Clips and its new one called Tempo, a quick way to alter video time speeds.
Last May 14, PandoMonthly hosted a one-on-one interview with Sheila Marcelo, CEO and co-founder of care.com who talked at length about her Filipino roots and how the influence of her "Tiger mom" and the discipline they inculcated in her formed a big part of her success now.
Minerva Tantoco, New York City's first-ever chief technology officer (CTO), said she pretty much created every job she had at the StartupGrind meetup last May 7. Tantoco directs the Mayor's Office of Technology and Innovation, overseeing the development and implementation of a coordinated citywide strategy on technology and innovation and encouraging collaboration across agencies and with the wider New York City technology ecosystem. "We are a little startup inside city hall," she said.
It's good to see Scott Heiferman show up at NY Tech Meetup last May 5. Once a regular fixture of it many years ago, even as co-host, the Meetup founder has understandably been busy building his community of meetups, 30,000 for tech alone around the country. It was, as he has explained over time, a "9/11 baby." He was at this particular meetup to announce the NY Tech Meetup Apple Watch app. The presenters of the night were Ananas, AptDeco, Amadeus, CornellTech, Epicure, OneDrop and X.ai with Wikitongues as hack of the night.
Adesoji Ojugbele of Google Android may have nailed it when asked about how to measure people's attention span these days by using Instagram as an example: How long does it take you to post a photo on Instagram? The photo app is a good example, because as more people get used to its quick functionalities, the more people will not have patience for everything else that takes longer. The word "longer" here has come to mean longer than, say, 10 seconds; that could be an eternity for some people. Instagram is quick enough that anything else will be slow.
Last April 29, Uncubed held its meetup, "Hacks that saved my life" at Refinery 29 with the World Trade Center building gleaming behind it as early evening set in. This is not your typical show-and-tell meetup. It might as well be classified the hacked-and-tell meetup as each presenter talked about how a new app or site made their life easier, more fun and even useful in an unusual way.
Hardwired's 19th meetup last April 22 might just have assembled the most interesting mix of startups so far —a drone that collects data fast, a pet activity and health monitor, a virtual reality content creator and—are you ready?—a new way of growing meat. Not your typical tech meetup in the city, folks.

More than 400 startups pitched to 10,000 attendees at the fourth-year of the largest annual tech fair called Tech Day. The event held last April 23 showcased startups in various industries such as education and e-commerce, design and deliveries, food and fashion, music and things mobile as well as that services catering to them like co-working spaces, immigration and recruitment companies.
Last April 22, a new venue emerged from the meetups gaining popular steam in springtime New York, just as the Tribeca Film Festival was rolling its week-long fest of indie and alternative films. It had the same makeup as the tech meetup talks, except it was held at the De Niro-propelled film center and headlined Designing Innovation.
Last April 14, the Data Driven Meetup featured How Liu, founder and CEO of Airtable; Scott Crunch, co-founder and CEO of Mark43; Bob Muglia, CEO of Snowflake and Emil Eifrem, founder and CEO of Neo Technologies at the Bloomberg offices.
Last April 8, AlleyNYC's SquadUp featured three female-owned startups Bird and Stone , Plum Alley, Quarterlette and Dreamers//Doers with some VC guests giving tip on how to get funded. Made in New York, Bird and Stone sells its own jewelry line with 15 percent of sales funding micro loans and agri-business training in Kenya, where 75 percent of its people live in rural areas. So far, it has funded 8 women with $200 microloans and provided them with financial training, industry training and mentorship.
Dash, City Maps and even a 105-year-old startup named IBM stood out from the demonstrations hosted by NY Tech Meetup last April 7 at the NYU Skirball Theater. But Dash was clearly the night's favorite the way it connects cars to smartphones and unlocks enhanced performance, cost savings and social driving.
Sometimes the title of a meetup ends up being more. You simply need a host who knows how to push the right buttons and no demos. Last April 1, the Disruptive Technologists group planned a forum called "Balancing a Cool Idea with Profitability" with host/moderator Bruce Bachenheimer, a Pace University professor. It turned out to be about a lot more, including a call for immigration reform to fill up the critical need for developers and other talented people in the United States.

How would you like your bike to guide your way with navigation lights? Hammerhead wants to lead the way with this idea. How would you like virtual reality as a productivity tool? IrisVR aspires to make that a seamless experience. These were just two of the presenters at Hardwired NYC's meetup last March 24 at Quirky at 28th West and 11th Avenue. The others were Brilliant Bike, American Prison Data Systems and Wink.
Last March 23, the On-Demand Economy meetup featured Button, Managed by Q and Minibar at the Animoto offices in midtown Manhattan. Much of the tech world is trying to figure out deep linking, that is, making the mobile app ecosystem work more like the web.

Silicon Alley is extending all the way to Queens as the Digital NYC Five-Borough tour made its stop at the LA Guardia Community College last March 26. An initative of Mayor Bill de Blasio, digital.nyc is the city's online hubs for all things tech and startups. Eric Gertler of NYCEDC (New York City Economic Development Council) said it is making sure all of its programs extend to everyone in New York as part of an initiative to reduce income inequality.

Copyright secured by Digiprove © 2016 Dennis Clemente