Smart tech in Kinsa thermometer, Augmate eyewear, Drop baking, Birdi monitor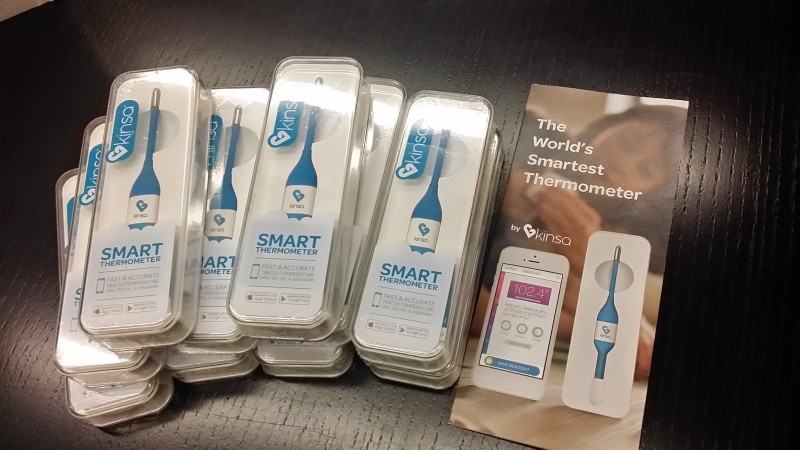 By Dennis Clemente
The most common medical device, the thermometer, just got smarter, thanks to Kinsa. The FDA-approved smart thermometer can track temperatures and symptoms all right, but it does that by connecting its nifty wand to a smartphone's earphone jack where–having downloaded the app– one can determine temperatures and symptoms. Over time, it hopes to gather better data and work with the public health sector in determining where illnesses are spreading.
Available now in some US retails stores such as CVS, the FDA-approved smart thermometer is the brainchild of Inder Singh, the former executive vice president of the Clinton Health Access Initiative. Singh was at the Hardwired NYC meetup last November 11 at Digital along with three other presenters.
Clearly, Kinsa has thought of everything in its water-resistant wand and app. When it's plugged in on a smartphone, a visual display of bubbles pop out for kids to enjoy the process of getting their temperatures checked.
Singh provided some tips and takeaways for those looking into retail:
• Go international early to get pre-payment + marketing support
• Go to Apple first and tell everyone Apple has stocked it
• Test in the "fake stores" some retailers have
• Rule of thumb: Wholesale price should be at least 4x your COGs, ideally six times,
especially if you have significant customer support costs
• Start packaging early. This is hard to get right. Retailer want to see your product upfront
• Get merchandising equation instead of going big fast
• Selling in is easy for very novel products.
The other presenter of the night was Pete Wassell of Augmate which has found effective applications for smart eyewear in enterprise, especially in agriculture, automotive, aviation, construction, manufacturing, medical and pharmaceutical. Think bar code scanning, medical operations, professional care for animals. And yes, its platform works with wearables like Google Glass.
Ben Harris, founder and CEO of Adaptics and Mark Belinsky, founder and CEO of Birdi also presented their startups. Adaptics is the maker of the Drop, an iPad-connected kitchen scale for baking while Birdi is a smart air monitor. It monitors the air quality of your home, tracking dust, soot and other health dangers plus warns you about emergencies.
Drop Kitchen – Connected Scale and Recipe App from Get Drop on Vimeo.
With Drop, you can be a baker right away with its app and Bluetooth scale. How does it work? If you need to bake anything, put a bowl on top of a Bluetooth scale with its heat-resistant silicon top and use it to gauge and see your progress in the iPad app, as it gives you visual cues if you're using the right recipe or amount of ingredients.
Tim Chang, partner at Mayfield Fund, spoke about the early stage VC firm's investments and experience in the tech hardware space.
On tech hardware, he pointed out how startups in this space have more to think about when creating their product. "They have to think of the software and the hardware and how they need to connect with each other."
Matt Turck of First Mark Capital hosted the meetup.

Copyright secured by Digiprove © 2014 Dennis Clemente