Vognition, SAM Labs and Make!Sense lower barrier to IoTs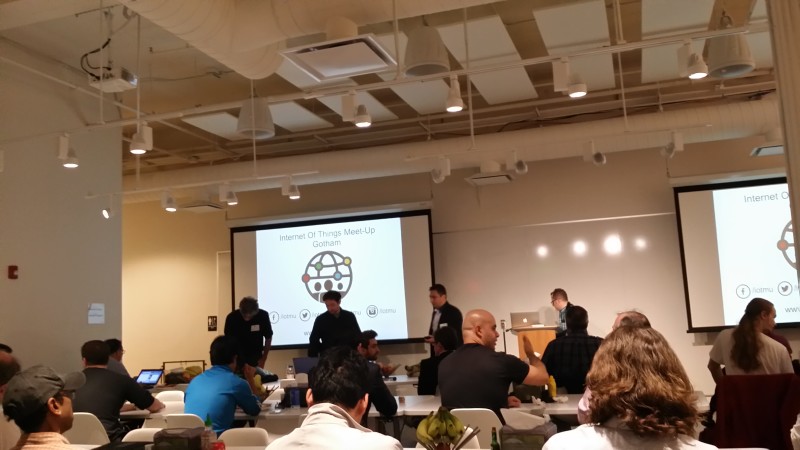 By Dennis Clemente
It seems simple enough. How do we connect to this 7.1-trillion Internet of Things (IoTs) market by 2020? Having our voice work for it is a good start, for sure, especially when the world will have 50 billion devices by then.
That's what What Are Minds For, Inc. (WRM4) and its natural voice control platform Vognition hopes people will do. Last October 2, WRM4 presented along with SAM Labs and Make!Sense at the Internet of Things meetup at Pivotal Labs' offices in midtown Manhattan.
Michael Liguori talked about how Vognition is cutting its teeth into IoTs, consumer electronics and other remote connected devices and services. "We integrate our solution into our customer's apps by adding the microphone button into it such as home automation, security, transportation and data manipulation," he said. In layman's terms, these could be greenhouses, cars, food orders, entertainment, even videogames.
Liguori showed how it can control your thermostat by having Siri accept his request to lower and increase room temperature.
The platform reportedly allows industry voice engines (such as Nuance) to operate a wide range of connected devices. Developers through a series of API's can control devices without building complex applications, as they currently do now, for each device.
"We have built and refined it for over 4 years," he said.
Alon Sicherman of Sam Labs presented next. The London based startup, which recently joined the Microsoft Ventures UK Accelerator program, has created a pioneering Development Kit that lowers the barriers of entry into the Internet of Everything market.
Sicherman showed how anyone, even students, can connect everyday objects to the Internet using SAM.
"We are opening IoTs to everyone," he said. "You don't have to be a genius. There's no coding necessary. Your idea becomes a product in minutes."
SAM carries a modular library of sensors or sensor actor modules, including a button, slider, pressure, tilt and proximity.
How does Sam work? There's an all-in-one package to connect to IoTs using Bluetooth. One can just drag and drop modules.
"There are no compiling and predefined relations. Custom code is in java script," he said. It is also Preloaded with social media and IoT APIs.
Last presenter was Stephen Lewis of Make!Sense, It's an easy-to-use platform for making learning fun and interactive. It's a universal interface system that allows you to quickly and easily connect different types of sensors to your computer or smartphone.
You can use Make!Sense to observe movement, moisture, light, temperature, even your own heartbeat! If you're curious about it, you can probably Make!Sense of it.

Copyright secured by Digiprove © 2014 Dennis Clemente