All-women tech panel talk about customer acquisition and building successful corporate culture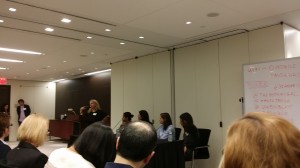 By Dennis Clemente
At the Orrick Total Access meetup last April 30, Joy Marcus, CEO of Bloglovin & venture partner at Gotham Ventures, looked at the panel in admiration. Seeing all were women tech founders, she looked at them proudly before turning to the audience and acknowledging each one of them. She said she relishes the day when she doesn't need to say the guest list consists of an all-women panel, just a panel.
At the Orrick law offices at the CBS Building that night were women. For the customer acquisition talk, the panelists were Tanya Menendez, co-founder, Maker's Row; Carly Strife, co-Founder, BarkBox; Kathleen Utecht, angel investor & venture partner; and Danielle Weinblatt, co-founder & CEO, Take the Interview.
For the corporate culture talk after, panelists were Angela Lee, founder of 37 Angels, moderated Mona Bijoor, founder & CEO, of Joor; Kellee Khalil, founder & CEO of Lover.ly; Elissa Shevinsky, co-Founder & CEO, Glimpse Labs of Nina Sodhi, Founder & CEO of Nackina.
In the first talk, Menendez said understanding users is very important. "Do user interviews. Find out if users are obsessed with it (your product), then create products designed for them, making sure you have the right people onboard to tell your story that resonates with the audience, your community and among journalists."
The other women agreed, but Weinblatt put it in her own way, saying she makes customers "adore us." How? "Never underestimate the power of 'polite persistence.' Not everyone closes doors on your face. Do it over and over again."
As an investor, Utecht's comment was right up her alley, "The best way to acquire customers is (by getting into) partnerships."
Strife, on the other hand, said word of mouth comprises 50 percent of her site's monthly acquisition with referral as her "most successful channel." "We pay them real money."
In terms of measuring success with analytics, the women agreed that SEO, SEM and content creation are crucial, as well as A/B testing everything. Menendez said she should have focused on SEO from Day 1.
The next talk moderated by Angela Lee was tricky, as it tackled something not easy to quantify or measure: culture.
The panel suggested watching out for the following:
1. Ask yourself if you are experiencing something toxic and political?
2. Are you excited to come to work?
3. Are you excited about the product?
4. When something bad happens, who saves the day?
5. Can you bro it out with the guys?
6. Are people buying into the pain points you're addressing?
7. Do you share the values of the staff and startup?
The panel also shared their hiring choices with Lee the moderator kicking it off. "I don't do interviews. I ask people to do projects."
Shevinsky said she finds people overlooked by the industry whereas Khalil said she prefers to test her hires with a 90-day contract.
But how do you become a successful startup? "It's all about consistency. It's a marathon," Bijoor said.

Copyright secured by Digiprove © 2014 Dennis Clemente