Best New York tech meetups of 2013
By Dennis Clemente
Let me introduce the best New York tech meetups of 2013, my extremely biased assessement of the best New York City had to offer from its startups, investors and tech meetup groups last year. I do hope you can give me some leeway in terms of my choices. After all, I was in more than a hundred tech startup meetups, fairs and other similar events.
It's also what I could call the 2013 Reimagine Tech Awards or how I spent my night life attending one meetup after another. All in all, I wrote, mentioned and talked to more than 650 startups and investors (angel and otherwise) from these meetups–the ones who make it possible for many of these startups to get funding, of course.
I also logged in some hours talking to lawyers—those who offered their services and those who threw in the towel to join startups. It's interesting to point out how so many of these so-called secure jobs are not just secure anymore.
So many professions are being disrupted. Jobs are scarce, as operations are being automated. And those who can't get into entry-level jobs find themselves—what else?—transformed as entrepreneurs, which can be a good thing, if your startup makes it.
Different people from different parts of the world were in the meetups—either to pitch and present, lurk or watch closely. How are these startups doing now? We'll just have to wait and see how they emerge a year or so from now.
Here are some of the best I've seen last year in New York's tech meetups, not counting those pricey trade fairs I can't afford to go to, although I managed to make it New York Tech Day and NYC Big Apps with Mayor Bloomberg in attendance.
BEST MEETUP GROUP. Hatchery's Are You Serious meetup. You want honest-to-goodness feedback on your startup, business model and presentation style? You'll get it here. Guest panel of investors from venture-backed firms are regulars and are familiar with the five-year long structure of the meetup. Host Yao Hui Huang runs a tight ship.
BEST MEETUP TALK: Steve Blank at Startup Grind. The native New Yorker who made his name as a Silicon Valley giant was entertaining and engaging to listen to. Runner-up: Joe Meyer, former CEO of Hopstop now with Apple, gave us valuable startup advice in a talk that lasted more than two hours—the longest by any one speaker last year.
BEST VC TALK: Fred Wilson. You can divide VCs into two categories. Those who don't crack open a smile but are very helpful and those who smile but are not really helpful. Wilson managed to be both accommodating and helpful, but he certainly had more bite to his talk, giving a no-holds-barred opinion on NY and its tech startups. The other VCs were just too guarded, most likely because they get wooed all the time but hats off to Shai Goldman of 500 Startups, Adam Quinton of Lucas Point Ventures and Charlie O'Donnell of Brooklyn Bridge Ventures for their amazing fireside chats.
BEST ANGEL INVESTOR TALK: John Ason. Last year, there were so many of them who taught us so many things about how to get funding, but Ason was very candid and generous with his time. He didn't have the stage for himself, but as part of a panel, he stood out. He's also very approachable.
BEST MEETUP MODERATORS: Helman and Horn. It's a tie between Michael Helman of Startup Nation and Jeremy Horn of The Product Group. Helman, host of Startup Nation and co-founder of WILLiFEST and Crowdzu, is a great interviewer with just the right pace and structure to his gentle grilling. Horn, on the other hand, is able to make nearly all 400 of his attendees speak up.
BEST MEETUP TALK SHOW: Startup Grind. Hats off to StartupGrind's Brian Park for having the most important people in the tech world open up about what it takes to succeed as a startup—or in the world in general. Guests have included Steve Blank, Gary Vaynerchuck and Chet Kanojia.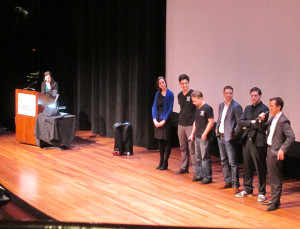 BEST VENUE. NYU Skirball Theater, home of NY Tech Meetup. With its cavernous 700-seating capacity, it's even bigger than most Broadway stages with balconies and boxes, and huge after-presentation mixer on another floor. Runner-up: Queens Tech Meetup is on the top floor overlooking Manhattan's skyline.
BEST AUDIENCE. Startup Grind's. It won me over for having the most engaged audience. Others have the most number of attendees for their venue but with Startup Grind, no matter where it holds its next meetup, the audience just keeps on coming.
BEST TIP OR QUOTABLE QUOTE. It's a tie between John Ason and Shai Goldman. When pitching to Ason, you need to do the following, in order: "Entertain. Engage. Inform." Goldman had this to say, "All startup teams need 3Hs—hustler, hipster, hacker." Runner-up: Mike Bloomberg, on not joining 2013 NYC Big Apps contest: "I didn't join because it would be unfair to everyone here."
BEST STARTUP. It's hard to determine this from more than 600 startups I wrote or talked about last year. Besides, what would the criteria be for that? Instead, I have the BEST STARTUP PITCH OR PRESENTATION: The Lux Animals team and Dennis Crowley of Foursquare. The Lux team came in full force at the Microsoft Building to talk in detail about the many facets of its gaming business and advertising work. On the other hand, Dennis Crowley of Foursquare proved to be an engaging storyteller about his beginnings and his success now.
One final award goes to the MOST GRATEFUL STARTUP, because they took the time to say thank you for my write-up even with just a Tweet. It's a tie between Lux Animals and Warby Parker. They thanked and tweeted me profusely for the blog write-ups. Thanks, guys.

Copyright secured by Digiprove © 2014 Dennis Clemente