Vibease shakes up NY Tech Meetup crowd
By Dennis Clemente
"Software. Hardware. Sexware." That's how one attendee described the NY Tech Meetup last February 4 at the Skirball Theater.
The last 3 presenters of the night had the 400 attendees chuckling the whole time. Cindy Gallop of makelovenotporn.com started on a serious note, explaining how any online sex idea is ignored by "Silicon Valley, Silicon Alley and Silicon everywhere," but she hopes not for long. She advocates for real sex online, not porn, inviting everyone to create their own videos and to share them with the world on makelovenotporn.tv. The TED Talks presenter is an eloquent speaker.
"I aim to make sex socially acceptable. I am diffusing porn for real sex," she said.
Then there's Bang with Friends re-launched as Down. The sex app works like a racier, unapologetic version of Tinder. It helps you find your Facebook friends' friends who are eager for a hookup as much as you–if you happen to like (read: click) each other. You could say Down means getting down to business.
The app can recommend the "hottest" friends of your friends' friends. Asked how he makes the distinction, the poker-faced founder Colin Hodge said he has "a patent-pending bangability score" which drew hoots. If anyone recalls, Hodge's controversial Bang with Friends was banned from the App Store.
The night, however, belonged to Vibease's founder and CEO Dema Tio. The Singaporean's app is a merging of both hardware and software. It's a sexware. It's a wearable vibrator. It's as simple as making a phone call and a physical vibrator does the rest of the work. His demonstration had the crowd in stitches.
Rejected at first at Kickstarter, Dema Tio put his idea for crowdfunding on Indiegogo, raising $130,000 as of press time. Available on iPhone and Android, it is accepting orders for March delivery.
The idea came to Dema Tio when he was in Boston and away from his wife in Singapore.
The other eight presenters included Birdi, Capti, CircleStop, Confide, Lenddo, Radiator Labs, Soccket and ThinkUp
Launched in Indiegogo, Birdi monitors air quality, everyday health hazards, pollution and emergencies like fire and carbon monoxide so you can stay connected and protected in your home.
Capti captures text online and converts it into audio files, while Confide likes to be the Snapchat of email, which elicited a throwaway question about how it could have worked for Chris Christie.
Jeff Stewart and David Singh talked about Lenddo, an online platform that helps the emerging middle class use their social connections to build their creditworthiness and access local financial services. For instance, getting loans based on one's social currency works for Lenddo in the Philippines, the social networking capital of the world, as this blogger also wrote about sometime back http://opinion.inquirer.net/20225/the-good-bad-of-ph-as-world-social-networking-capital.
Lenddo was also featured in this blog months ago at http://reimaginetech.com/lenddo-founder-offers-lending-platform-based-on-social-currency/
Next presenter Radiator Labs solves a nagging problem—how it can help stop fluctuating heat in your room, while ThinkUp serves personal analytics for social media, explaining in simple language how to get more out of the time you spend on Twitter or Facebook.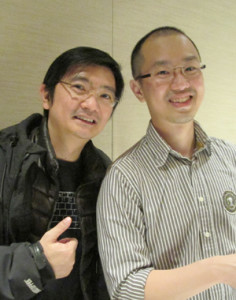 Copyright secured by Digiprove © 2014 Dennis Clemente