CogniToys gets crowdfunded on Kickstarter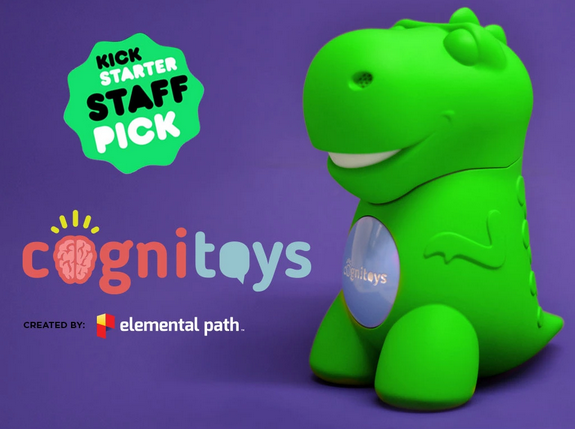 By Dennis Clemente
NEW YORK–CogniToys of Elemental Path more than made its goal go on Kickstarter when amassed over $237,000 from its crowdfunding goal of $50,000.
Speaking at Turn to Tech last March 8, "The toy for us was Watson (IBM's AI model)," said JP Benini of its system architecture department."The toy is the app. The toy is the experience. It's an adaptive system."
Recognizing a gap in smart educational toys, CogniToys is building a patent-pending technology that allows kids to directly engage in intelligent conversation with their toys.
The technology allows toys to listen, speak and simultaneously evolve, learn and grow with your child, bringing a new element of personalized, educational play to children.
.
With your help, we are launching Elemental Path's first product: CogniToys – a cute cuddly dinosaur that is fun, playful and smart.
How does it work?
By pressing the belly of the toy, the child can speak directly to it, allowing the child to:
• Ask thousands of questions and receive age-appropriate answers
• Give commands to the toy allowing the child to discover hidden talents
• Hear a number of stories and even create their own stories
• Tell and listen to knock knock jokes
• Create a unique personality for the toy that evolves over time based on the child's interaction with the toy
Demonstrating its response using his smartphone, Elemental Path's JP Benini an audience member asked, "Why is the sky blue?" It responded with an answer. He pointed out how the toy may not stop giving answers if you don't stop it.
Elemental Path was a grand prize winner at the IBM Watson Mobile App Developer Challenge with its unique concept, and part of winning was receiving access to IBM Watson — IBM's powerful cognitive computer – to create a truly transformational toy.
"We are an ecosystem and business partner of IBM," he said.
Since it is internet-connected, Elemental Path sees many way of improving the play experience—in both personal and educational ways.
It will reportedly get to know the child and grow with the child. It is envisioned to create an experience around a child's personal interests. The toy will reportedly have a personality of its own that changes over time.
Of prime importance is how it should create an atmosphere of fun and playfulness—with modules that engage the child in educational play. These include rhyming, spelling, vocabulary and math. As the interaction increases so will the challenge of the educational content continuing to become more challenging as the child learns.
In terms of testing with kids, Benini admits that they have mostly done spot testing. On weekends, we let our nieces and nephews play with it. We haven't had a kid spend a week with it, though."
"We're talking to parents about what information they would like to be in the toy," Benini added.
xlabs.ai also presented the idea of having the internet a hundred times faster using AI to build a better software.
It aims to do this by improving physical infrastructure, compressing the data being sent, and having RITA, its artificial intelligence, work its magic. It reportedly knows algorithm, data and language.
Questions about the threat of artificial intelligence to our world were also discussed.

Copyright secured by Digiprove © 2015 Dennis Clemente