Golfswell aims to improve efficiency and accessibility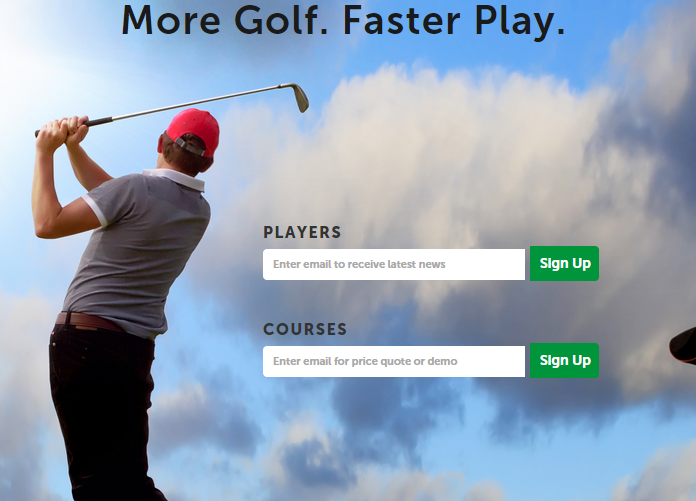 By Dennis Clemente
NEW YORK–Nearly every night, there's a demo or tech meetup happening in the city. If you're a morning person, you will like NYC Tech Breakfast. At this monthly breakfast get-together, startups do show-and-tell demos start at 8 a.m. and end at 9:30 a.m. This month, the presenters were Aaron Rosenthal of Golfswell; Jonathan Wasserstrum; Ron Rose of 3DP4E: Kids Creation Station and Justin Panzer of Eventuosity.
From Washington, DC, Golfswell's Rosenthal presented next, saying his app is devoted to finding solutions to improve efficiency and accessibility at golf courses everywhere.
"As golfers, we go to the course for competition, fun and freedom from the daily grind. Too often, customers leave frustrated with course backups, too much waiting and not enough playing, Rosenthal said.
Only available in the US for now, Golfswell claims to offer the following:
GPS yardage and score keeping: Get precise distances to the front middle and back of the green at your favorite courses and never choose the wrong club again.
Traffic map: See where other golfers are on the course and how fast they're playing. View your pace, course preferred pace, and how you're saving time.
Communicate: Send a text message in the Golfswell app to report a jam or request for a ranger.
Reporting & analytics: Use real-time data and analytics to improve your pace of play
Rosenthal is responding to how only 14 percent of tee times are booked online – a 25 percent growth since last year.
What's interesting about the next presenter, The SquareFoot, was how it lists actual rates of commercial office spaces. It also features a nifty space calculator.
"It's Zillow for commercial real estate Jonathan Wasserstrum, CEO, said. "Later this year, we will launch a mobile app."
Other than that, it aims to please. It has a technology to allow you to browse commercial space all across the country, and an experienced broker team to walk you through the process of leasing space.
"We work directly with landlords," he said.
The SquareFoot calls it a new of engineering a new kind of broker: providing you with great service and advocating for you throughout the entirety of the leasing process.
Rob Rose of 3DP4E is in the business of converting children's artworks into life-like 3D creations, as he showed a finished product around.
"We cut the 2-hour process to 15 seconds," he said as he showed a video of how quickly it works to use a child's artwork, usually a 2-D image, and prep it for 3D printing.
Every order will reportedly include a child's artwork as a 4-inch 3D printed sculpture; an "openable" diorama case, and a full-color background insert for the diorama case. Turnaround from order to delivery is about four weeks.
The material is sandstone, a gypsum-based power bound together with an adhesive and simultaneously embedded with an ink jet head. The products are finished with cyanoacrylate sealant to ensure durability.
Prices range from $60 to $100.
Panzer of Eventuosity presented a web and mobile application for event planners to manage the people, places and important business events such as corporate meetings, trade shows, marketing tours and even social outings.
The app, a SaaS monthly subscription model, reportedly works as single tool that allows you to "plan anything by planning for everything." Panzer of Eventuosity says, "We never to look at another spreadsheet."

Copyright secured by Digiprove © 2015 Dennis Clemente