Darabi talks about Zady, her ethical fashion brand/e-commerce site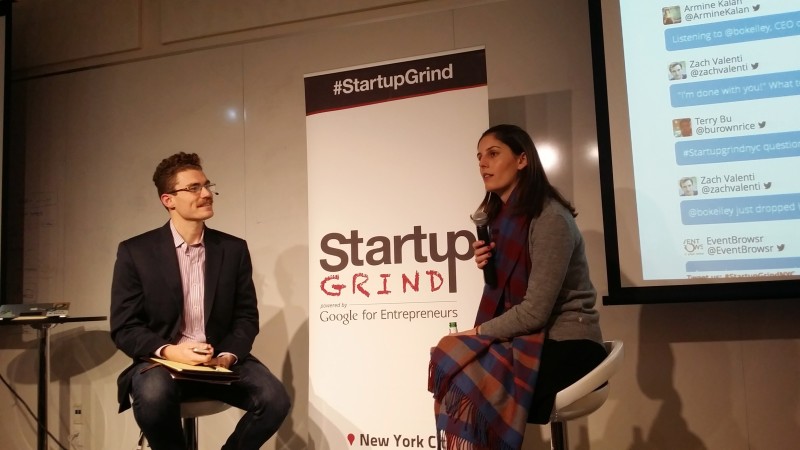 By Dennis Clemente
Soraya Darabi speaks in a soft conspiratorial tone. But don't be deceived for one moment. The co-founder of Zady is bristling with confidence and refreshing honesty. Last December 3, Darabi was at the Startup Grind l at the Pivotal Labs in midtown Manhattan.
"It feels bipolar. It doesn't go away. I (may) wake up at 2 a.m. and can't get back to sleep till it's 4 a.m," she said as she embarks on her year-old startup with co-founder Maxine Bedat.
Even after all this time, Darabi still feels like she's just starting Zady, an "ethically fashioned brand." She has worked for a big organization like the NY Times and a small startup, drop.io.
Nowadays, she focuses on being both a tech-savvy and eco-conscious fashion brand. "We want people to look at a product and know how it came to be." She likes the process that goes into crafting fashion wear, equating it with luxury products and their craftsmanship.
Darabi also likes her clothes to be all made in the U.S., with 5 percent of proceeds going to charity. She admits that she cannot compete in terms of pricing. At the interview, she was wearing her wool sweater priced at $160. It's reportedly made from all-natural materials, including wool from Shaniko, Oregon, a farm that uses a conservative management plan to make sure it has a positive impact on the environment.
Beyond price considerations, she likes how her clothes have important stories to tell in contrast to other garments. "Landfills are filling up with T-shirts."
If you think you need to be very persuasive to be an entrepreneur, Darabi doesn't show that. If you think you need to stick to your industry, like her being a digital marketer, think again. Neither Darabi or Bedat have fashion backgrounds—and yet, that's where they are now.
Her work at the NYTimes made her believe there are "no passive aggressive newsroom journalists."
Both founders are looking at this business beyond fashion; they aim to help consumers better understand the origin of their slow-fashion product line, especially with their own line.

Copyright secured by Digiprove © 2015 Dennis Clemente