Cloud is at critical point but adoption faces cultural challenge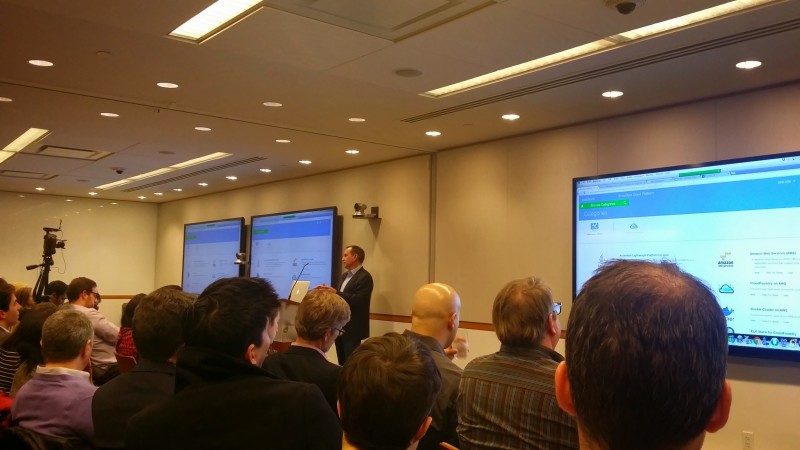 "The cloud is at that critical point. We're in for a major disruption."
This was Michael Liebow of Accenture Cloud  speaking last December 11 at the NY Enterprise Tech meetup that included Randall Hunt of Amazon Lambda and Jonathan Fullam of Pivotal Cloud Foundry.
Liebow was talking about how many corporations can approach the cloud from the technical, commercial and cultural standpoint. Now, if only most of them can step out of their comfort zones and embrace it. If not, a disruption enabler is clearly needed–to bring some governance and make it easy to deploy services.
Liebow came with CTO Paul Daugherty, also of Accenture, to announce and demonstrate version 3 of Accenture Cloud at NYET's meetup at Cooley LLP.
The Accenture Cloud Platform (ACP) is a self-service cloud management portal, hosted and managed by Accenture and offered "as a Service." ACP manages the virtual infrastructure of its public and private clouds. "We sell it as a service, (but) it's a product within Accenture," Liebow said.
Cloud-based, scalable, pay-as-you-go consumption of IT infrastructure services is now essential to delivering the business capabilities required by a digital business.
ACP allows digital businesses to get fast access to pre-vetted, quality cloud services through an extensible service catalog for IT governance and self-service provisioning of cloud computing services.
"It's fully customizable. Through encryption and our solutions, you can create a secure design," Liebow said.
ACP supports leading providers such as Amazon, Microsoft, Cisco, NTT Communications and others.
The next presenter was Amazon Lambda, a compute service that runs your code in response to events and automatically manages the compute resources for you, making it easy to build applications that respond quickly to new information.
AWS Lambda starts running your code within milliseconds of an event such as an image upload, in-app activity, website click, or output from a connected device. You can also use AWS Lambda to create new back-end services where compute resources are automatically triggered based on custom requests. With AWS Lambda you pay only for the requests served and the compute time required to run your code.
With AWS Lambda you pay only for the requests served and the compute time required to run your code. Billing is reportedly metered in increments of 100 milliseconds, making it cost-effective and easy to scale automatically from a few requests per day to thousands per second.
Hunt called Amazon Lambda "a zero-administration computer platform, because your infrastructure should not interfere with your life."
Last presenter was Fullam of Pivotal Cloud, a new platform that converges both application developer and IT operator processes so enterprises can quickly iterate on software while achieving built-in operator efficiencies.
Pivotal demonstrated how Cloud Foundry PaaS enables a developer to deploy an application in seconds and remove the complexities around application health management, updates, and scaling.

Copyright secured by Digiprove © 2015 Dennis Clemente