For Wink, IOTs should be a no-brainer for your Mom; Fjord sees future in embeddables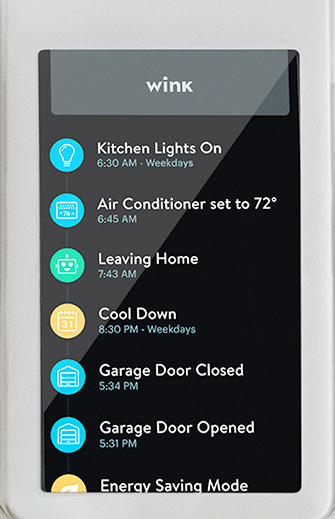 The Internet of Things (IoTs) should be a no-brainer for your Mom. Well, at least that's how Jeff Bartenbach wants Wink to work not just for Mom but for the rest of us.
Bartenbach, head of experience at Wink, was one of two other presenters at the Internet of Things meetup last December 17 at General Assembly.
Bartenbach talked about how Wink works to connect you and the products you rely on every day in your home. It aims to ultimately become the single app for the array of big brands out there.
This was not always the plan. Initially, the app connected products Quirky+GE. Wink has since partnered with about 15 brands while also supporting about 60 products. For more information on its latest partners, the company suggests downloading its app.
To make his presentation more accessible to the audience, Bartenbach used his mother's experience with technology—if the purpose is to make her life easier.
What would you do with this set of instructions if you're not a programmer? "When robot detects window is open and outside temperature is less than 74 degrees and no one is in the bedroom, then turn off the air conditioner."
While he said he could easily configure this on Javascript, his Mom would, however, not be able to figure this out. And that extends to the rest of us.
Weighing simplicity with flexibility, that is in a lot of ways our challenge now," he said.
To solve this, Wink is looking forwarding to making more sense of how intelligence systems work for the rest of us. "You have to understand how to control a product, and once you understand then you can automate that product, then once you understand that then you're in a position where the system can intelligently automate it for you," he said.
When you describe that your company merges the digital realm with the physical world, it's better to just demonstrate what you can do.
The next presenter, James Patten of Patten Studio, did just that when he showed a video of how his company worked on a project commissioned to them by Bjork: The Gravity Harp is a robotic harp consisting of four pendulums that slowly swing back and forth to play musical notes while they hang 25 feet in the air.
Patten also showed the Zebrafish Donor wall commissioned by the Dana-Farber Cancer Institute in Boston. The wall showcases 425 unique 3D printed Zebrafish selected for its notable regenerative abilities.
Each fish features embedded LED lighting as well as capacitive touch sensors. By touching individual fish engraved with donor names, visitors are able to explore messages left by the individual donors on digital displays. In its ambient state, the installation illuminates in a dynamic, meditative sequence.
The next presentation moved to the speculative realm.
Andy Goodman, president of Fjord USA, said "wearables are old news" as he talked about how we should move to "embeddables."
"Embeddables is a term still getting some traction. It's an ambient world of sensors and input devices extending to your body. If you put that together, this is how we might interact with systems," he said.
He said four technologies will enable this: genetics, nanotech, information ("interpreting what's going on; contextualing what we do; guessing what we want") and robotics.
Fjord has been around since 2001, but now it's part of Accenture Interactive. It redesigns people's relationships with the world. For instance, it transformed digital banking on the tablet with Citibank's iPad app.
The meetup was hosted by Mitchell Golner.

Copyright secured by Digiprove © 2015 Dennis Clemente