Funding your startup with legal, tax and accounting in place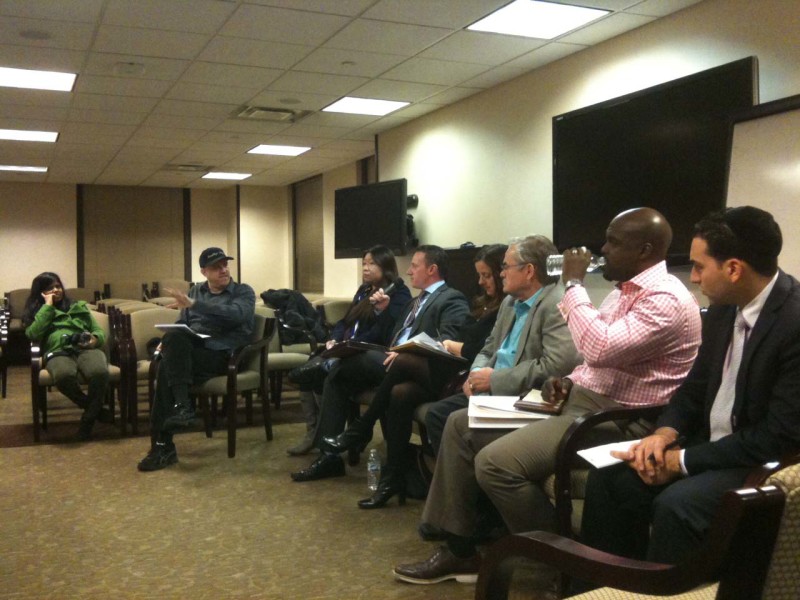 By Dennis Clemente
New York is packed with tech startup meetups every year, with great speakers and panelists as guests, but StartupNation NYC probably may just have the best moderator, Michael Helman, himself a co-founder of both WILLiFEST and Crowdzu who, along with Stella McGovern, organized this meetup.
In launching its inaugural meetup last October 29, Helman has done what has so far been impossible in a meetup: Put a diverse and important set of panelists together and make each one of them open up and speak clearly, as we not seen much in any meetup this year. Let's hope it's not just beginner's luck.
The panelists consisted of Matthew Zucker of Kelly Drye & Warren LLP, a corporate attorney who represents startup and emerging growth companies; Kobla Asamoah of St. Nicks Alliance, a small business advisor based in Brooklyn; Amy Gaven, a trademark and copyright attorney; Alex Chou, a business development consultant and tax planner; John Ason, an active New York angel investor; and Albert Chcoury, financial advisor of New York Life Insurance Company.
The six panelists talked about a wide range of issues– the importance of a correct corporate structure, preparing initial funding and procedures in compliance with state/federal requirements, shareholder agreements, how to look for/approach investors, valuation, monies to be raised, funding rounds, how to put together an effective business plan or deck and what needs to be included, how to protect your intellectual property, and accounting needs.
From the 2-hour talk, here are some great takeaways:
Choose Delaware or wait for New York in 2014. Incorporate here because it is a comfort level for investors. The laws are efficient and flexible. There are no state and income taxes. Or by 2014, choose New York in designated tax-free areas for 10 years.
Business plans. Doing one is a good exercise, even if not all investors require one. An angel investor may only need an executive summary but an accountant may require a business plan. Have a pitch deck ready anytime.
Executive summary. Ason, who has had 40 investments, said it must be "explained in one page accurately." It must talk about market size and why it exists. It must be esthetically pleasing. "I receive over 3,000 a year. I spend 10 minutes on one."
Equity to initial employees. Stock options are good. It doesn't cost you anything now. Anyway, you can buy shares later.
Legal talk. How important is a trademark? It's your brand. It's your identifier. Conduct a trademark search. Know how strong your trademark is. Consider patents and copyright as it applies. Outsourcing? Have a work-for-hire agreement in place.
Make sure IP is owned by company, if there are more founders in the organization. So if the founder leaves the company in a year and there is no shareholding agreement, company keeps ownership. Still, a buyout is ok.
Investment from family and friends. If launching shortly, pay off the loan. If launching much later, give them equity. If you get funding from a seed investor, consider that they might have stronger ideas compared to your family.
Difference between angel investors and VCs. Ason has funded someone who pitched an idea written in a napkin and to someone in 28 minutes—all early stages only. Most VCs will only only invest in post-prototypes. They won't look at you if you are below $10 million in earnings. VCs are all about expansion capital.
Team composition is most important in a startup. Investors prefer a team who may have a mediocre idea rather than a mediocre team with a great idea.
Exit strategy. No one will reportedly want you if you don't have an exit strategy. Look to exit within five to 7 years. Ason said he looks to get 10 times return on his investment, because 30 percent of startups he invest in fold up.
Qualities of a good founder(s). Can they execute? Can they make decisions in 30 minutes with data or minimal data? Make sure to be sociable, too
How do startups gets noticed? Ason's advice: Entertain, impress and inform, and in that order. He can bring in other angels if he decides to be a passive investor, as he prefers nowadays. He doesn't believe in valuations; it's all "completely made up."

Copyright secured by Digiprove © 2013 Dennis Clemente