Global Innovator presents foreign startups in transit, mobile marketing, marketplace and health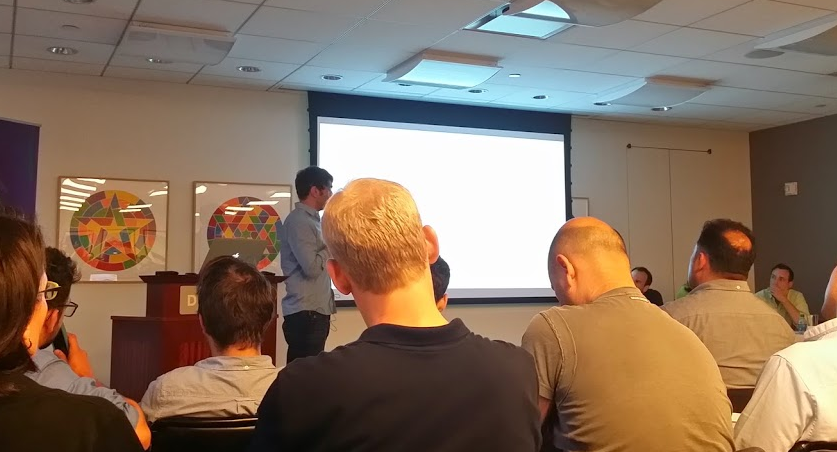 By Dennis Clemente
Where most tech startup events lump all startups without geographic distinction, Global Innovator makes it entirely clear that foreign startups has an American audience and more importantly, a panel of guests from New York's VC world to give them feedback and possibly, funding.
The bi-monthly series is powered by the Worldwide Investor Network (WIN), a New York-based platform focused on helping early stage global tech startups shorten the path to funding and acceleration in the US market.
What also makes Global Innovator different from other tech meetups is how the whole affair has an air of formality about it, quite different from other meetups where the standard garb is T-shirt and jeans and the setup is freewheeling. Here, attendees wear suits, wine keeps flowing, press kits (even without the press in attendance, except this blogger) are provided, and just for added glamour, all the kibitzing continue to the rooftop—for VIP ticket holders. Like I said, it has an air of formality. And it helps that they have sponsors to pull this off.
Last June 25, the four foreign startups followed Global Innovator's theme-Mobile Apps. The presenters were TransitApp, YouAppi, Gone! And Nutrino. Following the format, they presented for five minutes with no apparent time limit for VCs to give their feedback. Tanya Prive, founder of RockThePost moderated the event with WIN's Eyal Bino opening the affair. They may consider introducing where each startup comes from.
Sam Vermette, co-founder of TransitApp, spoke about its app—how its finds your next departure instantly. Free. What makes it different from any other transit app? Instead of giving you just a schedule or map, it tells you when your public transport is nearby.
"People only want one thing: When is my ride coming?" he said.
He's confident that in the future, people will be using more public transport, citing how China moves 2.5 billion in public transport. He's eyeing the world. With $17 billion in fares in US and Canada, the numbers out there for his other 70 markets must be huge. His biggest market is New York.
He looks forward to the day when you can just beam your phone on any public transport system. "Our friction-less payment (method) is in prototype."
But what makes it different from Google? "We think public transport deserves its own app where Google is the Swiss knife of apps," he said, as he looks forward to the day also when every city has Wi-Fi.
Moshe Vaknin, founder of YouAppi, presented YouAppi, a mobile apps recommendation platform that has reportedly raise $2.2 million.
Using the YouAppi system, publishers of mobile apps, reportedly gain a simple and reliable way to target their acquisition and retention resources for the highest valued and most loyal consumers.
"YouAppi is for mobile publishers struggling to monetize their inventory using traditional banner ads," Vaknin said.
Nico Bayerque of Gone! showed how his app works as an algorithm-powered concierge service that sells your items, pick them up, package them appropriately and fulfills them.
Addressing what he calls the 350 billion market, he is answering what's foremost in our minds: What do we do with our junk? And suggesting why not sell them through Gone! Electronics is a best-seller.
He demonstrated how he mines pricing data using ebay, for example, to gauge how much you can sell your products lying in waste at home.
Highest worth of products Gone! has picked up and the windfall the person received for using their app: $1,600. "Once we remove anything from your house, you get paid," he said.
Why them? He said they know the marketplace. "If you want to sell wine, for example, we know the marketplace for it."
The last presenter was Nutrino. Using your personal and medical profile, goals and food preferences, Nutrino's patent pending technology helps create a healthy dietary plan for you.
Nutrino adapts to you in real time, continuously improving its recommendations. It's supposed to be the first data-driven personalized food recommendation engine in the market.
The VCs at the presentations were Danny Schultz, managing director, Gotham Ventures; Jalak Jobanputra, managing partner, FuturePerfect Ventures; Hadley Harris, founding general partner, Eniac Ventures; and Nic Poulos, principal, Bowery Capital.
The other speaker of the night was Dave Kerpen, founder and CEO of Likeable Local and best-selling author, likened fundraising to dating.
Based on his experience, here are his fundraising tips:
• Transparency is good but not o too much
• Don't waste your time once you know it's not a good fit
• They're going through the same thing you are
• Persistence is vital in any relationship worth having
• In the end it's worth it

Copyright secured by Digiprove © 2014 Dennis Clemente