Indiegogo, Alphaworks, TDBank flex meaning of fundraising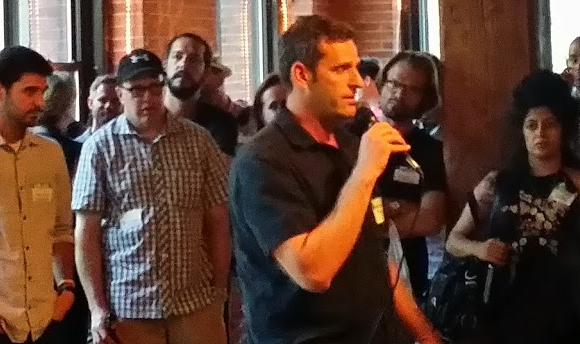 By Dennis Clemente
DUMBO, Brooklyn is far from all the tech meetups happening in New York City, but it makes sense to hold an event here. After all, it's where many startups hold office.
This makes perfect sense for Digital DUMBO, which produces live events, conferences, content and custom experiences, like it did last June 26 when it hosted a meetup featuring Alphaworks, Indiegogo and even TDBank. Crowdfunding meets Bank—an unusual partnership but one that should make sense. Every startup needs funding no matter where it's coming from, even from a bank like TDBank.
So other than angel investors and VCs, startups have more choices. Crowdfunding, for instance, is gaining immense popularity, especially those who have tech hardware in or wearable in mind. Crowdfunding sites are magnets for any physical device, because it's easier for people to invest in something they can physically grasp, literally.
The Pebble Watch's success was the turning point. Now, people easily identify with physical devices pitched on a crowdfunding site like Indiegogo. Jerry Needel, Head of Growth at Indiegogo, told us the story of how the founder of Bug a Salt, a gun-like fly swatter, invested 300,000 of his own money and maxed out on his credit cards with almost no hope of recouping his investment until he posted his idea on Indiegogo and people responded in kind (read: money).
Milton Berle once said, "If opportunity doesn't knock build a door."
Even when poked at, one can't discount how Bug a Salt became a huge success. It's on Amazon for $39.95.
So ask yourself if you really need the money, because Indiegogo thinks you can bring out an idea much sooner with them. Needel said you need to test your market,
find out your market validation, build buzz, capture data and raise capital.
"Crowdfunding is a proving ground for startups," he said as he talked about the success stories in Indiegogo like Misfit Shine which raised $846,000 or Knix, which raised $60,000 in 30 days – success is how much money you need to raise.
But what if you want to be a co-owner of a startup? You can do that with Alphaworks.
Nick Barr, VP Product of Alphaworks, said the company's mission is to empower passionate communities to become owners in the companies they love. Founded by Betaworks, it represents a new kind of ownership, a world in which companies are likely to be owned by a community of people
Alphaworks, founded by Betaworks, represents a new kind of ownership – a world in which companies are as likely to be owned by a community of people as they are by just a few individuals. Our thesis is that over time, this new kind of community owned business will lead to more profitable and lasting organizations.
If you want to invest, Barr recommends Giphy, See me and Quibb.
It was easy to tell who came from TDBank last Thursday. Brandon Williams of TDBank's Head of US Wealth, even kidded about it. "We're the ones in suits."
To express his commitment to startups, he said, "We want to be partners with you. No company is too small," he said.
If you're interested in learning more about TD Bank and how they can help you or your company, contact Peter Izzo, VP Commerical Banking, at (212) 918-4186 or Tarryn Kone, TD Private Client Group, at (212) 897 2658, or visit www.tdbank.com.
Digital DUMBO started in 2009 as a social gathering for innovative companies in the DUMBO neighborhood of Brooklyn, a six-block area with over 100 media and technology companies. If you're In the neighborhood, there's no excuse if you don't what it means. It's Down Under the Manhattan Bridge Overpass.

Copyright secured by Digiprove © 2014 Dennis Clemente