Hatchery is back with no-nonsense feedback to startups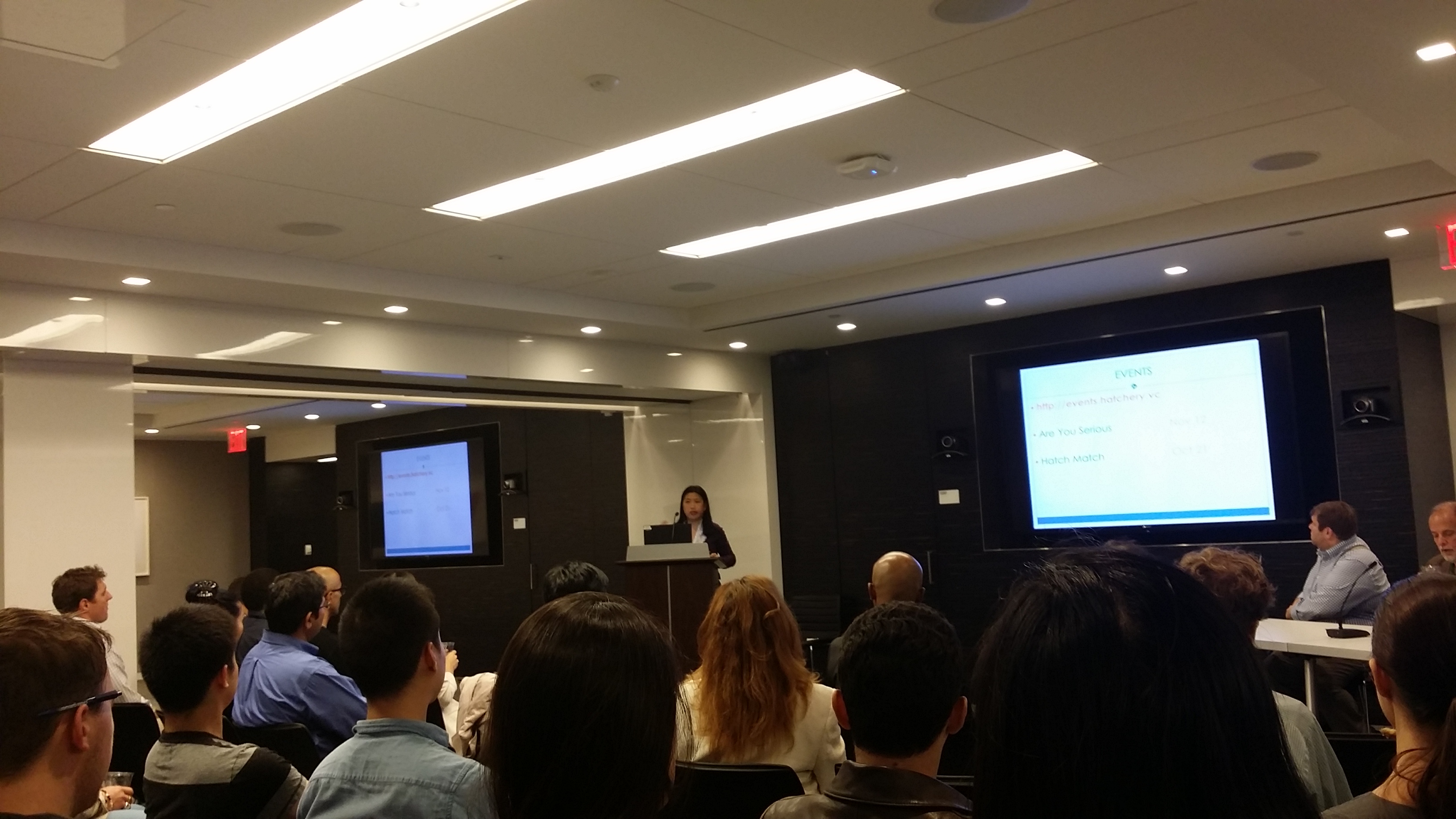 By Dennis Clemente
You better be prepared when you present at "The Hachery: Are you serious?" meetup, because even if there are so many similar meetups in the city, it doesn't fail in one regard: giving serious, constructive feedback.
The secret to its no-nonsense approach probably lies in two things. It has fewer startup demonstrations—four this time, as one presenter didn't show up. Second, startups have five minutes to pitch to the panel of investors, usually four or them. In the startup demo world, the five-minute presentation format is, of course, an eternity and for the panel listening, just more information for them to give serious feedback that startups truly need to hear.
It also helped that The Hatchery's first meetup last September 25–after taking the summer off–had the candid Kamran Elahian talking about his decades-long investing experience. The other panelists were Jeff Neu of B2B Ventures and Gregg Young of NY Angels, respectively.
The investors were unanimous in saying how all the presenters need to review their financial projections. Elahian spoke at length about how in the interest of time, presenters should not do three-year financial projections, believing this to be unreliable based on his experience.
"Value is in the eye of the beholder…not in the spreadsheets," Elahian, talking about an unspoken reality in this business. "Make (investors) like you." He added: "Establish value then negotiate."
With over 29 years of experience in the tech industry, Elahian has co-founded 10 hugely successful companies. As the chair and co-founder of Global Catalyst Partners, he has invested in multi-stage companies in the United States, China, Japan and Israel.
The first presenter, Aspirevest, connects individual investors to financial advisors and asset managers in the alternative investments space pay per connection auction and data social feeds.
CEO Daniel Roth sees a $1 billion opportunity, especially with "the financial world (being) 10 years behind the internet." He is looking to raise $750,000 with a milestone in 18 months.
With 3 US patents, bio-medical startup Synchropet is also seeking $750,000 in its variation on PET scanning for animals. Working prototypes are called rat cap and pet insert MRI It is competing in a $235 million by doing something smaller and cheaper.
Each unit could cost $295,000. Beta products are expected to be done in December, delivery by the end of the summer of 2015 and sales by the end of 2015. It's a high ticket product, especially being in the hardware category. "Make sure you are in the cash flow," one of the investors said.
"I have about 15 customers for the rat cap from Europe," said founder and CEO Marc Alessi.
The rise of personalized medicine is something that Bridget Osetinsky, co founder and CEO of Hyperfine, is hoping to capture with its Cornerstone tool. It aims to redefine the landscape of data search tools by introducing intelligence algorithms that will help in knowledge extraction in hospitals initially.
For $20,000 a year, doctors can also reportedly use it among patients using on-premise solutions and later, in the cloud. It is seeking $3 million and would have to figure out issues of liability and confidentiality.
CEO and founder Chris McBride presented Alta Editions, a digital platform for premium cooking content as a way to solve hard-to-find free recipes online.
"Cookbooks represent a $3 billion global market," he said as he noted how Cooks Illustrated may have the American market but not the global market.
What is it going to do different? Re-launching early 2015, it will reportedly have a more personalized (approach) based on skill level, dietary needs, food purchases and user tastes. Founded in 2011, it faces an uphill battle. Content space is really difficult.
GoPRit and University Beyond were initially scheduled to present.