VC Ben Sun and new apps at ER Roundtable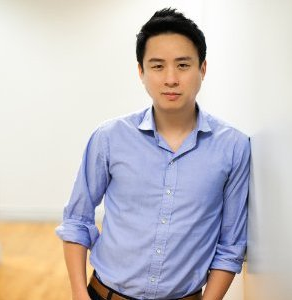 By Dennis Clemente
Which of these names (in no particular order) match the latest crop of apps presented at the ERA Roundtable meetup last January 16 at the Microsoft Building in New York? Each of these apps is a sentiment analysis tool, a home for your child's artwork, a "paperless" medical record system, a live video stream of your favorite bars, and a financial analysis engine.
1. PeepsOut by Nobles Crawford, CEO and Founder
2. Accern by Kuwesh Aroomoogan
3. Thinknum by Justin Zhen
4. Healthjump by Clifford Cavanaugh
5. Canvsly by Amit Murumkar
ERA Roundtable's 66th show-and-tell also featured internet entrepreneur and angel investor Ben Sun who served as guest judge to these presenters. Sun is a partner at High Peaks Venture Partners, an early stage venture capital fund based in New York City. But he is also known for his early forays into the internet. He was on it as far back as 1999 and soon after when his company, Community Connect Inc. made household names of AsianAvenue.com, BlackPlanet.com, and MiGente.com.
It's seldom to hear an investor who is both an engaging storyteller and frank speaker. As he talked about how he got his start, Sun recounted how an investor before the dotcom crash almost tricked him into changing terms of agreements last minute, but fortunately, an an angel investor stepped in to save the day. He qualified that this may have been more in the past and the only thing you have to worry about nowadays is how investors will invest in your startup but may be hands-off all the way.
At the meetup, Sun certainly made sure he was fully invested in giving feedback and answering questions from the crowd and presenters who each gave a four-minute show-and-tell.
Accern offers sentiment analysis for investing in financial markets–the use of natural language processing to extract emotions out of data. But with other companies like Accern, what makes them different?
Aroomoogan said Accern has a customizable sentiment analysis platform where you can choose your own sources and filter those sources, including ratings for each source, topic, keyword or phrase based on importance and relevance. "We have 80 percent accuracy."
The next presenter, Canvasly, is in the business of collecting children's artworks and putting them on the app, for safekeeping. In giving his feedback to the app, Sun said it needs a "ton of scale," as he also discouraged efforts to go school-to-school, because of the challenges this presents to the sole founder.
Healthjump's presentation elicited issues of security and privacy. After sign up, Healthjum coordinates with people's physicians, so the former can keep their medical records. The price of convenience is also about giving up certain information. What Healthjump removes is the chore of filling up medical forms every time you go to another clinic or hospital but the startup guarantees security with encryption.
"We don't collect your (customers') data," Cavanaugh said.
Talking again about privacy, PeepsOut and its live stream network helps venues find new patrons and patrons find venues that they may like "to be found in." Crawford guarantees that the streams are anonymous and not recorded at all.
A former ad man, Crawford announced a couple of recent accomplishments, including its partnership with 45 bars and other establishments, its new office in Austin Texas; its 1,500 uniques in New York as well as its return rate of 83 percent on its app and 63 percent on its website.
Thinknum's Zhen presented his web platform for financial analysis and how it's different. "We're focusing on collaboration and solving transparency."
Thinknum aggregates the abundance of financial data and insights on the web and presents it to our users in an intuitive format, indexing the world's financial information in the process.
Thinknum's Cashflow Model values companies based on fundamentals just like Wall Street research analysts do. Its Plotter tracks over 2,000 sources of data and enables users to analyze trends easily. Thinknum's institutional clients include Goldman Sachs and JP Morgan.
Later, Sun answered questions from the audience, but one thing that stood out is how open he is to e-commerce startup idea. "It's a $700-billion dollar industry with only a 6-percent penetration rate. In terms of potential, it's more execution, than concept."
Even Amazon, he added, is on Day 1 with e-commerce.
Late last year, comScore reported that Q3 2013 U.S. desktop-based retail e-commerce sales grew 13 percent year-over-year to $47.5 billion, marking the 16th consecutive quarter of positive year-over-year growth and the 12th consecutive quarter of double-digit growth.

Copyright secured by Digiprove © 2014 Dennis Clemente