NY Tech Meetup audience has app favorites different from the rest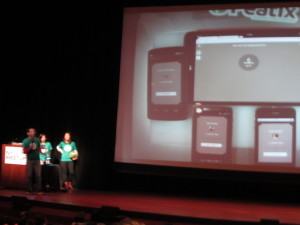 By Dennis Clemente
With 9 startups presenting at the NY Tech Meetup almost every month, it's likely one will stand out. But it's getting harder to tell who is going to make it these days. Last March 4, for instance, some of the more than 600 people at the NY Tech Meetup at Skirball Theater had different favorites with their favorites challenged by the people seated beside them.
Is replacing the QR Code with simple color codes the answer? Peatix from Japan is not saying that but it may be another way of looking at it, the way it is offering color in ticket confirmations. Just raise your phone with the color confirmation in, say, a bar entrance and if it matches the doorman's color in his tablet or other mobile device, you're in.
People later said the color could be faked, even with an earlier Peatix assurance or challenge, "You could try?!"
What about turning the tables on dating sites and using it in your search for the perfect team? Collaborizm matches the entrepreneur and creative minded based on aspects of team building psychology, personality type, and collaborative interests. Not all friends are created like-minded; you need a team up to build and ideate together.
Since we're in New York, how about solving the perennial problem of finding apartments?
If you've seen the movie When Harry Met Sally, Billy Crystal talks about how people check the Obituaries to find which apartment will hit the market. It's a morbid thought played for laughs back then. You never know if people watching it this time will think how it makes perfect sense. We don't know for sure if RentHackr is doing that, but it connects with the best apartments before they hit the market. Call it stalking an apartment.
With 9 startups and almost no technical hiccup for many months now, the NY Tech Meetup may have been due for one when the Wi-Fi failed on two other presenters—ScoreSync and Ziggeo but the presenters and the audience laughed it off; it relaxed the crowd.
ScoreSync is a collaborative digital sheet music that aims to revolutionize music education, rehearsal, and creation. It was one Brit guy's favorite and why not? Wouldn't it be cool if people from different parts of the world composed great music together?
And if it will help musicians create, ScoreSnyc could use Ziggeo's API. It's video recording and playback (just 2 lines of code). You can add videos to user profiles, feature video comments and message, or come up with new uses of video.
Ziggeo could also work then with Shodogg. The latter offers a patented technology that connects digital content to any number of web-enabled screens in the world.
Other ways of connecting was presented by Sense Health, an organization tool that helps health professionals connect with their clients and Verbalizeit, a translation platform with thousands of translators on call anytime.

Copyright secured by Digiprove © 2014 Dennis Clemente