Foreign startups present to media-owned VCs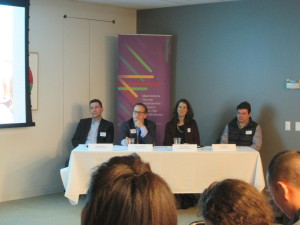 By Dennis Clemente
Last February 27, WIN (Worldwide Investor Network) hosted Global Innovator featuring five presenters—Hyperactivate, TripTease, Mommy Coach, $Social and 365Scores—to panelists that included media VCs at 1221 Avenue of the Americas.
What is interesting is how the panelists included two media VCs–Cyna Alderman, managing director of Daily News Innovation Lab and Scott Levine, managing director of Time Warner Ventures. The two other VCs were John Elton, partner of Greycroft Partners and Ross Goldstein, managing director of /gothamvc.com/">Gotham Ventures. Goldstein was voted best judge of the night.
Hyperactivate offers a turnkey solution that amplifies your brand messages across multiple channels, while $Social figures out the how to monetize "celebrities" social media engagement.
Lastly, 365Scores chooses your favorite team and leagues for you to create a Sports Channel.
MommyCoach connects you to live experts for parenting advice. TripTease, on the other hand, relies on you to be the expert in sharing your travel stories online.
Hyperactivate's March Fischman likes to point how his startup solves the accountability problem all marketers face when attempting to quantify ROI on any company's social media investment with its "active management platform" or dashboard.
"Clients don't know what success is," said Fischman who thinks he can determine social media success for its business. To scale his business and add new features, he is seeking $3 million.
Triptease's Charlie Osmond, a presenter at The Hatchery last February 20, says his startup is like a "digital postcard." You upload or link a photo from a gallery and give your review. He also calls it "photo review" or "user-generated travel magazine."
Osmond, who was at the Hatchery a week ago, won over the crowd again for his presentation skills, with one panel remarking how it helps to have a British accent, like what another VC said at The Hatchery meetup.
"Hotels love it (Triptease)," he said. "We are connecting inspiration and bookings."
Osmond said he has signed up 10 hotels, integrating Triptease with the hotel management system in the process.
It may not be so unusual for Osmond to get such high marks from the previous panels he has pitched to as the global travel market is worth $750 billion, with the luxury and hip travel industry amounting to 475 billion. He is raising $1.5 million in mid-year.
Is offering classes and advice for moms a viable online business?
Christophe Garnier, CEO of Mommy Coach, likes to think there is room for him with 90 million moms in the world. It helps if you put a number around its worth: $7 billion.
The Frenchman claims to have 1,000 experts but to keep things under control, he narrowed down his expert mom experts to 250. "It's like Airbnb (for moms)," he said. "We don't have doctors but our experts have parenting licenses."
Having raised $600,000, he is looking to raise $150,000 more to reach his target f $750,000 in convertible note. "I will use some of the funds for market development."
$Social's CEO and co-founder Gil Eyal drew chuckles when he said celebrities need our help. He offers a way for high-profile social media users to monetize their online presence. Guy Tamir is CTO and co-founder.
To monetize their idea, they are looking share revenue with celebrities initially before it sets the stage for major brand partnerships in the second phase of its business. Both of the founders are looking to raise $1 million.
For the sports enthusiasts, 365Scores offers your own Sports Channel. It reportedly gathers sports information from hundreds of sources. The site then analyzes and organizes the data according to user preference and delivers the data to users with real-time push notifications.
The presence of two media personalities in the panel shows how most media outlets these days are looking for collaborative opportunities with startups
As befits the meetup, Goldstein pointed out how its firm has 10 countries represented in its portfolio. Gotham Ventures focus on adtech and e-commerce, among others.
Levin is looking to invest in startups that afford financial return and strategic partnership with cutting-edge media platforms. "Series B is a sweet spot," he said.

Copyright secured by Digiprove © 2014 Dennis Clemente