NY Tech takes a Breather, ShortCut, Stream Web and Fake Girlfriend with Zach Morris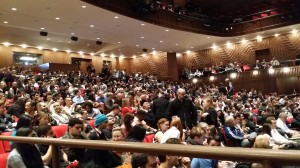 By Dennis Clemente
If you want to find out about tech startups and be entertained at the same time, there's nothing like the NY Tech Meetup. The nine to 10 presentations–with hacks-of-the-month specials to boot–are still too many to cover in a span of two hours, but the hosts can be forgiven because they keep things light and playful.
The breezy, relaxed atmosphere can be contagious. Presenters feel at ease onstage, even when the internet connection–not a problem before but has been for the past two meetups—can be scattershot.
It has unruffled some presenters, but Paul Canetti, as one of the presenters last April 1, kept his cool, adlibbing and poking harmless fun on the internet. It helped that his new venture, Stream Web, a smartphone browser for iPhones, was the night's easy favorite.
Stream Web is a browser specifically made for smartphones. It gets how people use their iPhones, with the search function located at the bottom, instead of the middle of the phone. This makes it convenient for one-hand iPhone users. Yes, Stream Web is only on iOS, for now.
The audience was thrilled to hear from nine startups.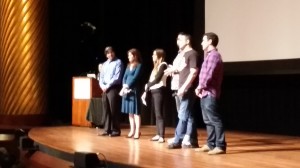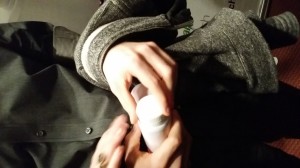 Breather offers private rental spaces in New York and Montreal. A question pointed to a malicious reaction, because who knows what you and someone else can do there in a few hours?! Of course, if you have a dormant real estate space, here's an opportunity to rent out your space.
Adhere Tech was serious in its presentation, as it asked how many times have you forgotten medication you're supposed to take at the precise time you have to take it? AdhereTech's patented smart pill bottles can do this now.
How about turning a term of endearment into a crowdsourced knowledge base? Honey.is appeared to have created a more personal Yammer, as it captures and shares conversations and tools you use everyday –text, links, videos, and files of all types but with closing deals, not just social interaction, in mind. Let's see how that goes for them.
Shufflrr is another app that's trying to disrupt Powerpoint. It calls itself business social in the sense that you can easily broadcast presentations using social tools.
Everyone already felt so appreciative of the new technologies they were hearing and seeing onstage, but Shortcut, a presenter at AOL just a few months ago, would excite the audience even more. Here's a question. What if you could control all things happening in your home by voice automation?
That's Shortcut. You left your lights on, you talk to your phone to turn it off. It's impressive how it works to make most of your household appliances and electronics stuff at home almost magically turn on with a voice command. However, it's not alone in this idea; this may become just a race to whoever hits critical mass first.
The last presenter of the night, Kandu, is a tool that lets kids make games and apps without knowing how to or need for code. It's an "entertainment" tool if you compare it to Scratch. Will it encourage more kids to go to the next level? Learning how to code, that is.
The other presenters included Skillcrush, a place for learning programming languages and WeWork, which announced new co-working spaces for entrepreneurs in New York.
To break the monotony of startup presentations, the NY Tech Meetup has Hacks of the Month. Ricky Robinett's Fake Girlfriend and Emergency Zach Morris hacks got the crowd laughing. With Fake Girlfriend, he said, you can create a Fake Girlfriend number and equally fake name and then choose to get a pre-recorded call or text message from your virtual girlfriend. For his second hack, he showed how to get your Zach Morris fix. You call 718-395-5255 to hear the voice of the Saved by the Bell star. A voice in the crowd, certainly someone who didn't grow up in the 80s, asked who?!
This blogger looks forward to the day when NY Tech Meetup gives fewer presentations with more time allotted for startups to talk about their business in more detail, especially how an idea was born, how a product was conceived, how an app was created and how a team was formed. Writers would also be able give these startups fair media coverage–and give Robinett time to explain who Zach Morris is.

Copyright secured by Digiprove © 2014 Dennis Clemente