Infomous gets top nod from VCs at Innovator Evening event
By Dennis Clemente
At innovator evening, host Alan Brody will tell you his meetup is not a meetup, "it's a crafted conference." Brody means business. So does his esteemed panel of guests last April 2 at Dorsey & Whitney LLP near Grand Central Terminal.
Brody kicked off his conference with a two-hour workshop that asks (and answers) the question, "Are you Fundable?" followed by the presentation of six startups in front of some discerning, no-nonsense judges.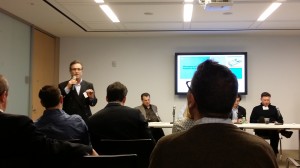 In order of their presentations were ColdSteel Laser, Infomous, Vidaao, Soshio, BeautyStat, Nonnatech and JetRyte with Infomous getting the top vote and the opportunity to present to Private Equity Forums on May 1. Visit privatequityforums.com
CEO Jerry Korten presented ColdSteel Laser as a startup medical device company that has developed a novel technology, one that remotely controls an endoscopic surgical laser. The technology is being licensed from Memorial Sloan Kettering Cancer Center. To date, ColdSteel Laser has raised $1.125 million and expects delivery of a functional platform in June this year.
How does it work? The technology allows a surgeon to visualize an operative field on a graphics tablet and, by tracing a stylus over the image, control a CO2 laser as it cuts tissue inside a patient, in real time.
The next presenter, Infomous, looks similar to a tag cloud, but founder and CEO Paolo Gaudiano shows us how trending topics pop up right from its "cloud." It claim users can find quickly the information they care about, as it appears to get rid of the media noise all-too prevalent out there.
Vidaao's Justin Park said his startup reduces the cost of creating videos by 25 to 30 percent. This is accomplished through an online marketplace—one that connects brands with more than 500 video creatives in 48 US and EU cities.
Soshio is into Chinese social media analytics using technology that analyzes content in native Chinese text, with a proprietary emotion analysis, for which it reportedly has an approved provisional patent application.
CEO Matt Grotenstein sees a big market, more than 600 million in China, in fact. With Facebook and Twitter blocked in China, he sees a more focused approach is required to address and understand the rapidly growing Chinese market.
BeautyStat led by Rob Robinson also sees potential in the beauty market amounting to $32.4 billion. The site is a search and discovery site that gives consumer alerts of beauty product deals, exclusive offers and ways to discover products.
"Consumers need unbiased info to help them make smarter purchases," he said while also announcing the partnership it struck with Amazon last week.
Nonnatech presented remote behavioral monitoring using its connected aging devices.
The last presenter was Pillar Rock USA Corp, a nutraceutical company that specializes in the development and distribution of over-the-counter effervescent tablets that fit in water bottles. Its mission is to build high-quality effervescent nutraceutical niche products. Its flagship product is jetRyte, a patent-pending effervescent tablet that is a refreshing change from hard tablets and messy powders.
Guest Wazi Wazihullah, professor of entrepreneurship at Molloy College, also provided valuable insights and feedback.

Copyright secured by Digiprove © 2014 Dennis Clemente