VCs at Gotham Media Ventures talk about hot trends, funding issues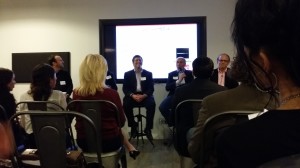 By Dennis Clemente
A typical New York meetup night usually hosts many startup presentations (seven or more most of the time) and not much about investors alone. At Gotham Media Ventures last April 8, it was refreshing to see no startups, just venture capitalists taking the limelight to talk about funding, trends and the challenges facing startups.
"Funding is hard. It stays hard," said Scott Kumit, the candid founder and CEO of Keep, Swizzle as well as former CEO of About.com.
Kumit is giving us perspective and a better read of how funding now can be complex, easy in the first seed round, harder in the institutional round. The former is clearly easier, because with less money, there's less risk. What makes the next stages hard, of course, is how you can ask for more money to scale your startup.
Jerry Spiegel, moderator and partner of Frankfurt Kumit Klien & Selz, got the same responses from the other panelists, Jason Klein, Merrill Brown, and Daniel Schultz.
"Institutional funding takes longer (these days). There will be a crunch," said Klein, founder and CEO of Ongrid Ventures and board member of HBS Alumni Angels.
It's common for investors to talk this way to keep things in check as they also talk about trends.
Klein sees geo-disruptive businesses and location-based technologies as the next hot trends. Think drones, although that may just be the obvious complimentary technology right now.
Brown, a venture partner at DFJ Frontier who is also the director of School of Communication and Media at Montclair State University, thinks there are still lots of money in a news platform. He was a media person back in the eighties.
For him, there will be more ways to do voice and data, citing box.com, messaging systems and platforms, and ad-supported media or ad tech.
"Stock prices look encouraging in ad tech. That means that news and TV will be disrupted." It looks like the internet of things can pave the way for the disruption of communication channels. Think drones again.
Kumit agrees with Brown about content and ad tech, encouraging people to just go out there to do business. "Last year ad tech was nothing. So if you invent something, there is something for you." BuzzFeed was cited.
Schultz, managing director and co-founder of Gotham Ventures, thinks the challenges are easy to overcome: "Anything you can think can be improved upon can be improved," talking about the limitless possibilities out there. "We can improve quality of life on a global basis." That includes home safety in a connected house.
Amazon was mentioned and it too can be disrupted, according to the VCs who think e-commerce is a multi-trillion dollar market. It's just a matter of who is up to the challenge.
A question that has popped up lately is crowdfunding and almost always, VCs like to say they embrace it. Like Schultz. What's not to like about it when customers fund a startup idea initially, half of the work for VCs (customer acceptance of a product or idea) is done. VCs can take the next logical step of scaling the business.
Kumit is averse to angels, though. His advice: "Take professional money over angel money. And take 3 or 4 times more money (that) you need." Why? "Everything is twice as hard. You'll work 18-hour days. Take more than you need," he stressed.
The panelists also talked about big data and what you can do with massive amounts of data, but thinks the bitcoin craze is something else entirely. Only Klein seemed to be open about his skepticism over bitcoin—at least the technology behind it.

Copyright secured by Digiprove © 2014 Dennis Clemente