Powerfelt claims it can power portable devices like the iPhone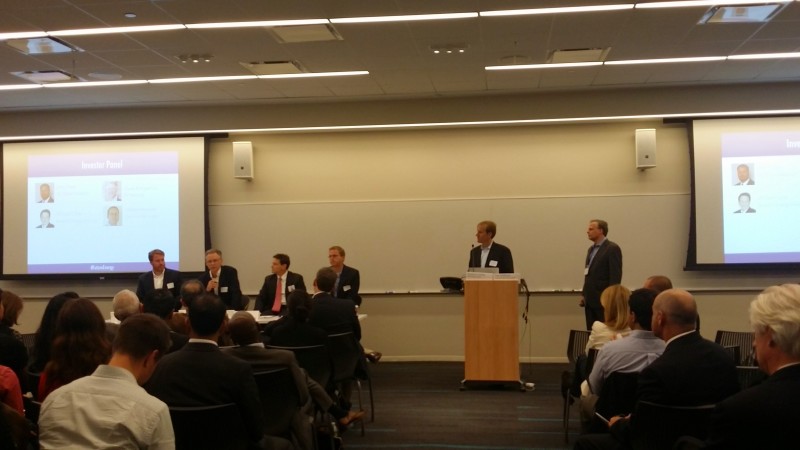 By Dennis Clemente
International ThermoDyne's Powerfelt bagged the most votes at the Ultra Light Startup presentation of eight energy startups that presented last October 9 at Microsoft, as it claimed to answer the ever-increasing need for clean power, especially in portable devices.
"Powerfelt is a thin material that harvests heat and motion and converts energy into useable electricity," Paul Solitario said. "You can use it to charge your iPhone."
The other startup presenters were Shailendra Suman of SmartCharge, Burt Hamner of Titan Ocean Energy; Jason Force of E-Mow; Ariel Fan of Grid Symphony; Raj Lakhiani of Athena Power; Graham Smith of Open Energy Group and John Jabara of Savenia Home Ratings.
The panelists who gave their critique and feedback were John Freer, manager of External Technology Initiatives at GE Global Research; Dave Kirkpatrick, managing director of SJF Ventures; William Lese, managing director of Braemar Energy Ventures and Willem Rensink – GameChanger of Shell.
ThermoDyne's prospective customers for Powerfelt cut across various industries– mobile electronics, construction, transportation, textiles, government.
Asked if it could narrow down its intended market, Solitario said they could focus on remote sensors as it offers portable "electricity" anytime anywhere without batteries or the grid. "We have no moving parts."
Investor's advice to Solitario: Focus (on a specific market); find where the material can be unique; find an application where it's available; understand how product competes in the landscape; study lifespan with a device.
Suman of SmartCharge was also one of crowd favorites. His successful Kickstarter campaign launched the world's first LED light bulb that you can turn on or off from the same wall switch even during a power outage. It provides four hours of continued use. Battery is reportedly 300 cycles. When using the light bulb normally, it will reportedly last for three years.
The panel was impressed to hear that SmartCharge is selling already at $34.95. It started shipping 5,000 units in 32 countries last month with 100,000 units of soft orders. His gross margin is 20 percent of cost.
Suman hopes to target homes owners, small businesses, the direct online sales sector as well as wholesale to big box retailers such as Amazon.com, Duke Energy, Lowe's and Home Depot.
Investors' advice to Suman: Work on IP; introduce more product(s); look for other distribution channels to accelerate the business; find out where it goes on store shelves; and figure out positioning of the product.
Titan Ocean Energy's Hanner presented the mobile platform for office offshore wind power and drinking water production already installed in Sweden. A panelist said, "You're on the right track in Europe."
Globally patented, the mobile jack-up platform reportedly supports 6MW + offshore wind turbines and met towers ad desalination systems.
Investors' advice to Hanner: Make sure you're protected; Target corporations; repurpose existing rig; keep it light; laser-focus on costs
E-Mow came next with Jason Force talking about its self-powered drone bioenergy harvester which creates renewable grass fuel pellets at low cost. It seeks revenue from pelleted agricultural products.
"It will be a significant cost reduction again existing methods," Force said who's looking forward to it as a build-and-operate model.
Prototype challenges for him would be the maintenance of this self-powered technology
Investors' advice to Force: Work with a big player like John Deere so you can market faster; powering it by biogas is not the best way to go about it; look at all the pieces you want to integrate; and determine MVP, being a relatively complex engineering system.
Ariel Fan presented Grid Symphony, an intelligent brain for the electric grid to prevent utilities and priority clients from power meltdowns like Hurricane Sandy. It emerged from Columbia University's machine learning lab.
"It's not an emergency product. We want to create an optmization product," she said.
Utilities are targeted customers but right now, it is looking at system integrators. The distribution strategy aimed at selling directly to enterprise smart/medium customers.
Investors' advice to Fan: Survey how many people will use it; think how this business scales; test in some places like Hawaii to get customer exposure before scaling; work with system integrators, because they see everything; make sure you have a partner; explore idea in business model canvas.
Athena Power has developed a self-powered wireless fault sensor for underground distribution networks. It is hard to find faults, but Lakhiani is confident about its startup based on its four-year engine and his experience.
Still, he thinks it's better if Athena works with utilities. "Underground (networks) are tricky."
Investors' advice to Lakhiani: Know the sensor market to make sure you get plenty of pilots; score early with Exelon as a demonstrable result; (recognize) it's a timely product to bring to electric utility to the world; (think of it as a) unique entry point to get data
The last two presenters were Smith of Open Energy Group and Jabara of Savenia Home Ratings.
The former is an online marketplace for renewable energy investments.
"We offer accredited investors direct access to higher return, lower risk, fixed income products by directly funding the construction and operation of commercial renewable energy power projects in the States," he said. This includes solar projects.
Investors' advice to Smith: Make loans that banks don't give; look for a partner when it's time to add deep pockets, focus on residential (market)
Savenia Home Ratings helps home sellers unlock the value of home efficiency upgrades to differentiate, sell faster and capture more value.
"Energy auditors focus on the negative. We focus on the positive," Jabara said. "We're CARFAX for home efficiency."
Asked if it has a method, he said the company validates the rating through documentation. "Customers do most of the work; we check (the work)."
Investors' advice to Jabara: The platform can be bigger, think of other groups doing the rating; and get accurate data from third-party source.
This time, Graham Lawlor of Ultra Light Startup hosted the meetup with Tim Hoffman of Cleantech Open.