Smith of Qualtrics, Medlock of Swiftkey draw huge crowd at Data-Driven meetup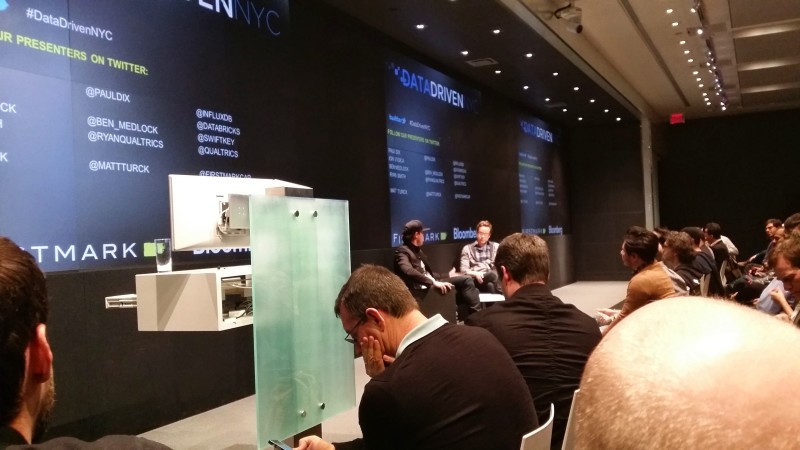 By Dennis Clemente
NEW YORK—CEO and founder Ryan Smith of Qualtrics spoke candidly about his beginnings in Ohio when he set up his company with his academician-father, ran it in his basement for five years and how he knocked on university doors in New York to offer his service to academicians at first last March 17 at the Data-Driven meetup at Bloomberg's offices. After 12 years, the company is now valued at $2.1 billion.
"We built a product together that was simple enough for me, and sophisticated enough for him (his father)," he said of his product that makes sophisticated research simple.
In a sit-down talk with host Matt Turck, Smith talked about how many companies sometimes miss the forest for the trees. He remembers being asked so many business questions when almost always, it would have been better to ask "your employees and customers."
The Data-Driven meetup is a mix of both presentations and sit-down talk in a span of an hour and a half.
CTO and co-founder Ben Medlock of Swiftkey chose to talk next about artificial intelligence in general as it relates to the future of mobile typing, the way it's building the world's smartest keyboard.
Ben Medlock of Swiftkey talked about his smart prediction technology for easier mobile typing. "Swiftkey is a narrower AI company," he said of his company designed in 2010, with close to 10 billion users today and 50 trillion characters written down.
"How can we model how we think?" asked his audience.
Swiftkey is building language models among other things based on fast and efficient smoothed n-gram models ; optimized trie search; morphemes and neutral nets/representation learning
For input modeling, it uses Gaussian distributions to model interaction with the keyboard surface and linear gaussians. As for data collection, it has partnered with a UK-based company.
CEO Paul Dix, for his part, presented how Influx DB works
InfluxDB is a time series, metrics, and analytics database. It's written in Go and has no external dependencies. Once you install it, you don't need to install Redis, ZooKeeper, HBase, or whatever.
InfluxDB is targeted at use cases for DevOps, metrics, sensor data, and real-time analytics.
"It arose from our need for a database like this on more than a few previous products we've built," Dix said.
Dix announced plans to launch the testing build of version. 0.9.0 in a few months. Some new features will include support for tags and API changes. InfluxDB currently supports the following:
• SQL like query language
• HTTP(S) API
• Storage of billions of data points
• Database managed retention policies for data
• Built in management interface
• Aggregation on the fly
"It's (InfluxDB) is a discovery engine for what you are collecting," Dix said.
CEO Ion Stoic sat down to discuss the history of Databricks which was founded by the creators of Apache Spark.

Copyright secured by Digiprove © 2015 Dennis Clemente