Tiggly, Dweet.io among standouts at NY Tech Meetup demo night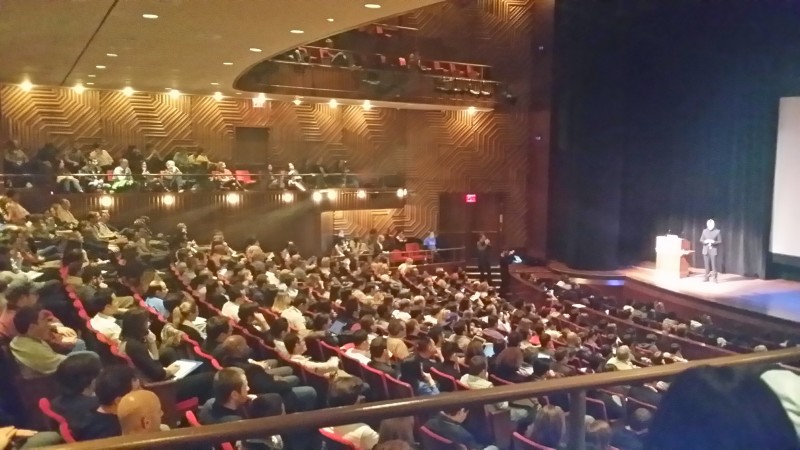 By Dennis Clemente
How do you pack in 12 startup demos in two hours? Last November 3, the NY Tech Meetup did it again with Tiggly and Dweet.io among the standouts of the night at Skirball Theater at NYU.
Every parent sees their kids using digital devices more, which also means less physical playtime for them. Recently funded for $4 million, Tiggly has found a way to merge both physical play with the digital world in its tablet app. It has developed game apps and physical objects used in tandem with tablets to help educate kids using conductor silicon. The startup has clearly found a sweet spot between a toy and an app.
CEO Peter Semmelhack presented dweet.io, a Twitter for things. You dweet, say, a public swimming pool temperature or air quality in a city. It's Twitter for machines, sensors, devices, robots and gadgets, enabling data to become easily accessible through a web-based RESTful API.
Built from day one for commercial and enterprise deployments, a dweet payload can reach up to 2,000 characters. It's public by default but you can make dweets private by purchasing a lock which are then applied to thing names. Each locks costs $0.99.
It only holds a thing's last 500 dweets for up to 24 hours, then it's history. But you can build a connector to your data store of choice such as Dropbox, AWS and Tempo-DB.
Next presenter, Admitted.ly positioned itself like how online dating works. It is a free platform that helps high school students find their dream colleges and universities, connect with mentors, and get accepted.
A "graduate" of ER Accelerator, Admitted.ly works as an outreach for high school students and guidance counselors but in a fun, engaging way. It even has walkability directions among other useful guides when choosing a school.
Another presenter, BugLabs, is a software company that focuses on providing easy enterprise application development tools for the Internet of Things.
Keezy's presentation was perhaps the first unspoken one in NY Tech Meetup's decade-long history. The demo showed how the music software works using two if its music apps, Keezy and Keezy Drummer for iOS, easily that even kids can play around with them. You can record different sounds on Keezy but the Drummer is just one kit.
Not all presentations are crowd-pleasing but some marketing people listened intently on how Offerpop works to create marketing engagement platforms for today's social and mobile consumers—and how it helps the best brands, retailers and agencies in the world connect, engage and convert consumers.
Launched last September 29, Parcel offers off-hours delivery service in New York (not including Queens) for only $5 (not heavier than 30 pounds, no higher or longer than 2 feet). You can select a one-hour delivery window.
Other presenters include Simple Machine, crafter of gaming experiences and stories like The Outcast as well as SquareSpace which now integrates Getty Images in its CMS platform for people to buy photos to use directly on their sites.
Waywire Networks talked about how its curating all the videos to make it easy for everyone to find the videos based on their interests. Each channel is authored and "highly niched." It hosts content and is currently looking for curators
The Hacks of the Month were Calcash, an 8-bit online arithmetic battle game that makes learning and solving problems fun, accessible, and competitive; NewsFeel, which graphs the New York Times articles on any topic based on sentiment and lastly, Nodeflow, a just-in-time synchronous Javascript compiler that makes Node.js development easier.

Copyright secured by Digiprove © 2014 Dennis Clemente