UK's Simon Laker discusses US move to EMV, Apple Pay with NFC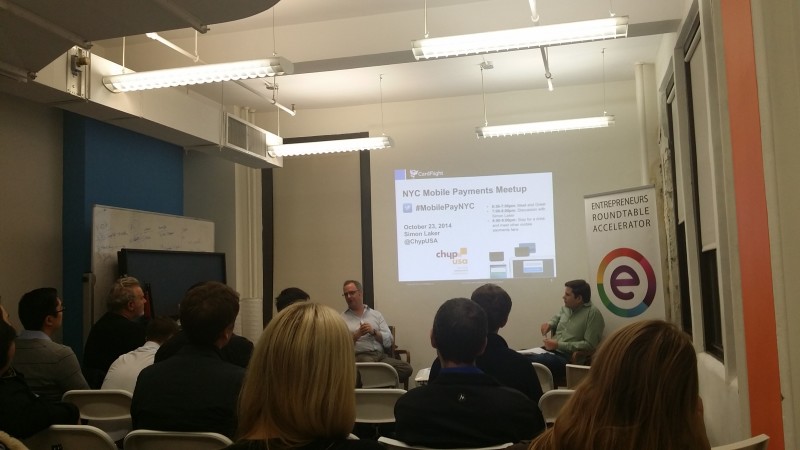 By Dennis Clemente
From the United Kingdom, Simon Laker of Consult Hyperion, a payments consultancy firm, has since called New York his home since May, especially as he gears up for what is happening next year. The United States is adopting a more secure credit card, EMV (Europay Master Card Visa).
This was the talk last October 23 at NY Moble Payments at the ER Accelerator office in midtown Manhattan; Cardflight CEO Derek Webster served as host.
It's a timely issue as 80 countries are also in various stages of EMV chip migration with issuers including chips in bank cards and merchants moving to EMV-compliant terminals to increase security and reduce fraud resulting from counterfeit, lost and stolen cards.
The U.S. is one of the last countries to adopt the technology, because of the required payment system change for banks and the astronomical migration costs. Once it rolls in the States, startups may be quicker to react compared to big companies.
"In U.K, we have to 5 to 10 banks with 10 to 15 issuers. In the U.S., you have(hundreds) of banks with gazillion issuers," Laker explained.
The traditional magnetic stripe card costs about $0.25. The chip card can cost $1.25 to $2.50, according to ROAM, a provider of mobile point-of-sale readers and software.
The US move to EMV can mean big changes on a global scale. "US payments represent 25 percent of the total payment (in the world) with 50 percent of fraud (incidents) also happening in the States," he said, referring to how it's been the target of hackers recently.
What can EMV do? Prevalent in Europe, it can reportedly prevent the card thefts that happened recently in some chain stores. "Once the US (migrates to it), then the use of magnetic stripe (credit cards will go away)," he said.
Magnetic stripe cards are easy to replicate.
Laker also talked about the anticipated growth in the use of NFC (near-field communications) –enabled mobile devices for mobile contactless payments, especially with Apple Pay making use of it.
Asked 3 years from now what role will Apple and NFC play, his nonchalant response drew chuckles. "Apple Pay will still exist. Apple knows how to do things well."
Laker is excited about his company's HCE Bootcamp on November 19 this year in New York. Visit http://www.chyp.com/what-we-do/hce-bootcamp
The agenda will include:
• Status update on proximity payments from front-line experts;
• Technical architectures for NFC transactions;
• Using NFC for payment transactions in physical stores, online, in-app and for transit
• Understand HCE and the ways that it can be exploited;
• A detailed, practical walkthrough of a working prototype application for iPhone and for Android

Copyright secured by Digiprove © 2014 Dennis Clemente