10 things you need to know about investors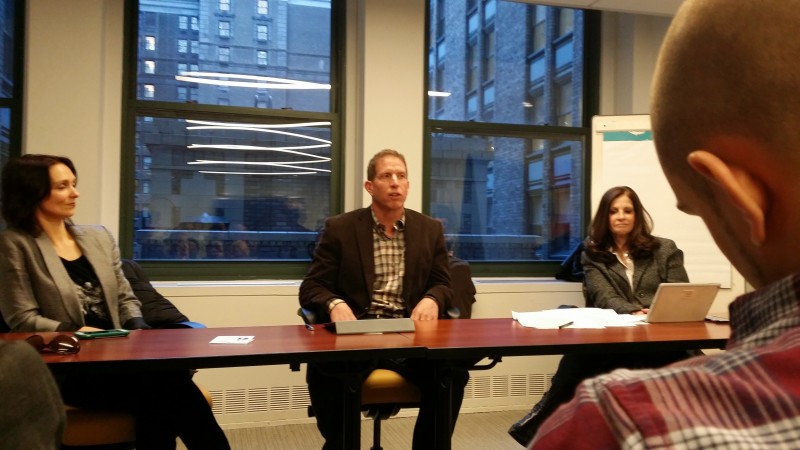 By Dennis Clemente
NEW YORK–Learning about how to find investors is almost always different when you're in 40s-up midtown (much older crowd) and 30s-below midtown (younger crowd). The former usually frowns on the word "meetup" to describe an after-office talk whereas a few zip codes down it's less of an issue.
If you're new to the tech community in New York, just use "talk" to describe what happened last March 19 at the Lee Hecht Harrison law offices when investors from different companies gave people tips on how to find an investor in the city. Here are some of the thoughts of Anna Garcia of 37 Angels, a community of women angel investors; Michael Beller of CoVenture; and Judith Feder of Harvest Capital.
1. Know if you really need investment. Know if you really need venture capital or angel investment or if you need to find out if you can get corporate grants or non-profit grants. Your idea could still be financial tech and still be non-profit.
2. Know when you need to pitch. Angel investors hold quarterly pitch forums. You will also find accelerators and incubators accepting startup funding applications quarterly and may run a pitch training program for 3 to 4 months.
3. How to find out if you're a good fit for a venture capital investor or an angel investor. With VCs, study their websites and blogs and more importantly, their portfolio. Be aware that VCs invest in themes, while angel investors, because they come from different backgrounds, may have a diverse portfolio.
4. Still, VCs have some differences. There are VCs who are either hedgehogs or foxes. Investors who are hedgehogs are single-minded and tend to invest in teams with deep expertise and come from the same industry. Investors who are foxes are more dynamic, more adaptable and more open to anyone with a transformative product and creating new markets.
5. How to email investors. They prefer that you are coming to them with reference. If you met them before and they gave their contact info, you can contact them directly. For VCs, it's important you have the same connections. For angels, know one and you raise the possibility of being introduced to another angel. Approach everything not as a mechanical process, but as a relationship-building exercise.
6. How to meet investors. Put yourself out there and be engaged in the startup eco system. Go to meetups, hackathons (even if you're not a developer), tech talks, founders' clubs, and mixers.
7. What is a no-no. No investor will read a business plan (but have one for yourself), because investors get it right away. Pitching to investors don't exceed 7 minutes and can even be about 2 minutes. Also, make sure to describe your startup instead of using big words. When it comes to pitching, though, no is just an opportunity to explain your business better.
8. The bigger pie over small pie. A small slice of pie from a big pie is always better than a small slice from a small pie. Keep that in mind when you're seeking investment.
When to grow your business and ask for money. Sometimes startups are far too early in the process to think of growth. You're going to lose money, because you need to care about the growth. Growth is not a proxy for product-market fit.
9. How much money will you need? Think 18 months of runway. When you need to raise money, you need to know for sure how much you need, because sometimes you can underestimate your needs. How do you know if it's a good deal? Think of how much money you need. Then double it. The best way to negotiate terms is have VCs competing
10. Other takeaways:
Be completely researched on what your competition is
Don't be afraid to contact people you haven't talked to in years.
Investors always want an equity deal than a convertible note
Husband-and-wife team not exactly ideal partnership to invest in